NEWS
Japan Beach Soccer National Team prepare for the Intercontinental Beach Soccer Cup Dubai 2021
02 November 2021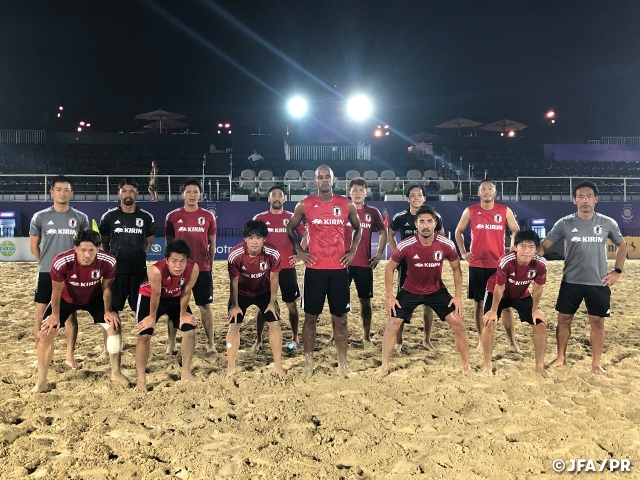 On Saturday 30 October, the Japan Beach Soccer National Team arrived in UAE to participate in the Intercontinental Beach Soccer Cup Dubai 2021, which will kick-off on Tuesday 2 November. Ahead of the tournament, the team held official training sessions on Sunday 31 October and Monday 1 November at the match venue in Kite Beach, Dubai.
The Intercontinental Cup is one of the oldest and most prestigious beach soccer tournaments in the world, featuring the best beach soccer teams from each continent. For Japan, who is having a difficult time scheduling matches against foreign teams during the Covid-19 pandemic, this will be a valuable opportunity to strengthen the team. In addition to Japan, Iran, Paraguay, Portugal, Russia, Senegal, Spain, and the UAE will participate in this year's competition.
This is the first tournament for the Japan Beach Soccer National Team since the FIFA Beach Soccer World Cup Russia 2021™, in which Japan finished as the runners-up, their best finish ever at the World Cup. The team, who has called-up two new players with their eyes set on the next World Cup, will work to develop the team strength through intensive training within the two-day preparation period.
Under the leadership of player-coach and team captain MOREIRA Ozu and coach TABATA Teruki, who will take charge of the team as acting coach for this tournament, the team prepared for the tournament by checking the sand on the pitch.
The tournament will begin its group stage matches on Tuesday 2 November, where Japan will first play against Russia, Iran, and Paraguay. They will first face Russia, who they lost twice at the recent World Cup, on Tuesday 2 November at 18:45 (23:45 Japan time).
Coach's Comment
FP #10 MOREIRA Ozu, Player-Coach (Tokyo Verdy BS)
We were able to achieve a good result in this year's FIFA Beach Soccer World Cup Russia 2021™. Although this Intercontinental Beach Soccer Cup 2021 will be our first tournament since the World Cup, I think the team is in good condition since each player has been working at their own teams. We will enter this tournament with the same level of motivation as the World Cup. We are planning on giving opportunities to the young players in this year's Intercontinental Cup to build a new team for the next World Cup. That is why I would like to see the first time players to play the same way they play for their respective clubs in Japan. I hope they can cope with the pressure of playing for the national team and showcase their usual performance. I want to see TANAKA Hayate lead the offence with his speed and ball control, while I have high expectations for MATSUOKA Tsukasa to use his power and bicycle kick to showcase his potential as a world class striker.
I would like to express my sincere gratitude to all the supporters for their warm support and messages during the World Cup. I believe that the World Cup has raised the profile of beach soccer, and the players and staff will continue to work together to increase the future value of the sport. We thank you for your continued support in this tournament as well.
Players' Comments
FP #7 OBA Takaaki (Loewe Yokohama)
It is still quite hot in Dubai during the daytime, and even though our second match against Iran will kick off in the evening, the humidity still very high at night, so I tried to get my body ready through the official training session. In this tournament, Iran is the team I am most aware of. They have been a great rival for us and I'm really looking forward to the match since we haven't played against each other for a couple of years. I really would like to pay back Russia for our loss in the World Cup, and we will be playing against Senegal, Paraguay, and other teams that are regulars in the World Cup, so we hope to enter each match with strong determination to win as a team.
Personally, every match is important to me, whether it is a friendly, Intercontinental Cup, or the World Cup, so I will give my best effort to prepare myself. Whenever I am called-up to the national team, I prepare myself with the intention of contributing to the team, and I am well prepared this tournament, too. As a team, we are determined to win and to make the most of the limited time to build a good team for our matches. With new players joining the team, we must prepare ourselves while keeping in mind of what they are looking for and what their strong points are.
FP #13 MATSUOKA Tsukasa (Lazo Apego Kitakyusyu)
I made the transition from playing football to beach soccer right after graduating from high school, and I am genuinely happy to have been selected to the national team, which has been one of my goals since I started playing five years ago. I'm still a little nervous about joining the team, but the atmosphere of the team is very welcoming, and I'm gradually becoming able to play my own game in training. I feel that I have finally reached the starting point of my career, and I would like to become a world class player by becoming a regular member of the national team. My ability to take shots from various angles is my strong point, so I hope to make the most of it when playing for this team. I have received a lot of advice from my teammate, Takuya AKAGUMA, both on and off the pitch, and he is a player that he looks up to as a role model. Although we have very limited time to prepare for this tournament, we have been making the most of our time by working on shooting drills and scrimmages. I've been given a leave of absence from work, and my co-workers have sent me off with encouraging words, so I'd like to return the favour by earning results.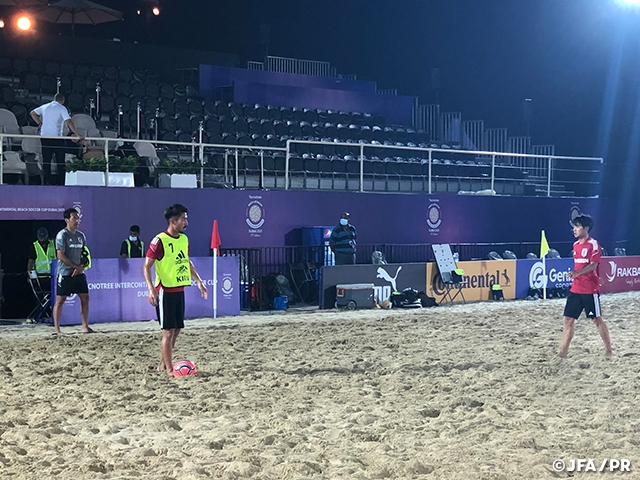 Matches of this tournament will be streamed on Beach Soccer Worldwide (BSWW)
Tecnotree Intercontinental Beach Soccer Cup 2021
Tournament period: Tue. 2 - Sat. 6 November 2021