NEWS
【Match Report】Japan Beach Soccer National Team face AFC rival Iran in second group stage match of the Intercontinental Beach Soccer Cup Dubai 2021
04 November 2021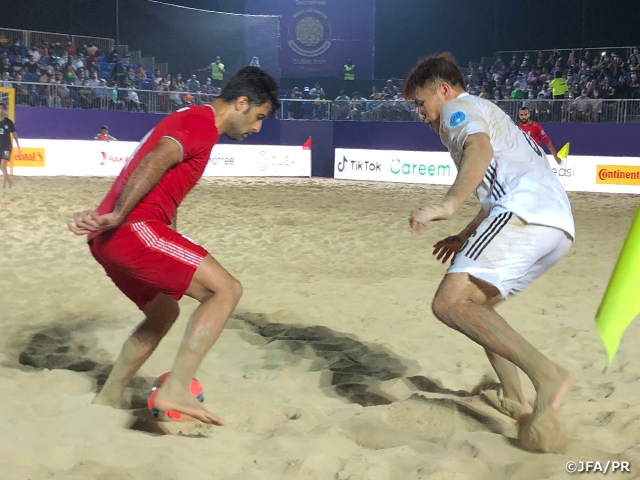 Date: Wed. 3 November 2021 [20:30 (local time)]
Venue: Kite Beach (Dubai)
Japan Beach Soccer National Team 1(0-0 0-2 1-4)6 Iran Beach Soccer National Team
【Goals】
2P 2' Goal against
2P 11' Goal against
3P 3' Goal against
3P 8' Goal against
3P 9' OKUYAMA Masanori
3P 11' Goal against
3P 12' Goal against
Starting Line-up
GK KAWAI Yusuke
FP MOREIRA Ozu, OBA Takaaki, UESATO Takumi, AKAGUMA Takuya
Reserve
GK GINOZA Tomoya
FP YAMAUCHI Shusei, OKUYAMA Masanori, MATSUO Naoya, MIYAMA Ryunosuke, MATSUOKA Tsukasa, TANAKA Hayate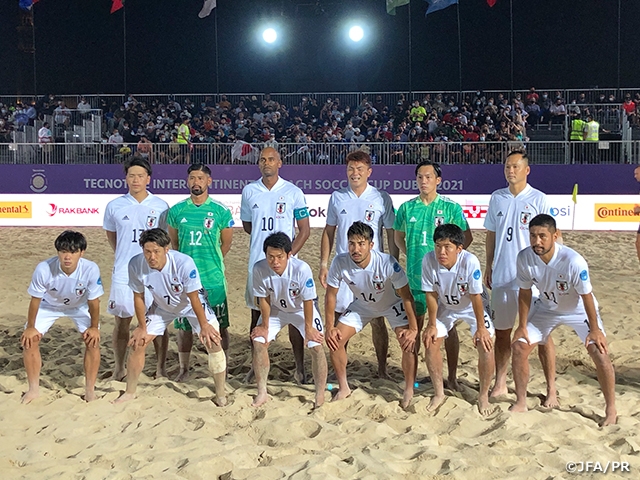 Match Report
On Wednesday 3 November, the Japan Beach Soccer National Team played their second group stage match of the Intercontinental Beach Soccer Cup Dubai 2021 in Dubai, UAE. Although the kick-off time was delayed by 30 minutes, the players managed to maintain their composure as they entered the match.
Against the Iranian side, who consist of a goalkeeper with great foot skills, Japan focused on applying pressure on the goalkeeper with a slightly elongated diamond formation. The team also corrected their defensive shape since their match against Russia, as they focused on keeping their balance while shifting side to side when the opponent possessed the ball.
After finishing the first period 0-0, Japan made a passing error which was picked off by the opponent, allowing Iran to initiate a short counter and score the opening goal. With Iran scoring another goal at the end of the second period, Japan entered the third period trailing by two goals.
With momentum on their side, Iran scored consecutive goals to start the third period. Japan finally managed to get on the score board when OKUYAMA Masanori (Loewe Yokohama) made a superb turn to score a goal in the ninth minute, Iran added two more goals at the end to close out the match 6-1.
Japan will now play their final group stage match against Paraguay on Thursday 4 November.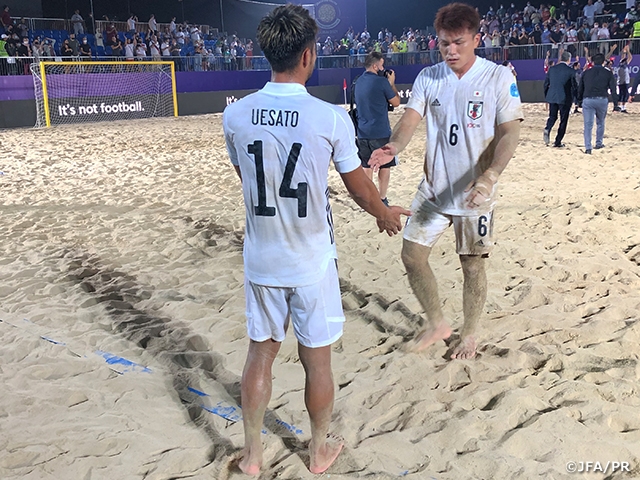 Players' Comments
FP #2 TANAKA Hayate (Tokyo Verdy BS)
Facing our AFC rival, we entered the match knowing that this was a match we couldn't afford to lose. However, we failed to take the initiative and lost the match without being able to showcase our usual performance. Despite the tough result, there is no time for us to be looking down, so must try to make the most of the remaining three matches and give our utmost efforts to deliver victory to our fans and supporters.
FP #7 OBA Takaaki (Loewe Yokohama)
We have lost two matches in a row, and we are taking this result very seriously. Unlike the World Cup, we are scheduled to play five matches in five days, so in order to improve the issues we have learned from these two consecutive losses, we must actively communicate with each other in the limited time we have and make the necessary adjustments to prepare for our next match against Paraguay. From here on, not only the team tactics, but individual mental preparation will also be very important. In the last two matches, there were many situations where we rushed our attacks after winning the ball, so I feel that we need to improve in that aspect. Paraguay is a team that plays with high intensity, but we must not play too defensively against them. We must try to keep our composure when we win the ball and actively try to score goals.
FP #8 MATSUO Naoya (Averdade Kumamoto BS)
We had not played Iran since the 2019 Asian qualifiers. Although we were able to win that match, I consider Iran as one of the top countries in the world. I think we were a bit too impatient when playing defence today. It made me think that we need to do a better job to stay on the same page and make the small adjustments on the pitch more smoothly. I think we need to decide when to stick to our own game and when to change our game depending on the opponent. In order for us to become a winning team, we need to broaden our options. We were given this wonderful opportunity to play in this tournament, so we must give our best efforts to win the remaining matches and try to make the most of this experience.
Tecnotree Intercontinental Beach Soccer Cup 2021
Tournament period: Tue. 2 - Sat. 6 November 2021