NEWS
Japan beach soccer squad lose to Iran; earn silver medal in Asian Beach Games
22 November 2014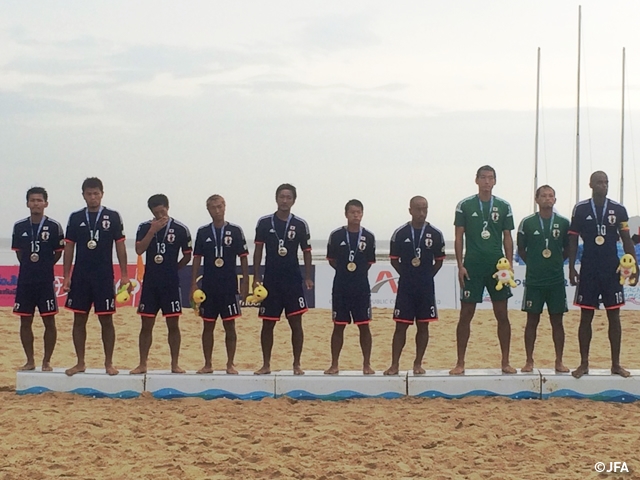 Beach Soccer Japan National Team Asian Beach Games Final
Fri.20 November 2014 Kickoff 14:45 Playing time: 12min x 3 periods
Saphan Hin Sports Center(Phuket/Thailand)
Beach Soccer Japan National Team 3-4(1st1-2, 2nd1-0, 3rd1-2) Beach Soccer Iran National Team
Scores
6min Goal against (Iran)
8min Goal against (Iran)
10min MOREIRA Ozu (Japan)
17min GOTO Takasuke (Japan)
25min MOREIRA Ozu (Japan)
28min Goal against (Iran)
33min Goal against (Iran)
Starters
GK: TERUKINA Shingo
FP: TOMA Masahito, MOREIRA Ozu, GOTO Takasuke, OBA Takaaki
Substitutes
GK: SUGITA Tetsuji
FP: ODA Hirofumi, TAKIGUCHI Takashi, MATSUO Naoya, AKAGUMA Takuya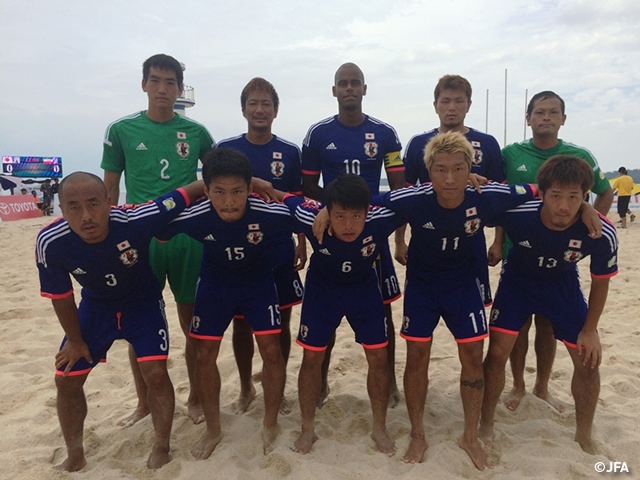 Match Report
On the final day of the Asian Beach Games, Japan played in the championship game for the first time ever.
Iran, Japan's opponents, is experienced bunch. A newly-launched team under head coach Marcelo, Japan want to earn the championships by defeating a tough team so they'd get some track record and confidence.
Both sides came in actively from the beginning of the first period, playing a see-saw contest.
Japan tried to connect more passes, increasing their movements off the ball, to gain the momentum, while Iran attempted to attack the Japan goal, capitalizing on their power.
It was Iran who got on the scoreboard first. On 6th minute, when Japan were front heavy, Iran scored on a counter attack. Iran added another goal on 8th. But Japan earned a free kick and Moreira made it to end the first period with one goal down.
In the second period, Iran began showing some fatigue and Japan had the pace. On 19th minute, Goto reacted a pass from Toma, which actually might have been a shot, and Goto netted it to equal the contest before entering the third period.
In the third and final period, Japan received the kickoff and Moreira fired a blazing shot into the net to finally take a lead. Japan wanted to take advantage of it, but they allowed Iran to make a long shot to re-tie it. Minutes later, Japan gave up a free kick in front of the goal. Japan goalkeeper Terukina made a fine save on it, but on 33rd minute they gave a four-second violation inside the penalty area and Iran made it to have a 4-3 lead. The game ended as it was and the gold medal slipped out of Japan's hands.
The tournament ended with Iran as the champions, and Japan as the runner-up.
The Japan national beach football team's activities in 2014 wrapped up with it. They will play in the Asian qualifiers for the World Cup and then the World Cup if they qualify in 2015. The team are determined to play as a team taking advantage of the experiences they earned both inside and outside of the country.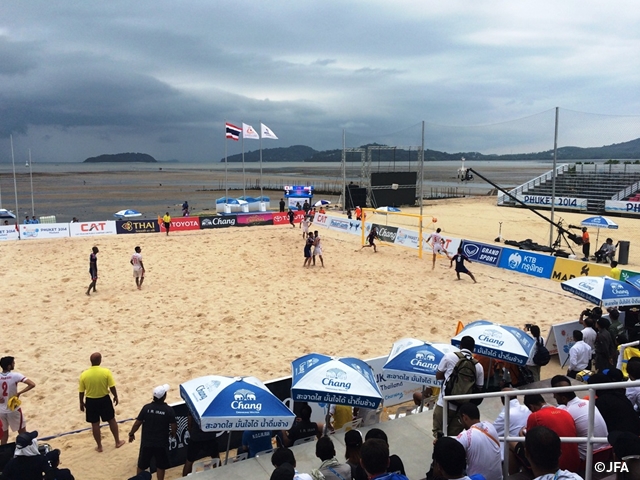 Comments
Marcelo MENDES, Head Coach
We were putting one hand on the title in the Asian Beach Games yet unfortunately we were unable to really get it, but we are proud of the result of finishing as the runner-ups. We gave up a two-goal lead to such a strong team like Iran and rallied back and once had a lead. That's not something every country could do. We will have to capitalize on what we learnt here as we lost. This is not our goal. We have the World Cup Asian qualifier to play next March. We want to finish atop, compete in the World Cup and have a good result. That's our biggest goal. As for today's game, the reason why we ended up losing was because of the mistakes we made as we did in our previous games. There are a lot of things we can learn from this. I want every member of our team to spend his daily life with his own issues. But I want to extend my appreciation to our players who played out with their best until the very end.
MOREIRA Ozu (TOKYO LEQUIOS BS)
There's nothing we should feel ashamed to have finished as the runner-ups. We are going home with our heads up. But I think we all have acknowledged what we are lacking through the mistakes we made in Dubai and Puckett and the defeats we took because of those. We can't afford to feel frustrated about our loss in the final in the Asian Beach Games. We will have to practice more and more. That's what I believe are the roles we are given. We have the Asian qualifier in March. If we miss the World Cup there, Japan's beach football will be finished. We need to have the responsibility and keep working hard on our daily practice with high motivations. For many supporters for the beach football, too, we won't go down here but just will look forward.
Schedule
The 4th Asian Beach Games Phuket 2014

Sun. 16 November

5-2

vs Malaysia National Team(Saphan Hin Sports Center)

Tue. 18 November

0-0
(PSO 0-2)

vs UAE National Team(Saphan Hin Sports Center)

Wed. 19 November

7-3

vs China National Team Quarter-final(Saphan Hin Sports Center)

Thu. 20 November

7-2

vs Vietnam National Team Semi-final(Saphan Hin Sports Center)

Fri. 21 November

3-4

Playoff - 3rd Place Playoff - Final(Saphan Hin Sports Center)