NEWS
【Match Report】Nadeshiko Japan come from behind to win over Portugal 2-1
08 April 2023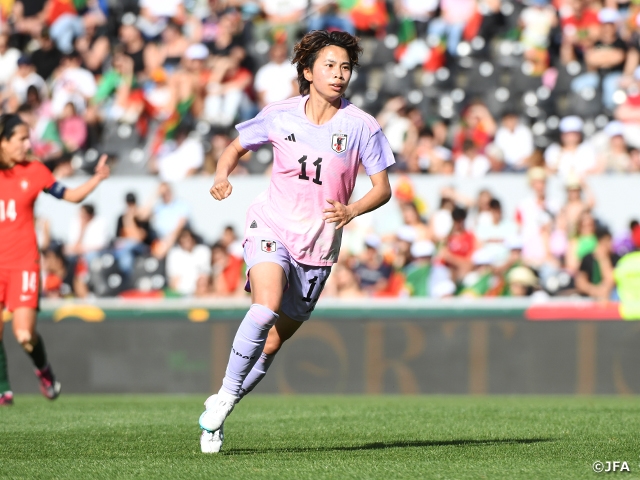 On Friday 7 April, the Nadeshiko Japan (Japan Women's National Team), who are currently on a tour in Europe, played an international friendly match against the Portugal Women's National Team, ranked 21st in the FIFA rankings, at Estadio D. Afonso Henriques in Portugal.
Japan played in their brand-new away kit prepared for the FIFA Women's World Cup Australia/ New Zealand 2023™ with the match kicking-off at 17:00 local time in temperatures exceeding 30°C.
For this match, Head Coach IKEDA Futoshi stuck with the three-back formation they used in the SheBelieves Cup held in February, as YAMASHITA Ayaka (INAC Kobe Leonessa) was given the start in goal, with TAKARADA Saori (Linkopings FC), MIYAKE Shiori (INAC Kobe Leonessa), and MINAMI Moeka (AS Roma) forming the defence line. HASEGAWA Yui (Manchester City) and NAGANO Fuka (Liverpool FC) anchored the midfield with SUGITA Hina (Portland Thorns FC) and SHIMIZU Risa (West Ham United) placed in the flanks. NAOMOTO Hikaru (Mitsubishi Heavy Industries Urawa Reds Ladies) and FUJINO Aoba (Nippon TV Tokyo Verdy Beleza) were named as the two centre midfielders playing beneath TANAKA Mina (INAC Kobe Leonessa), who started as the lone striker.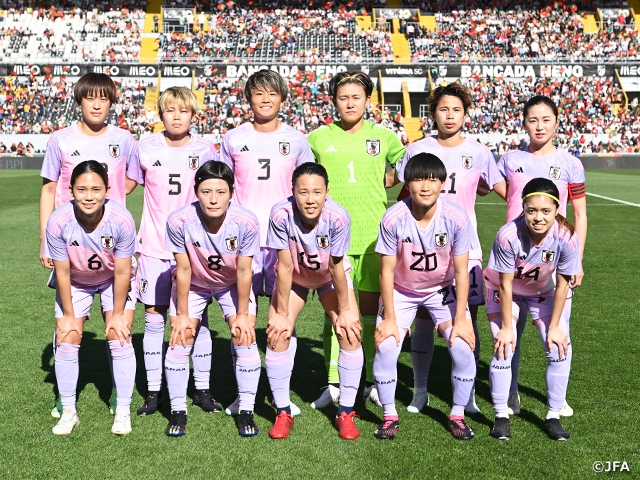 Despite having a sluggish start, Japan gradually found their rhythm to create opportunities. In the ninth minute, Sugita struck a header off of a cross delivered by Fujino, but Portuguese goalkeeper Ines PEREIRA made a superb save to deny her attempt. Tanaka and Fujino each took a shot in the 18th and 24th minutes respectively, but neither was successful in finding the back of the net. While Japan struggled to take advantage of their opportunities, Portugal made the most of theirs, when a ball delivered through the centre led to the goal of Ana CAPETA in the 25th minute.
The equaliser came in the 35th minute, when Sugita delivered a through ball to free up Tanaka, who cut the ball back towards the centre to setup the goal of Hasegawa. Gaining momentum from this goal, Japan regained control of the match before the break.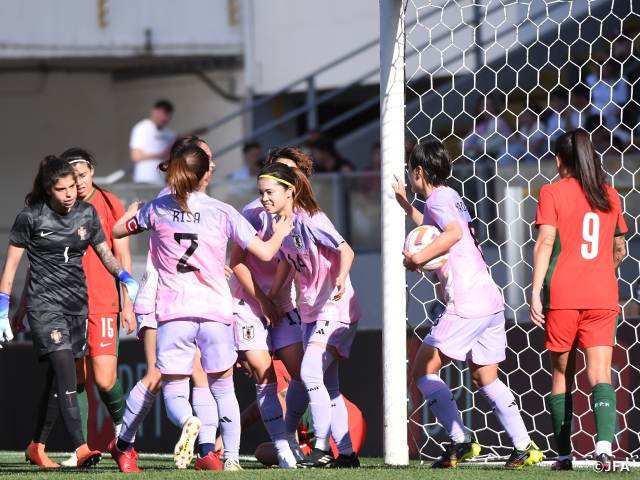 In the second half, MORIYA Miyabi (INAC Kobe Leonessa), making her national team debut, came on at right wing-back to invigorate Japan's attack from the flanks.
Although the shot taken by Tanaka in the 53rd minute was saved by Pereira, the striker calmly converted the long pass delivered by Hasegawa in the ensuing play to put Japan in the lead.
In an attempt to extend their lead, Moriya played a pass-and-go with Fujino to setup the shot of Naomoto in the 56th minute. IWABUCHI Mana (Tottenham Hotspur FC) and UEKI Riko (Nippon TV Tokyo Verdy Beleza) were brought on in the 59th minute to add more layers to the Japanese offence, before SEIKE Kiko (Mitsubishi Heavy Industries Urawa Reds Ladies) and MIYAZAWA Hinata (Mynavi Sendai Ladies) were introduced in the 77th minute to shift their system to a four-back formation, but the match ended in a stalemate in which Japan walked away with a 2-1 victory.
The Nadeshiko Japan will travel to Denmark on Saturday 8 April, before facing the Denmark Women's National Team on Tuesday 11 April.
Coach and Players' Comments
IKEDA Futoshi, Head Coach of Nadeshiko Japan (Japan Women's National Team)
I shared with the players the importance of the first match, taking into account the weather and conditions. It was great that we managed to win in the end despite conceding the opening goal in the first half. It also allowed us to test different combinations of players and to test different systems in the closing minutes. We made some careless mistakes, so we want to raise the overall quality of our game. In terms of defence, we need to correct the way we deal with players making the run from the midfield. In order to maintain our balance in defence as our opponents increased the number of players in their front line at the end of the game, we switched to a four-back formation. Although we didn't play the finest defence, the fact that we were able to close out the match without conceding gives us a lot of confidence going forward.
DF #3 MINAMI Moeka (AS Roma/Italy)
We were able to possess the ball in the first half, but our timing was off in defence and conceded a goal when there was a gap between our defence and midfield. We gave up a lot of chances after that, so we still have a lot of work to do. I was able to maintain my aggressiveness because I am used to playing against bigger and faster players in Italy. I have also become more aware of the mental aspect of the game, so I always make sure to set the bar on the first play, letting my opponents know that I will come hard on them. I want to be strong enough to gain the trust of my teammates, and I will work on how I communicate with my teammates, so that we don't concede any goals from a single mistake.
DF #24 MORIYA Miyab (INAC Kobe Leonessa)
I entered the game with a strong conviction that I had to give it my all in 45 minutes. It went by so quickly and it was a refreshing experience, but I think I was able to play the way I wanted. The speed of the game was vastly different from what I have experienced in Japan, but it was good that I was able to keep my position high in the early stages and keep my composure to deliver that cross to Hikaru-san. In terms of defence, I felt I needed to be more vocal and clearer about my intentions, because I found myself chasing the same player with my teammates in number of occasions. I want to get myself involved in the team's goals if I get a chance to play against Denmark.
MF #8 NAOMOTO Hikaru (Mitsubishi Heavy Industries Urawa Reds Ladies)
Knowing how much opportunities I had in both halves, I am quite disappointed with this result. It's great that I was able to recover the loose balls and take shots, but I needed to score goals. We were unable to keep a good distance between each other and keep the ball moving early in the first half, but we managed to pick up our tempo as we communicated more, and I think we played with a good sense of distance in the second half. In terms of defence, there were scenes where I was able to apply pressure but was unable to win the ball, so that is an aspect I need to improve on. All and all, I feel like I was able to contribute for the team's victory, but as an attacker, I need to increase my offensive output.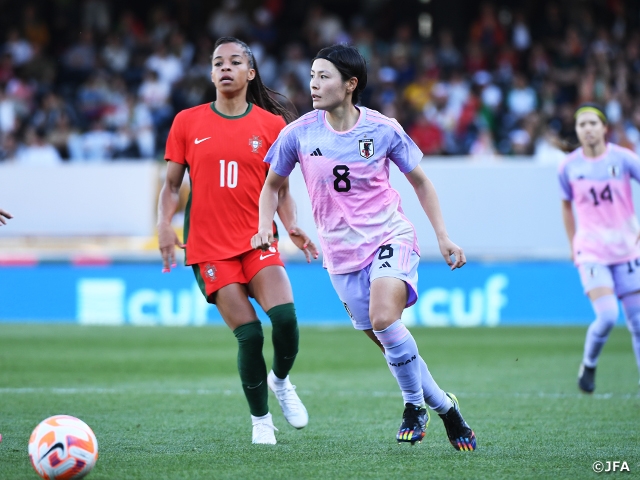 MF #14 HASEGAWA Yui (Manchester City/England)
We managed to possess the ball, but including myself, we made too many easy mistakes in the early minutes. I regret that one of the defensive midfielders could have taken a higher position early on to create more depth in our offence. This match served as a reminder that the 3-4-3 formation requires complete team cooperation in order for the team to successfully win the ball. When I scored the goal, I knew I had plenty of space in front of me when (Sugita) Hina had the ball, so I took my chance to make that run, and I feel like I need to make more of those runs. Our next match against Denmark will be played in cold conditions, so we will make sure to rest well ahead of the game.
FW #11 TANAKA Mina (INAC Kobe Leonessa)
We looked stiff and were overwhelmed by our opponents' momentum in the early minutes, but managed to make adjustments in the second half, which allowed us to keep the ball moving more smoothly. I feel like I was able to display my strengths when I scored the second goal. It is great that I was able to score and assist a goal, but I am not satisfied with my overall performance. I think the next game against Denmark will be my last opportunity to make a case for myself, so I will play with an eye on the World Cup and try not to leave any regrets.

International Friendly Match
Fri. 7 April 2023, 17:00 (Sat. 8 April, 1:00 Japan time)
Nadeshiko Japan vs Portugal Women's National Team
Venue: Estadio D. Afonso Henriques (Guimaraes, Portugal)
Match Information