NEWS
【Match Report】Nadeshiko Japan completes Europe tour with one win and one loss after falling to Denmark 0-1
12 April 2023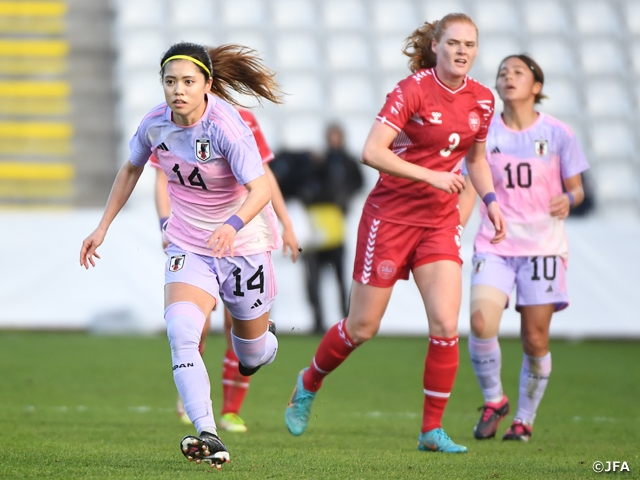 On Tuesday 11 April, the Nadeshiko Japan (Japan Women's National Team), who are on a tour to Europe, played the Denmark Women's National Team, ranked 16th in the FIFA rankings, at Odense Stadium in Denmark, where they lost 0-1.
In their second match of the European tour, Japan played the same 3-4-2-1 formation as in their first match against Portugal. Four changes were made to the starting line-up, with KUMAGAI Saki (FC Bayern Munich) starting as the centre back, ENDO Jun (Angel City FC) as the left wing-back, IWABUCHI Mana (Tottenham Hotspur FC) as the centre midfielder, and UEKI Riko (Nippon TV Tokyo Verdy Beleza) as the lone striker.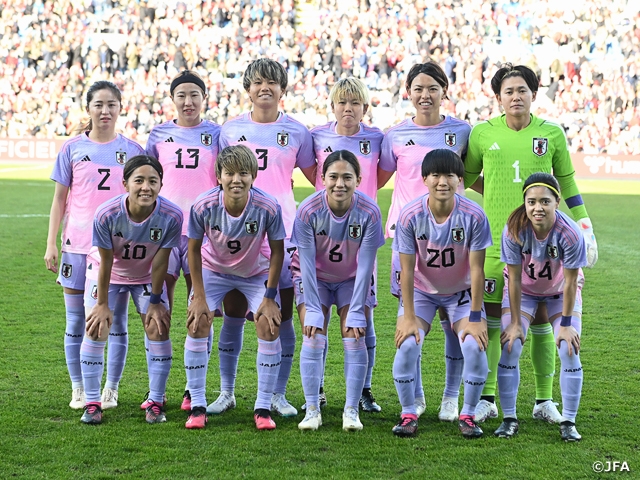 At the FIFA Women's World Cup Australia/ New Zealand 2023™, Japan could face a team from the Nordic countries in the first round of the knockout stage. Therefore, the match against Denmark was regarded as a "simulated Round of 16." However, the match started with Japan being dominated by Denmark, who showed great intensity in defence.
In the first, fifth, and fifteenth minutes, Japan conceded corners, allowing Denmark, who hold the height advantage, to threaten the goal from close range. Japan's first shot came in the 19th minute, when SHIMIZU Risa (West Ham United) delivered a cross to setup the shot of HASEGAWA Yui (Manchester City).
Although Denmark created another close opportunity in the 25th minute, Kumagai was there to make the block. Following this play, Japan made adjustments to their formation and started to dictate the pace of the match. In the 38th minute, Iwabuchi received a cross from Shimizu before striking a shot from close distance, but her attempt was denied by the fine save made by the Danish goalkeeper Maja Bay OSTERGAARD.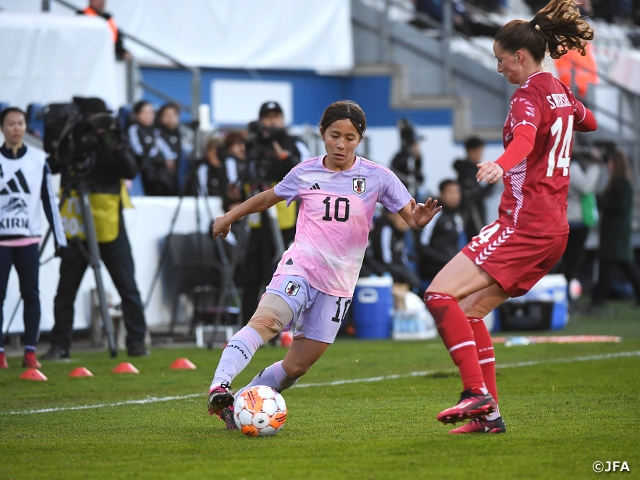 Japan continued to showcase their dominance in the second half. In the 51st minute, MIYAKE Shiori (INAC Kobe Leonessa) connected with a freekick delivered by Endo, but her header was not able to find the back of the net.
In efforts to change the dynamics of the match, Japan introduced MIYAZAWA Hinata (Mynavi Sendai Ladies) and MORIYA Miyabi (INAC Kobe Leonessa) in the 58th minute. FUJINO Aoba (Nippon TV Tokyo Verdy Beleza) created a close opportunity with her cross in the 62nd minute, followed by an attempt made by Miyazawa and Endo just a minute later, but Ostergaard once again made the save to deny Japan from scoring the opening goal.
HAMANO Maika (Hammarby IF) came off the bench in the 75th minute to add more layers to the offence, but Japan conceded a goal to Denmark in the 78th minute, when Janni THOMSEN applied pressure against MINAMI Moeka (AS Roma), who made an errant pass that went by the Japanese goalkeeper YAMASHITA Ayaka (INAC Kobe Leonessa) and into the net.
With their backs against the wall, Japan introduced SUGITA Hina (Portland Thorns FC) in the 87th minute and tried to rally back by sending number of crosses from both sides. However, they were unable to break down the Danish defence, which continued to work hard in their own half, and lost the match 0-1.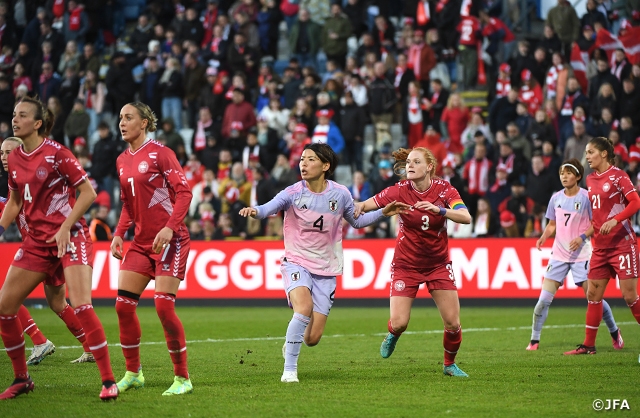 After the match, Head Coach IKEDA Futoshi gathered the players on the pitch and said, "We would be eliminated if this was the World Cup. Each and every one of us must strive to get better before July." The Nadeshiko Japan have now completed their final tour abroad ahead of the FIFA Women's World Cup Australia/ New Zealand 2023™, as the team is scheduled to announce their roster in June before entering the tournament in July.
Coach and Players' Comments
IKEDA Futoshi, Head Coach of Nadeshiko Japan (Japan Women's National Team)
Denmark put us under man-to-man pressure from the beginning of the game, and we wanted to work together to share where spaces were open to fend them off, but their pressure was too much for us. It was good that we were able to make the adjustments within the first half and outplay our opponents by spreading the ball around in the second half. It was disappointing to lose, but it gave us a great opportunity to play against a team that will be in the World Cup and observe various player combinations and traits in a competitive match. The game taught us how one play or a single goal can change the course of an entire game.
DF #3 MINAMI Moeka (AS Roma/Italy)
Scandinavian teams play extremely effectively to set up their attacks, so we needed to be quick and coordinate our defensive positions as a team to block the passing lanes, but we were unable to do so in the first half. We seemed undecisive on many occasions, so we need to be quicker in making those decisions. Looking back on the scene where we conceded the goal, I think the best decision was to just clear the ball. Losing the match with a goal like that is something we must avoid, so I must do a better job to prevent such play as a defender.
DF #4 KUMAGAI Saki (FC Bayern Munich/Germany)
We were overwhelmed by our opponents' momentum at the beginning of the match. We conceded many corner kicks in the early minutes, which is something we must avoid in our future matches. However, it was great that we managed to keep our opponents scoreless in the first 15 minutes, when our opponents dictated the pace. We were good at communicating and making adjustments to increase our chances, but we lacked quality in terms of "how we score goals" and "how we prevent our opponents from scoring a goal." We are lucky that this was just a friendly match because if this were the World Cup, we would already be on our way home. We are all reminded that we still have a lot of work to do, including myself.
MF #13 ENDO Jun (Angel City FC/USA)
We struggled against our opponents' pressure in the early minutes. We knew how fast their attackers were, so we managed to cope with their speed, but I feel like I could have delivered better crosses and shots after freeing myself up in midfield. Although we were able to create more chances in the second half, we made many errant passes, which is something we need to improve. While we are pleased with how we carried ourselves as a team and as individuals during the game, we must take this outcome seriously and work to make the most of this opportunity to grow.
MF #14 HASEGAWA Yui (Manchester City/England)
We were able to establish our rhythm and create chances in matches like the Portugal match, where we were able to possess the ball, but in matches like this one, where our opponents analysed us and applied high pressure, I felt we needed to change our positioning and find open spaces a little quicker to make the necessary adjustments. We were unable to pose threat to our opponents and couldn't add layers to our offence during clutch situations at the end of the match. I play a deeper role at my club, but I felt like needed to be more involved in our offence.

International Friendly Match
Tue. 11 April 2023, 18:00 (Wed. 12 April, 1:00)
Nadeshiko Japan vs Denmark Women's National Team
Venue: Odense Stadium (Odense, Denmark)
Match Information