NEWS
Nadeshiko Japan announce squad for Europe Tour
30 March 2023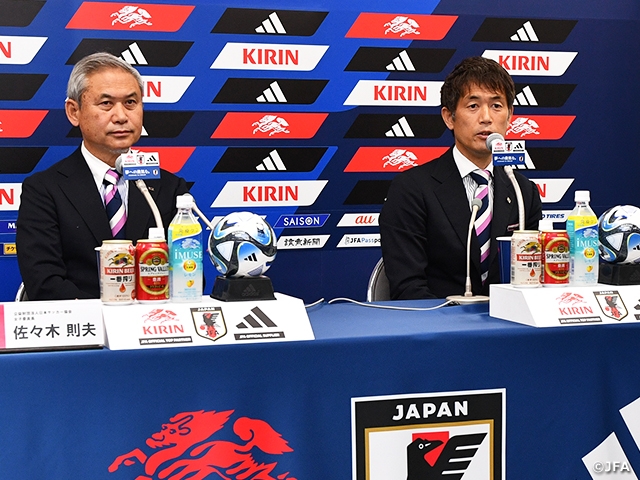 On Wednesday 29 March, Japan Football Association (JFA) announced the squad of the Nadeshiko Japan (Japan Women's National Team), who are scheduled to be on a tour to Europe in April. In a press conference held at JFA House, Chairman SASAKI Norio of the JFA Women's Committee and Head Coach IKEDA Futoshi of the Nadeshiko Japan made an appearance to announce the 25 players travelling to Europe.
The list was made up mainly of players who participated in the SheBelieves Cup in February, with three players selected from the WE League leaders Mitsubishi Heavy Industries Urawa Reds Ladies, including SEIKE Kiko, and four from second-placed INAC Kobe Leonessa, including goalkeeper YAMASHITA Ayaka.
Eleven players playing abroad were also selected, including Saki KUMAGAI (FC Bayern Munich/Germany), Risa SHIMIZU (West Ham United/England), Yui HASEGAWA (Manchester City/England), and IWABUCHI Mana (Tottenham Hotspur FC/England), allowing for a wide variety of combinations to improve the team's strength.
ISHIKAWA Rion (Mitsubishi Heavy Industries Urawa Reds Ladies), who made her Nadeshiko Japan debut at the SheBelieves Cup, continued to be selected, while MORIYA Miyabi (INAC Kobe Leonessa), who was unable to play at the tournament in the US due to injury, made her return. Also making their return after being excluded from the SheBelieves Cup squad are NAOMOTO Hikaru (Mitsubishi Heavy Industries Urawa Reds Ladies) and TANAKA Mina (INAC Kobe Leonessa), who are currently playing active roles in the WE League, making the competition within the team even more intense.
With less than four months to go until the start of the FIFA Women's World Cup Australia/ New Zealand 2023™, Nadeshiko Japan will play two international friendlies during this tour. Coach Ikeda said of the Portugal Women's National Team (ranked 21st in the FIFA rankings), "They are a team with great momentum from winning the play-offs. They are also an aggressive team with plenty of speed upfront, so we will have to find ways to keep the ball moving to create chances." As for the match against the Denmark Women's National Team (ranked 15th in the FIFA rankings), he said, "They are a very organised team who are capable of switching between various formations. We will have to analyse their recent and upcoming matches before entering this match."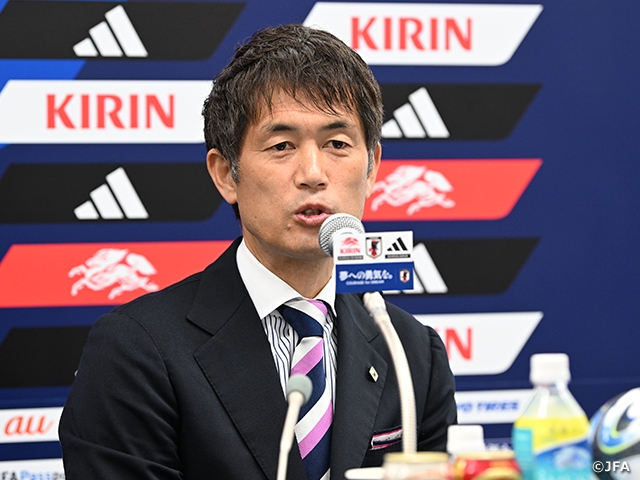 The Nadeshiko Japan will face Portugal on Friday 7 April and Denmark on Tuesday 11 April.
Comments
SASAKI Norio, Chairman of JFA Women's Committee
Thank you for attending this press conference on the occasion of Nadeshiko Japan's tour to Europe. The support of various sponsors has made today's press conference possible. We are truly sorry to all of our football fans for not being able to televise the SheBelieves Cup. We are very grateful that the matches will be broadcasted live on NHK BS1, and I believe that the live coverage in Japan will motivate the players even more. We have a new away uniform, and I hope that you will continue to support us to get the word out and help us grow the sport together.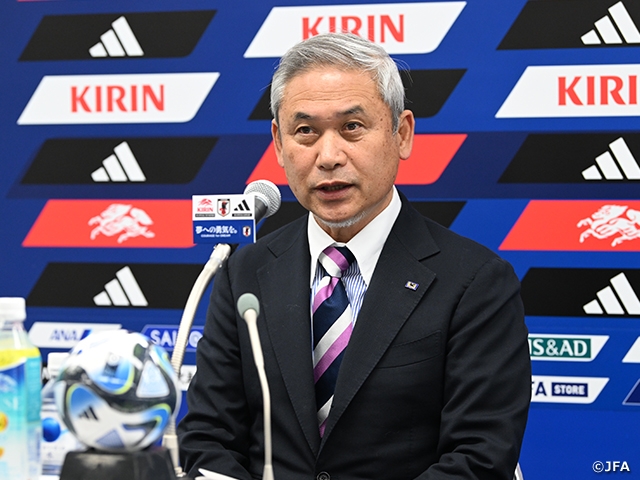 IKEDA Futoshi, Head Coach of Nadeshiko Japan (Japan Women's National Team)
It is really meaningful for us to play against Portugal and Denmark, two very accomplished countries, at this time of the year as we prepare for the Women's World Cup. We would like to thank our sponsors and partners for making this tour possible. This will be our last opportunity to tour abroad before the Women's World Cup, so I hope we can prepare ourselves well for this event. The US tour had its own challenges and achievements, and although we increased the number of chances created in the first and second games, we were unable to score goals, which I think will be an important factor moving forward. On the defensive side, we would like to keep the players on the same page in terms of how we need to defend against the opponent's quick attacks, especially when we are pushing forward.