NEWS
Nadeshiko Japan return home after taking second place in 2015 FIFA Women's World Cup in Canada
08 July 2015
Nadeshiko Japan, who took second place in the 2015 FIFA Women's World Cup in Canada, flew back on 7 July from Vancouver, where the final had been held.
Although the team could not be the second team in history to become back-to-back champions, they have played in three consecutive international tournament finals, including the previous World Cup in 2011 and the London Olympics in 2012. The players received a warm welcome by hundreds of their fan at Narita Airport, which made them smile.
After arriving, midfielder and captain MIYAMA Aya (Okayama Yunogo Belle) and SASAKI Norio, the head coach, as well as NODA Akemi, the Women's Committee Chairman of the Japan Football Association, appeared at a press conference in Narita, Chiba.
Sasaki noted: "it wasn't easy at all to win each match, as the level of each country has improved. Having said that, the player's tenacious effort and desire to get through to the final made it come true. I'm proud of all the players."
In the final, Japan met USA once again - as they had in the finals of the previous World Cup and the London Olympics. Japan lost the game 5-2. However, from being four goals behind, the team scored two goals, including a shot from the forward OGIMI Yuki (VfL Wolfsburg). The players showed their spirit.
Sasaki, the head coach commented: "the final whistle means a new start for Nadeshiko Japan. To become the world champions again, we need something extra. We need to analyse our performance and work on it." He pointed out the necessity and importance of boosting individual skills and quality of judgment.
Miyama, showing some frustration, noted: "we couldn't get what we wanted most. There's nothing like the World Cup title." She also commented: "I don't regret, though, as we played as hard as possible, judging each situation as best we could."
Although the Women's World Cup is over, Nadeshiko Japan will participate in the EAFF East Asian Cup 2015 (from 1 to 8 August in Wuhan, China) and the qualifying round for the Olympics in Rio de Janeiro in the coming year.
Sasaki said he would start inspections in the plenus Nadeshiko League, which will restart this weekend, for the coming East Asian Cup.
FIFA (Fédération Internationale de Football Association) announced that the attendance at this World Cup, in which 24 teams participated, was 1,353,506 in 52 games, which set an attendance record (the average game attendance of 26,029). There were 146 goals in total and the average number of goals per match was 2.8, which exceeded the score of 2.69 in the previous championship. There were eight goals that were confirmed by the newly installed goal-line technology. The next championship will be in France in 2019.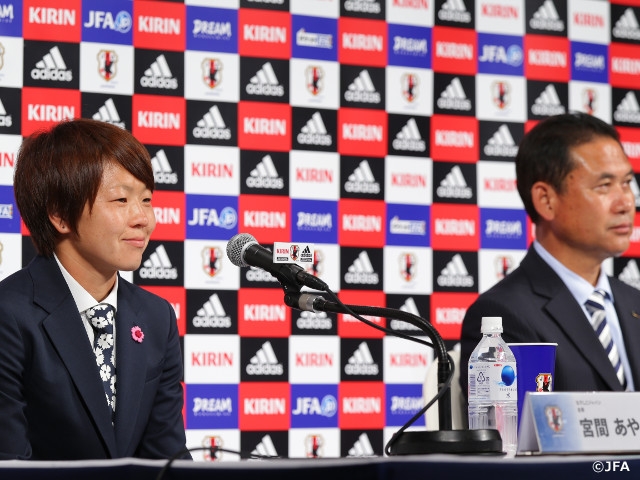 Head Coach and Players' Comments
SASAKI Norio, Head Coach (Nadeshiko Japan/Japan Women's National Team)
All the cheers from supporters in Japan have encouraged the team. I really appreciate it. We must learn from our experience for the future. We experienced the 2008 Olympics in Beijing, which lead us to good results in international tournaments three times in a row. We also realised in this championship that the world will change.
Although we will aim at the gold medals for sure in the coming Olympics in Rio de Janeiro next year, it will be tough to secure one of two Asian berths through the qualifying round under pressure. It's vital to boost individual skills and quality of judgment.
MF #8 MIYAMA Aya (Okayama Yunogo Belle)
I really had the feeling of believing in our aims and teammates in this championship. To win in the Olympics, it's essential to be excellent individually. It's also vital to be confident that we can become No.1 to play against one of the top teams in the world. Although we're going back to our club teams, I'd like to keep contributing to the development of women's football.
DF #4 KUMAGAI Saki (Olympique Lyonnais/France)
After playing internationally to boost my individual skills, I could see some improvement during this championship. Having said that, I feel frustrated, thinking I could have adjusted to the game on the pitch a little better. All I can say about the final is that it was "just frustrating", but I think the USA was tactically better.
MF #13 UTSUGI Rumi (Montpellier HSC/France)
As we shared a strong desire to win, I was really pleased to play with my teammates, and truly wanted to win games for them. Although we couldn't get as far as we wanted, I'd like to say we did what we could in this championship.
FW #17 OGIMI Yuki (VfL Wolfsburg/Germany)
In the final, we conceded several goals that we could have defended. However, it also displayed our abilities. Although I thought there was a possibility to turn the game around, one goal wasn't enough. I needed to improve my skill for that. As a team, I believe we found many tasks to work on as well.
DF #19 ARIYOSHI Saori (Nippon TV Beleza)
I earned some confidence through playing against international players in this championship. I also learned what kind of plays may work or how tough the game can be. I'd like to improve the speed and the quality of my game. As I had an opportunity to have such an experience, I'd like to learn from there. I'm responsible for taking that forward.
FW #15 SUGASAWA Yuika (JEF United Ichihara Chiba Ladies)
I couldn't score in the final. So I don't think I contributed to the team enough. I need to play more aggressively, staying ambitious for goals. As Japan needs more accurate finishing shots, I'd like to improve this more.
MF #7 ANDO Kozue (1. FFC Frankfurt/Germany)
I really appreciate that my teammates took me to the final, despite the frustrating result. All of the 23 players were great, and they could play for others on and off the pitch. We learned what we needed to improve ourselves even more, even though we couldn't finish the championship happily.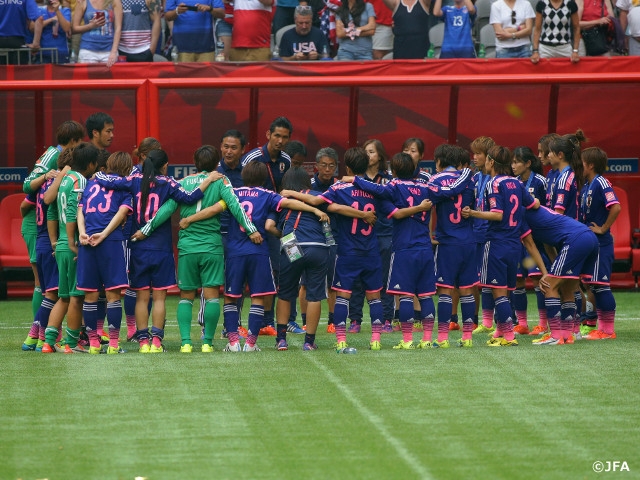 JFA-TV (Japanese version only)
Interview - MIYAMA Aya (Okayama Yunogo Belle)

Interview - SAWA Homare (INAC Kobe)
Interview - OGIMI Yuki (VfL Wolfsburg/Germany)

Interview - IWABUCHI Mana (FC Bayern Munich/Germany)
FIFA Women's World Cup Canada 2015