NEWS
Nadeshiko Japan prepare for final against USA in FIFA Women's World Cup
05 July 2015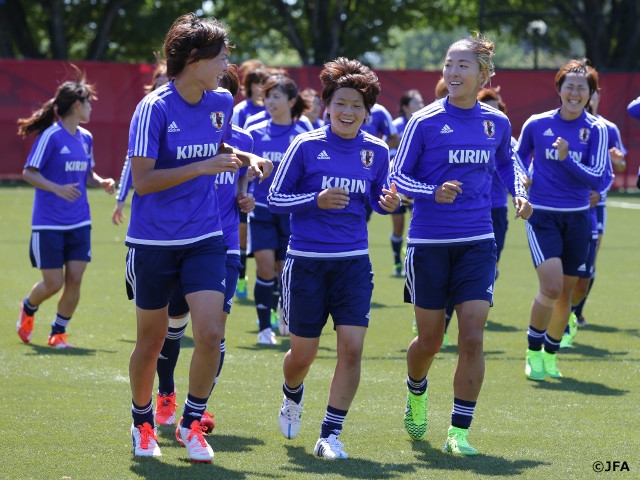 One day before their final against the USA, when they have the chance to become back-to-back champions at the 2015 FIFA Women's World Cup in Canada, Nadeshiko Japan held their final practice session for one hour in Vancouver on 4 July.
The whole session was open to the media. It was the first time they had held an open practice session since the championship started. The players' preparations seemed to be going smoothly.
Many members of the Japanese and international media attended. The players started with stretching and a warm-up, followed by practicing the build-up from the defensive line to shots from the forwards. They were divided into two groups and tried several patterns to check each other's movements.
Then the attackers, including OGIMI Yuki (VfL Wolfsburg) and IWABUCHI Mana (FC Bayern Munich), moved to shooting practice, while the others, including midfielder SAWA Homare (INAC Kobe) and defender IWASHIMIZU Azusa (Nippon TV Beleza), practiced passing.
Japan midfielder ANDO Kozue (1.FFC Frankfurt), who arrived from Japan and joined the team at the end of the session, was welcomed with cheers by the players. Ando went through an arch made by her teammates with a smile on her face, and hugged each player. The team finished their final practice session in a good atmosphere.
Ando commented with a smile: "I'm grateful to my teammates for taking me here." She will be in the dugout in the final to encourage the team.
After the practice session Japan head coach SASAKI Norio appeared at a press conference in BC Place Stadium, in which the final would be held. He said enthusiastically: "our condition could not be better. We'll meet the USA in great shape. I definitely believe we will have a good chance to beat them, if we can play our style. The players are getting themselves ready to become back-to-back champions."
Japan will play against the USA in the final of an international tournament for the third time, after the 2011 World Cup in Germany, when Japan won the championship, and the 2012 Olympics in London. The USA have participated in the FIFA Women's World Cup six times, and won the championship twice in 1991 and 1999, coming in second or third in the others. USA is currently second in the FIFA rankings, while Japan is fourth. The team have been trained under their current head coach Jill Ellis since May 2014. They have built up positive momentum for themselves towards the end of this championship.
Japan head coach Sasaki commented: "the match in 2012 was better than the one in 2011. We'll meet them for the third time tomorrow and I believe we can play our style more to win the game."
Japan midfielder Sawa, who has come to her sixth consecutive FIFA Women's World Cups this time, noted: "both of the teams know more than enough how it feels to lose in the final. Both are eager to win, of course. I hope we can finish the championship with smiles on our faces."
The final between USA and Japan will kick-off at 16:00 on 5 July (8:00 on 6 July Japan Time).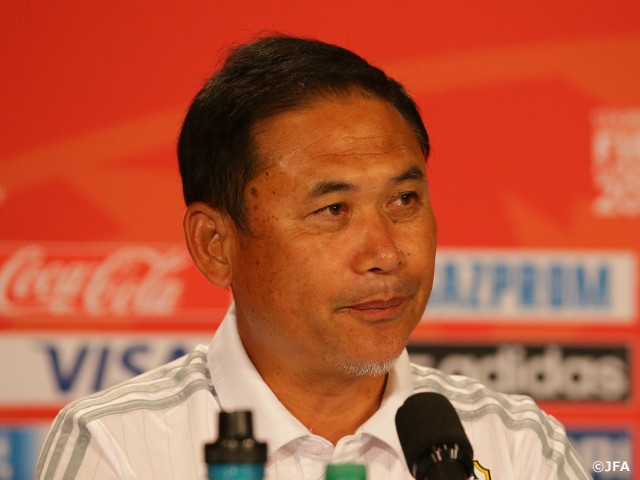 Head Coach and Players' Comments
SASAKI Norio, Head Coach (Nadeshiko Japan /Japan Women's National Team)
I feel truly honoured to play in the final against the USA once more, as we respect them and they have inspired us. I hope tomorrow's match will be an excellent one, in which both teams contribute to the future of women's football. The USA's advantages are having a strong desire to win, as well as having strength and systematic skills. Although we're not as powerful as them, we've got good skills, combination plays and swift switches. We need to put on a high-level performance, but I can say we're better than the opponent in those aspects. I believe we are mentally stronger than in 2011. I expect there will be more supporters for the USA tomorrow, but the players can draw strength from the situation. There is no need to fear failure. I want the players to enjoy the match, thinking about the many supporters in Japan.
MF #10 SAWA Homare (INAC Kobe)
We have prepared ourselves very well both mentally and physically. There are smiles all around and a good relaxed atmosphere in the team, which makes me believe we're ready. The players feel confident in a good way, after we've been preparing for four years. Personally, as it's the last World Cup for me, I would just like to enjoy each moment at full tilt without any regret whenever I'm on the pitch.
MF #8 MIYAMA Aya (Okayama Yunogo Belle)
All I can imagine is that we will win the game. As we have struck the opening goal in consecutive games, I hope we'll do the same in tomorrow's match, which gives us a good rhythm. Achieving a good result, I believe, will begin to make women's football in Japan a culture, rather than a temporary fad. We'll do what we need to do tomorrow, so that future-players in Nadeshiko Japan can wear their shirts with the emblem of the FIFA Women's World Cup champions for the coming four years or even longer.
GK #18 KAIHORI Ayumi (INAC Kobe)
All we need is to win the coming match. I'd like to get myself ready, so that all 23 teammates, as well as the staff, can achieve victory in the final. I cannot tell what kind of game it may be. However, I'd like to play, trusting my teammates throughout the game both in good and hard times.
DF #3 IWASHIMIZU Azusa (Nippon TV Beleza)
The USA is a worthy adversary for the final. As they can kick as well as pass the ball around very well, we need to play at full power. Although we came here to become back-to-back champions, I'd rather aim to win this championship once again as the challengers.
Jill Ellis, Head Coach (USA Women's National Team)
We've been preparing ourselves for one year. We're very excited as well as confident. Although we cannot go full tilt for 90 minutes, the team is well balanced and we could keep possession to pass the ball swiftly against Germany. I expect both teams will be eager to retain possession tomorrow. I wasn't in the team back in 2011, but the possibility of becoming champions tomorrow gives me motivation. The game will be between two great teams. I know it will be an excellent one.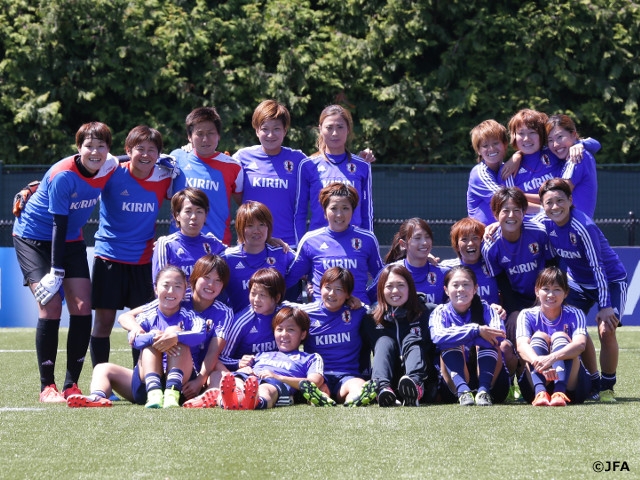 FIFA Women's World Cup Canada 2015
Final
Nadeshiko Japan (Japan Women's National Team) vs USA Women's National Team
Mon. 6 July - 8:00 (Japan Time)