NEWS
Nadeshiko Japan scores seven goals against Panama to win back to back international friendly matches
12 April 2021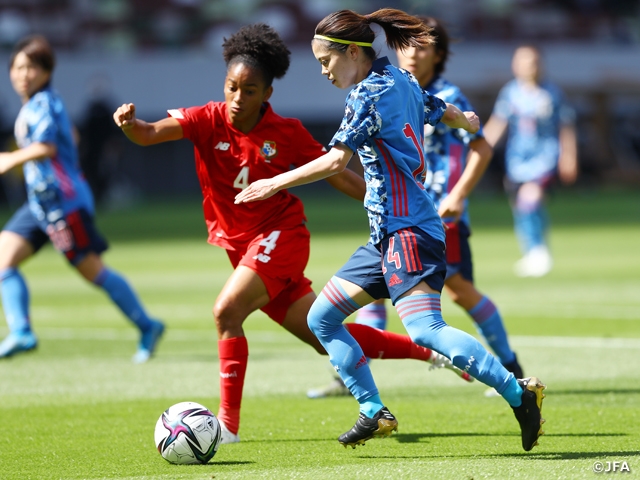 On Sunday 11 April, the Nadeshiko Japan (Japan Women's National Team) played in an international friendly match against the Panama Women's National Team, where SUGASAWA Yuika (Mitsubishi Heavy Industries Urawa Reds Ladies) scored a hat-trick to propel the team to a 7-0 victory.
Following their 7-0 victory over the Paraguay Women's National Team on Thursday, the Nadeshiko Japan made five changes to their starting line-up, as TAKAHASHI Hana (Mitsubishi Heavy Industries Urawa Reds Ladies) made her first start for the senior side. Players currently playing abroad, HASEGAWA Yui (AC Milan/Italy) and MOMIKI Yuka (OL Reign/USA), also featured the line-up in the first national team match ever played at the new Japan National Stadium.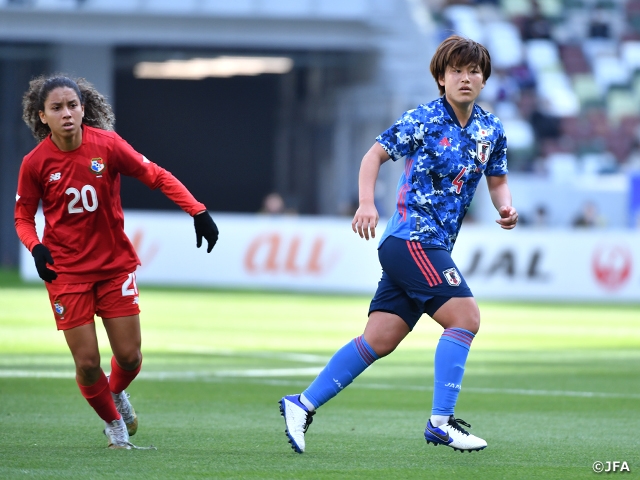 The match started with Japan taking the initiative through their aggressive approach. In the sixth minute, Momiki struck a powerful shot that ricocheted off the cross bar, which was followed up by IWABUCHI Mana (Aston Villa/England), but her shot sailed over the goal frame. Two minutes later, this time Iwabuchi's shot took a deflection, allowing Sugasawa to convert the loose ball to score the opening goal. The second goal came in the 16th minute, when the ball was connected through HAYASHI Honoka (AIK Fotboll) and Sugasawa, before finding SHIMIZU Risa (Nippon TV Tokyo Verdy Beleza) who broke into the penalty box and fired a powerful shot that pierced the net. For Shimizu, this was her first national team goal.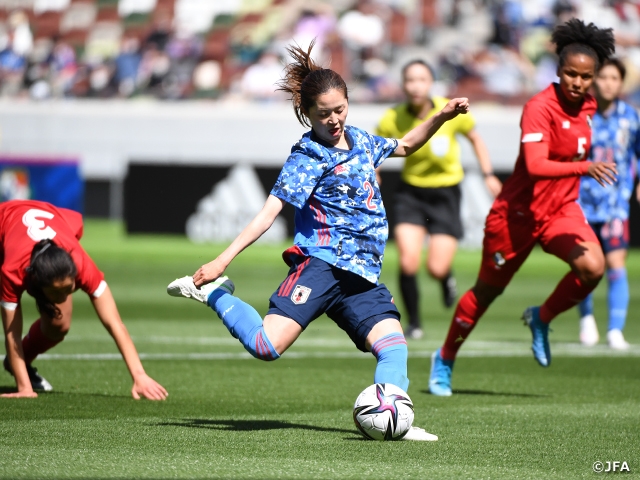 In the 32nd minute, an early cross delivered by Iwabuchi was blocked by the Panamanian GK Yenith BAILEY, but Hasegawa was there to strike a beautiful lob shot that found the back of the net, making it 3-0. With Sugasawa and Momiki scoring a goal apiece, Japan entered halftime with a five goal lead.
Japan continued to showcase their dominance in the second half. Sugasawa scored her third goal of the match, as she converted the cross sent by Iwabuchi in the 56th minute. After entering the match in the 59th minute, SUGITA Hina (INAC Kobe Leonessa) scored the team's seventh goal in the 61st minute. 18 year old KINOSHITA Momoka (Nippon TV Tokyo Verdy Beleza), who is the youngest player on the roster, tried her luck from distance, but her attempt was saved by Bailey. Despite the final efforts made by TANAKA Mina (Bayer Leverkusen) and HAMADA Haruka (Mynavi Sendai Ladies), the match ended with a final score of 7-0.
With this result, the Nadeshiko Japan has started 2021 with back to back 7-0 victories, building great momentum ahead of the Summer Olympics. The team will continue with their training camp in Chiba until Tuesday 13.
Coaches and Players' Comments
TAKAKURA Asako, Coach of Nadeshiko Japan (Japan Women's National Team)
The players entered this match with the intention to make it a better match than our previous match against Paraguay. With our opponent dropping deep in their territory, it was a difficult match, but we managed to showcase our creativity to score some fine goals. However, it was even more difficult in the second half, as our opponent dropped further back, making it hard for us to create opportunities upfront. We still saw some aspects we can improve on, such as crosses and set-pieces, so we will continue to give our best efforts to improve ourselves.
DF #2 SHIMIZU Risa (Nippon TV Tokyo Verdy Beleza)
I focused on improving some of the aspects we lacked in our match against Paraguay. (Reflecting on the goal) I kept my position closer to the goal as I was anticipating for the ball. Sugasawa gave me a great ball and I am glad I was able to score my first goal with the national team. I feel like we managed to take the initiative, work hard for the entire 90 minutes, and keep a high intensity regardless of who we faced.
DF #4 TAKAHASHI Hana (Mitsubishi Heavy Industries Urawa Reds Ladies)
Panama had skilful players in their midfield, while placing fast players in the flank. That is why I focused on denying their opportunities early. I was so happy when I learned that I was starting for the first time. It was also great that I was able to play at a wonderful stadium like the Japan National Stadium, so I tried to express my gratitude on the pitch. If the younger generation, including myself, can improve, we should be able to raise the overall level of the team, so I will continue to work hard to improve myself.
MF #14 HASEGAWA Yui (AC Milan)
I had only one day to train with the team, but I feel like we were able to showcase what we had worked over the years. I focused on playing close to our attackers, but it still felt like I was too far from them in the first half, so I must review the game footage to improve on my positioning. We still have a couple more days left in this training camp, so we hope to make the most of the remaining time and challenge ourselves to make forward progress.
FW #9 SUGASAWA Yuika (Mitsubishi Heavy Industries Urawa Reds Ladies)
We knew their #6 (Aldrith QUINTERO) was their key player, so I focused on applying pressure to deny their build-ups. This was my first hat-trick with the national team since the 2014 Asian Games, so I am glad I was able to get another one, especially at the Japan National Stadium. This match played at the Japan National Stadium has made me want to play in the Olympics even more. I will give my utmost effort to make a case for myself to be selected into the final roster for the Olympics.
Ignacio QUINTANA, Coach of Panama Women's National Team
It is difficult to be objective about the match soon after it was over, but we are not satisfied with our performance. Japan was the better team in many aspects. Japan is a much stronger team than us, and they are a team we are striving to become. This match has a wonderful learning experience, and we hope to utilise this experience at the Women's World Cup qualifiers. Japan has provided us with a perfect travel plan with thorough measures to prevent the infection, so we were able to spend a wonderful time despite the ongoing pandemic.

International Friendly Match
Nadeshiko Japan vs Panama Women's National Team
Date: Sun. 11 April 2021 [13:30]
Venue: Japan National Stadium (Tokyo)