NEWS
Nadeshiko Japan post 2-1 extra-minute win over China, book spot in Asia Cup final
23 May 2014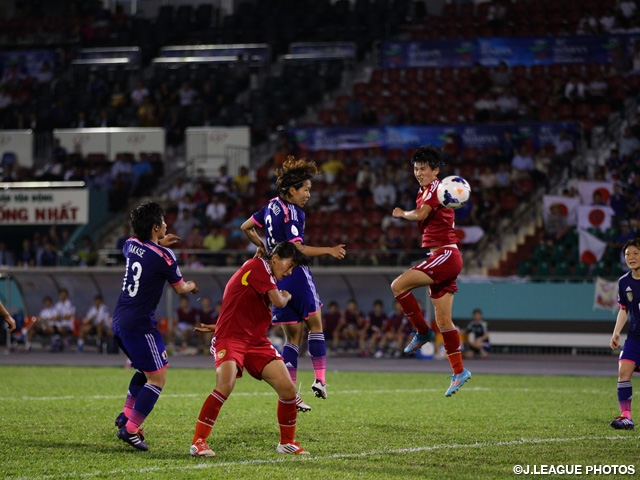 Nadeshiko Japan booked a spot in the final of the 2014 AFC Women's Asia Cup with a 2-1 extra-minute win over China in their semifinal match in Ho Chi Minh on the 22nd May (Thursday).
The match kicked off at 5:15 p.m. with some sticky humidity remaining. Japan started with Takase and Kawasumi at their forward positions and Sakaguchi and Sawa at their defensive midfielder spots. They looked for scoring chances, including from set plays, but neither team had hard times scoring a goal. On 45th minute, Kawasumi took a shot after Miyama and Sakaguchi relayed passes, but it slightly missed above the goal bar and the contest entered the halftime with a 0-0 score.
After the halftime, on 51st minute, Japan had a corner kick and Sawa headed it in the near side to strike the game's first goal. Defensively, Kawamura showed physical play while the entire defensive squad exhibited solid game around goalkeeper Fukumoto and defender Iwashimizu. Then on 80th minute, while the team was getting back to defense, a hand was called on a Japanese player, which would give a penalty kick for China. China made it to tie the game at 1 all. On 83rd minute, Kira substituted Sawa and on 87th, Kiryu replaced Nakajima, but Japan couldn't add a goal and the game entered extra minutes.
Kawasumi and Miyama, both of whom wouldn't show signs of fatigue, and Sugasawa, who came in late, tried to boldly aim the opponents' goal, but could not score. Yet in the injury time of the extra minute, Iwashimizu headed a corner kick from Miyama into the net for the game-winning score and Japan went on to win the battle 2-1 in the end.
With the victory, Nadeshiko made their first final appearance in the tournament in their last five attempts. They will face Australia, with whom Japan drew in their first game in the group stage. Nadeshiko Japan are motivated to have the revenge. They will try to tune up their conditions since there's only two days off in between, to enter the championship match with the best preparation possible.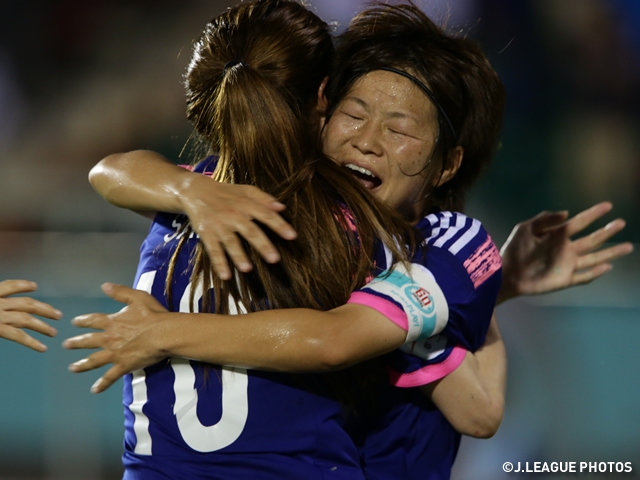 Comments
SASAKI Norio, head coach
We knew that it would be a tough match, but our players played so patiently. I would like to tip my hat off to them. Having expected a tough game, we started players with experience. Early in the first half, China didn't come against us with not as much power as we thought they would, but it would have been better if we scored one during the time. On the first goal from a corner kick, it was all our players' idea and it was such a high quality play. We left some issues in terms of how we played in this game, but our players' desire for the win made it possible for them to strike the game-winning goal in the end. Since we played 120 minutes, it will be important for us how much we will be able to tune up for the final.
I myself had struggled to overcome the obstacles of the semifinals, but it was the same for many of the players who have been on this team for a long time. We would like to follow the achievement of the Japan futsal team, who became the Asian champions.
MIYAMA Aya (Okayama Yunogo Belle)
It was a difficult game, but it was huge for us to win it with the efforts of the team. I thought that we would be able to keep running even if we would enter extra minutes, but what made the difference was the desire to win.
On both of our goals from corner kicks, because I could see players who got themselves free space, I just aimed at them. Especially on the second goal, I was able to share the feeling with Iwashimizu, and it was a good timing.
We struggled to get the opponents off-balance, but I feel that we didn't have enough plays that you overtake your teammate with the ball to change the flow of the game. On the contrary, China was doing it. I believe that we could play better if we have better qualify in our support on other players and its timing. We didn't want to stumble in the semifinals, but it was positive for those players who had not experienced tough games to go through one here. But whether we can take advantage of this or not will depend on how we will perform later.
IWASHIMIZU Azusa (Nippon TV Beleza)
It was a tough match. To be honest, I wanted to finish it in 90 minutes. However, I'm glad that I was able to score a goal. I took a nice pass from Ms. Miyama. As for the first score, we purposely blocked opponents, allowing Ms. Sawa to be free from defenders. This turned out to be successful. Although we have challenges as defensive forces, I think that we were able to have intense defense against the opponents' crossing.
SAWA Homare (INAC Kobe Leonessa)
All I needed to do to get a score was to kick the ball since Ms. Iwashimizu created space for me by blocking opposing players. I'm glad that we got results. We were able to get the results because we played as a team without lacking concentration until the end.
FUKUMOTO Miho (Okayama Yunogo Belle)
I think we were able to get the best results thanks to players who kept doing their jobs without lacking concentration and players who kept running. The fact that we got young players in the team doesn't make any change in our playing style. We just need to keep our attitude to cooperate with defenders to defend our goal, and I just need to do what I need to do. I feel that we still have a long way to go to reach world-class performance, but I think that the fact that we were able to win the tough match today has become a big achievement. I want to try hard so that we can grow as a team and I can grow as a player. It will be my first time to participate in the Asian Cup final. I will be well-prepared and play the match as a team.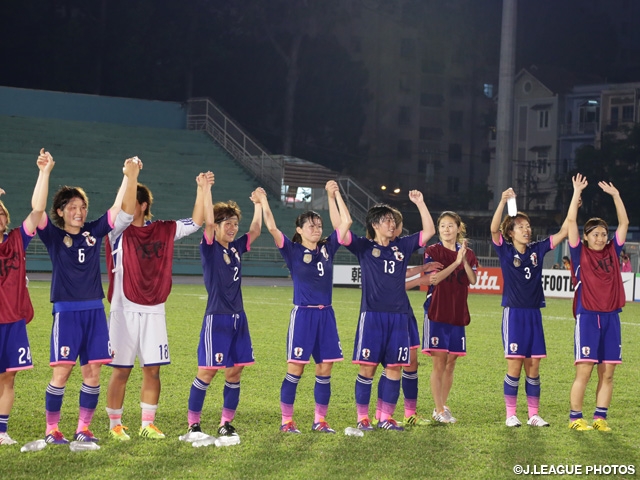 Schedule
Wed. 14 May
2 - 2
AFC Women's Asian Cup 2014 in Vietnam
vs. Australia Women's National Team
LIVE
TV Asahi Wed. 14 May 22:05 - 25:15
NHK-BS1 Wed. 14 May22:00 - 25:15
Fri. 16 May
4 - 0
AFC Women's Asian Cup 2014 in Vietnam
vs. Vietnam Women's National Team
(Thong Nhat Stadium)
LIVE
TV Asahi Fri. 16 May 22:05 - 25:15
NHK-BS1 Fri. 16 May 22:00 - 25:15
Sun. 18 May
7 - 0
AFC Women's Asian Cup 2014 in Vietnam
vs. Jordan Women's National Team
(Binh Duong Stadium)
LIVE
TV Asahi Sun. 18 May 21:00 - 23:12
NHK-BS1 Sun. 18 May21:00 - 23:15
Thu. 22 May
2 - 1
AFC Women's Asian Cup 2014 in Vietnam Semifinal
(Thong Nhat Stadium)
LIVE
TV Asahi Thu. 22 May 19:00 - 21:15
NHK-BS1 Thu. 22 May 19:00 - 21:15  
Sun. 25 May
20:15
AFC Women's Asian Cup 2014 in Vietnam
Third-place Match/Final
(Thong Nhat Stadium)
LIVE
TV Asahi Sun 25 May 22:00 ~ 0:15
NHK-BS1 Sun 25 May 21:55 ~ 0:50  
※All match time is local time.