NEWS
U-16 Japan National Team defeats Mexico to claim tournament title at the U-16 INTERNATIONAL DREAM CUP 2019 JAPAN presented by Asahi Shimbun
17 June 2019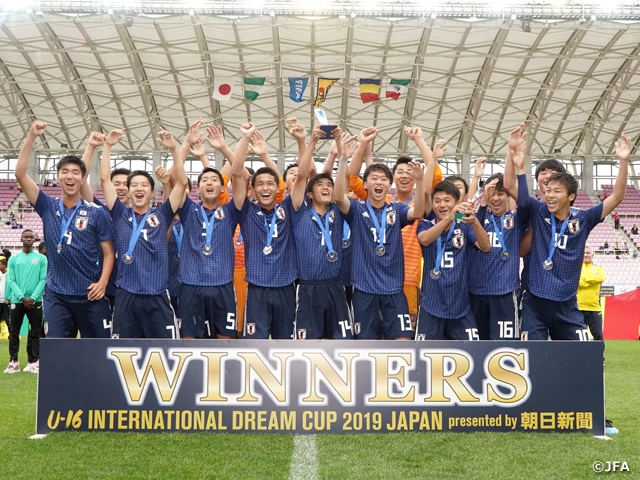 U-16 INTERNATIONAL DREAM CUP 2019 JAPAN presented by Asahi Shimbun
vs U-16 Mexico National Team
Sun. 16 June 2019 14:30 Match duration 90mins (45mins×2)
Yurtec Stadium Sendai, Miyagi
U-16 Japan National Team 5-0 (4-0, 1-0) U-16 Mexico National Team
Scores
12' NAKAMURA Jiro (U-16 Japan National Team)
19' NAKAMURA Jiro (U-16 Japan National Team)
37' KATSUSHIMA Shinnosuke (U-16 Japan National Team)
45+3' TOYODA Koki (U-16 Japan National Team)
58' CHIBA Kanta (U-16 Japan National Team)
Starting Line-up
GK: TAKAHASHI Ippei
DF: SUWAMA Kosei, MATSUKI Kuryu, MORITA Sho, KUDO Kota
MF: TOYODA Koki, YAMANE Riku, NAKAMURA Jiro, YAMAZAKI Taishin
FW: KATSUSHIMA Shinnosuke, KAWANO Kota
Reserves
GK: TANAKA Haruki
DF: OSAKO Aoto
MF: HIGASHI Ren, MIKI Jinta
FW: CHIBA Kanta, HARA Naoki
Substitutions
57' YAMAZAKI Taishin → OSAKO Aoto
57' KATSUSHIMA Shinnosuke → CHIBA Kanta
65' MORITA Sho → MIKI Jinta
65' NAKAMURA Jiro → HARA Naoki
78' TAKAHASHI Ippei → TANAKA Haruki
78' KUDO Kota → HIGASHI Ren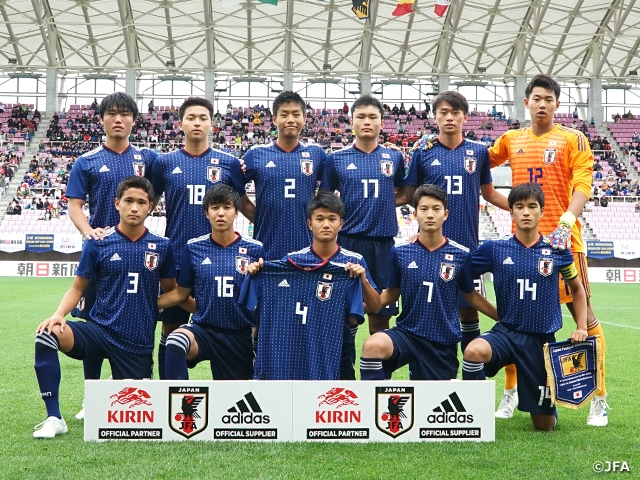 Match Report
On Sunday 17 June, the U-16 Japan National Team faced the U-16 Mexico National Team in their third match of the U-16 INTERNATIONAL DREAM CUP 2019 JAPAN presented by Asahi Shimbun.
Ahead of their final match of the tournament, Japan's coach YAMAHASHI Takashi sent off his players by telling them, "We are not going for a draw. Let's win the title with a victory." The Japanese players responded to their coach's words, as they showed great aggression to start off the match. In the 12th minute, NAKAMURA Jiro received the ball in front of the opposing goal, where he shook off a defender before calmly slotting the ball into the net to give Japan an early lead. Seven minutes later, TOYODA Koki delivered a through ball upfront, allowing Nakamura to chase the ball and score his second goal of the match. With momentum on their side, Japan managed to take a 4-0 lead by halftime, as KATSUSHIMA Shinnosuke and Toyoda each scored a goal in the 37th and 45th minute respectively.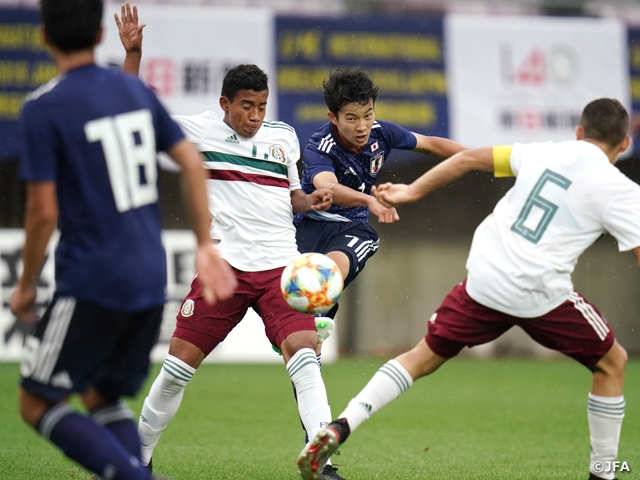 The second half saw the Mexican side rally back in the early minutes, but led by their goalkeeper TAKAHASHI Ippei, the Japanese defence showed great persistency to keep the clean sheet intact. Second half substitute, CHIBA Kanta scored his team's fifth goal in the 58th minute to all but lock up the win for Japan. The host nation kept their focus until the final whistle to end the match with a final score of 5-0, earning the tournament title of the U-16 INTERNATIONAL DREAM CUP 2019 JAPAN presented by Asahi Shimbun with three straight victories.
Coach and Players' Comment
YAMAHASHI Takashi, Coach (U-16 Japan National Team)
The players showcased great aggression on the field to take control of the match. Throughout the tournament, our attackers did well to initiate the action and find ways to break through the opposing defence line to score goals. Our defence also showed great intention to force turnovers and defended our goal with great tenacity. It was evident that our players were making improvements through each match and they were becoming more and more dependable. I hope the players will continue to strive to reach higher levels. This tournament was supported by the city of Sendai and the Miyagi Football Association, and many other people. Also, through this tournament, the participants were able to gain a precious experience, not only on the pitch, but also off the pitch through the field trip to the earthquake remains and the cultural exchange event. We would like to thank everyone who has made this wonderful tournament possible. I hope that these players will become a member of their own country's national team in the future.
DF #3 MATSUKI Kuryu (Aomori Yamada High School)
First of all, I am very grateful to be given the opportunity to play in such a wonderful tournament. Out of the three matches, I feel like we were able to gain the most from our third match against Mexico. We wanted to finish off the tournament on a high note, so it was very satisfying to end with a shutout victory. Through this tournament, I was able to learn where I did well against the foreign teams, and where I need to improve on. We entered the tournament with the intention to "challenge," and the fact that we managed to win the title gives us great confidence moving forward. Once I return to my school, I will continue to work hard so that I can get called back to this team again.
MF #7 TOYODA Koki (Nagoya Grampus U-18)
Through this tournament, the one thing I felt very strongly was that we cannot take for granted of this environment where we are allowed to play football freely. We must acknowledge that many people are supporting us to create this environment. That notion has helped us hold responsibility of our acts and allowed us to play with the pride of the Japan National Team, which led us to winning the tournament. Even when I return to my club, I will continue to show my appreciation towards my surroundings and give my utmost efforts to become a better player.
MF #15 NAKAMURA Jiro (Gamba Osaka Youth)
I am very happy to be able to score goals in our final match, especially after being kept scoreless for the first two matches. The Mexican players showed great intensity to win the ball and they were very difficult to play against. However, I was able to effectively utilise my strengths to carry the ball and get myself involved in our team's offence. I received the Asahi Shimbun Award and gained great confidence through this tournament. I am also more aware that I am representing Japan. I will continue to work hard so that I can get called up to the national team at each category and strive to become an exciting player like KUBO Takefusa.

Schedule
U-16 INTERNATIONAL DREAM CUP 2019 JAPAN presented by Asahi Shimbun
Wed. 12 June
1-1
(PK:4-2)
1st Match vs U-16 Romania National Team
(Yurtec Stadium Sendai)
Thu. 13 June
AM
Training
Fri. 14 June
4-1
2nd Match vs U-16 Nigeria National Team
(Yurtec Stadium Sendai)
Sat. 15 June
AM
Training
PM
Visiting earthquake remains, cultural exchange event, etc.
Sun. 16 June
5-0
3rd Match vs U-16 Mexico National Team
(Yurtec Stadium Sendai)
*The schedule is subject to change due to the team condition, the weather, etc.
U-16 INTERNATIONAL DREAM CUP 2019 JAPAN presented by Asahi Shimbun
Tournament Dates: Wed. 12 - Sun. 16 June 2019
Tournament Venue: Yurtec Stadium Sendai, Miyagi