NEWS
Nigeria starts off with a victory while Japan prevails after penalty shootouts at the U-16 INTERNATIONAL DREAM CUP 2019 JAPAN presented by Asahi Shimbun
13 June 2019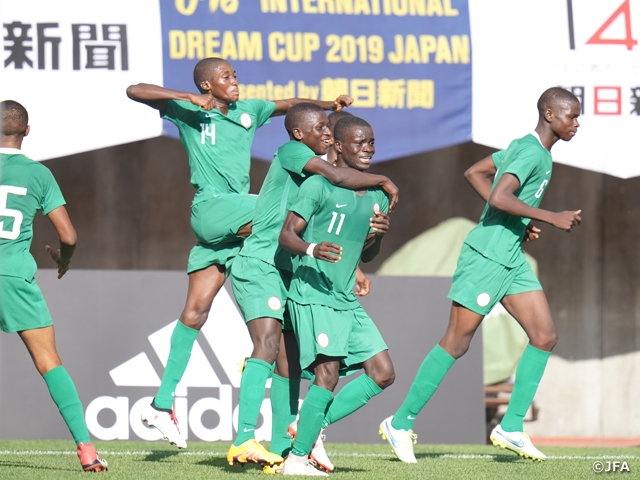 On Wednesday 12 June, the U-16 INTERNATIONAL DREAM CUP 2019 JAPAN presented by Asahi Shimbun kicked-off at Yurtec Stadium Sendai in Miyagi Prefecture.
The first fixture featured a match between the U-16 Nigeria National Team and the U-16 Mexico National Team, where Nigeria captured the opening goal in the 45th minute, when their striker Egesionu SOPURUCHUKWU calmly converted a one-on-one opportunity against the goalkeeper. After entering the second half with a one-goal lead, Nigeria doubled their lead in the 55th minute from a penalty kick. Midfielder Adeyeye DAMILOLA made it 3-0 in the 72nd minute to give his side a commanding lead. Mexico responded in the 77th minute with a free kick scored by Rodrigo Jhossel HUESCAS HURTADO, but it was Nigeria who finished as the winner in this match with a final score of 3-1. The young Nigerian squad that featured a starting line-up with an average age of 14.8, including a 12-year-old player, got off to a wonderful start in the tournament with a convincing victory.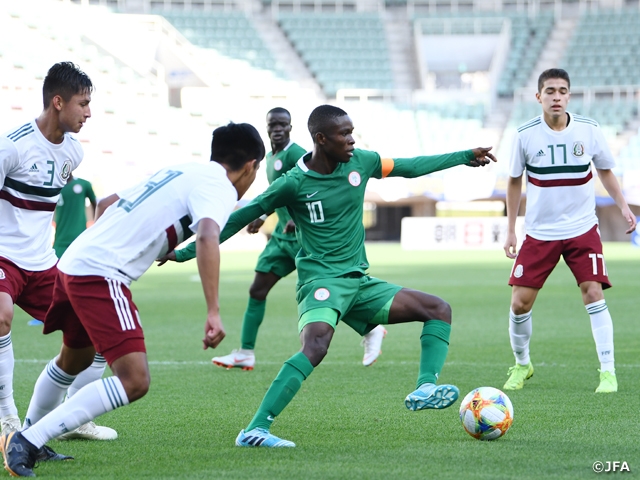 The second fixture of the day was played between the U-16 Japan National Team and the U-16 Romania National Team. It was the Romanian side who struck first, as their midfielder Romeo NITA scored the opening goal in the 40th minute. Japan's equaliser came in the 78th minute, when CHIBA Kanta responded to a lobbing pass delivered by MIKI Jinta to fire a shot that levelled the match. With the two sides showcasing an equally matched battle, the match went into penalty shootouts to determine the winner, where Japanese goalkeeper TAKAHASHI Ippei made a terrific save to deny the second kicker for Romania. After converting all of their spot-kicks, Japan prevailed in penalty kicks, 4-2.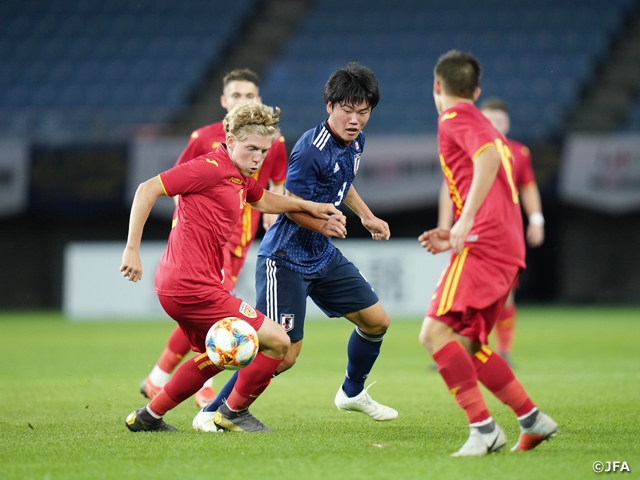 Each team will face their second match on Friday 15. The matches will be once again held at Yurtec Stadium Sendai, with the U-16 Mexico National Team facing the U-16 Romania National Team at 15:00, while the U-16 Japan National Team and the U-16 Nigeria National Team will play each other at 18:00. Admission to all matches are free.
Coach and Players' Comments
Haruna USMAN, Coach (U-16 Nigeria National Team)
I am very happy that we were able to showcase a wonderful match. We managed to create numerical advantage in many of our plays and that has allowed us to initiate our attacks. Mexico is a team that consists great speed, but we were able to execute our game plan very well. We hope to get ourselves fully prepared ahead of our next match against Japan.
MF #10 Adeleke OLUWATOBI (U-16 Nigeria National Team)
Our opponents came out applying aggressive pressure, so we made our decision to utilise the width of the field. The opponents were physically very strong as well, so we focused not to lose the ball too easily. I have the impression that Japan is very technical and fast. I hope to prepare myself well so that I can score in our next match as well.
MF #8 Andrei PANDELE (U-16 Romania National Team)
It was a very tough match and I am very disappointed that we couldn't hold onto our one goal lead. The fact that we lost in penalties makes it even more disappointing. The Japanese players showcased great accuracy in their ball movements, but we also displayed hard work to keep up with them. We hope to make less mistakes and earn points in our next match.

U-16 Nigeria National Team vs U-16 Mexico National Team
U-16 Japan National Team vs U-16 Romania National Team
U-16 INTERNATIONAL DREAM CUP 2019 JAPAN presented by Asahi Shimbun
Tournament Dates: Wed. 12 - Sun. 16 June 2019
Tournament Venue: Yurtec Stadium Sendai, Miyagi