NEWS
Ryutsu Keizai Kashiwa wins revenge match against Funabashi Municipal to claim second place at the Prince Takamado Trophy JFA U-18 Football Premier League 2020 Kanto
30 November 2020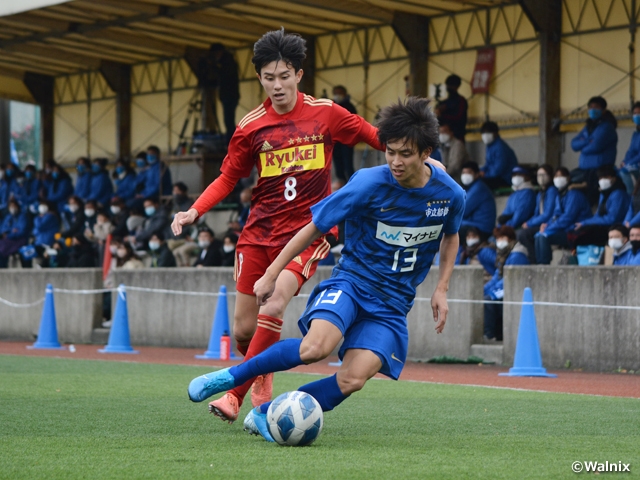 The sixth sec. of the Prince Takamado Trophy JFA U-18 Football Premier League 2020 Kanto took place on Saturday 28 and Sunday 29 November.
Pick-up Match
Funabashi Municipal High School 0-1 (0-0, 0-1) Ryutsu Keizai University Kashiwa High School
At Funabashi Hoten Park, Funabashi Municipal High School (Chiba) welcomed their prefectural rival Ryutsu Keizai University Kashiwa High School (Chiba). The two sides have recently clashed at the prefectural final of the All Japan High School Soccer Tournament on Sunday 15 November, where Funabashi Municipal claimed a 1-0 victory and their ticket to the national tournament. With this match being held just two weeks later, players were highly motivated for this rematch. While Funabashi Municipal's SUGAYA Toshiki (#4) mentioned, "We want to win this match and prove that we are the rightful representative of Chiba," Ryutsu Keizai Kashiwa's NAMIKI So (#22) also shared his thoughts, "We are still feeling bitter from that loss at the qualifier."
While Funabashi Municipal was missing their captain ISHIDA Yusuke (#5) two weeks in a row, Ryutsu Keizai Kashiwa also played without their captain FUJII Kaito (#4), who was suspended for this match, but both sides showed great enthusiasm from the start of the match, applying aggressive pressure to win the ball. Ryutsu Keizai Kashiwa made attempts to build their offence by collecting the ball to their two attackers, SHINGU Kaito (#26) and MORIYAMA Itto (#10), but Funabashi Municipal showed great discipline to keep the clean sheet, as the match entered halftime scoreless.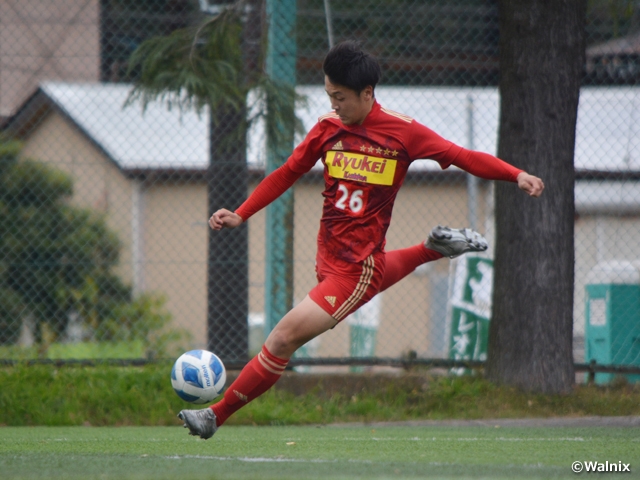 With Ryutsu Keizai Kashiwa gradually picking up their pace, the deadlock was broken in the 52nd minute. The play came following a FK, when SAKATA Kotaro (#8) delivered a cross, allowing Namiki to convert the ball with his left foot, giving Ryutsu Keizai Kashiwa their much awaited lead. In efforts to equalise the match, Funabashi Municipal pressed forward in the closing minutes, but led by NEMOTO Taishi (#5) the Kashiwa side showcased a tenacious effort to keep their lead intact. With this victory, Ryutsu Keizai Kashiwa has now moved up in second place at the Premier League leader board.
Coach and Players' Comments
DF #4 SUGAYA Toshiki (Funabashi Municipal High School)
This was a match we couldn't afford to lose as the representative of Chiba. However, our opponent showed great intensity from the start, while we might have been sitting on our laurels after winning the prefectural qualifier. We were not able to showcase the same type of intensity we showed at the prefectural final and ended up losing the match. We must use this as a lesson and work even harder until the national championship.
MF #10 SAKUMA Kento (Funabashi Municipal High School)
Our opponent showed great intensity, and we were overwhelmed by it. We have not conceded a goal from set plays until our last match against Yokohama F. Marinos Youth, but after conceding three goals last week, we once again conceded a goal from a set piece today. That is definitely an aspect we must work on.
ENOMOTO Masahiro, Coach (Ryutsu Keizai University Kashiwa High School)
Our players were so eager to win this revenge match. However, this was just one of our league matches, and our goal is to accumulate as much points as possible. We did not have enough scouting report for our match against Funabashi Municipal at the All Japan High School Soccer Tournament qualifier, so we entered this match with plenty of preparation. Although our opponent came out with a different strategy than we anticipated, I still told my players to expect such changes, so our players were able to keep their composure on the pitch today.
MF #22 NAMIKI So (Ryutsu Keizai University Kashiwa High School)
Losing at the final of the All Japan High School Soccer Tournament qualifier was such a heartbreaker for our team, and it was especially a bitter experience for me because I wasn't able to play in that match. That is why I really wanted to win today's match and we trained hard all week for this match. (Reflecting on the goal scene) We created numbers of close opportunities from the first half, and Shingu made a great effort to fight for the ball. His presence drew the attention of the defenders and allowed me to make a run into the open space.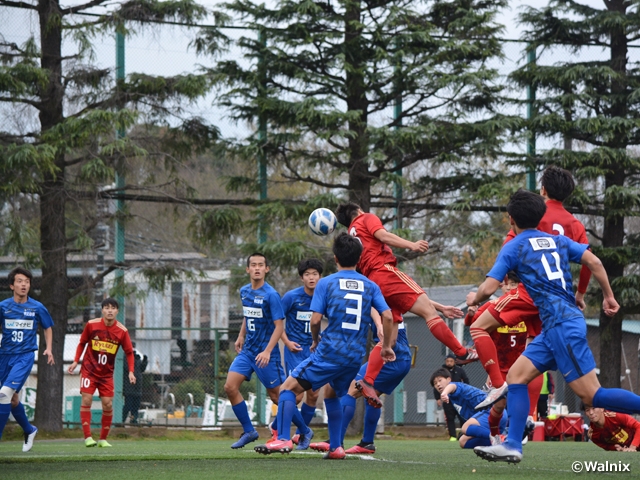 Results of other matches
Yokohama F. Marinos Youth 0-6 (0-3, 0-3) Omiya Ardija U18
FC Tokyo U-18 0-2 (0-1, 0-1) Urawa Red Diamonds Youth
Kashiwa Reysol U-18 0-1 (0-0, 0-1) Yokohama FC Youth
With the help of their striker, OSAWA Tomoya's (#9) hat trick, Omiya Ardija U18 (Saitama) scored six goals in their win over Yokohama F. Marinos Youth (Kanagawa). Urawa Red Diamonds Youth (Saitama) scored a goal apiece in both halves to win against FC Tokyo U-18 (Tokyo). NAKAGAWA Nobuteru (#10) scored the game winner in the closing moments of the match, as Yokohama FC Youth (Kanagawa) bagged a win over Kashiwa Reysol U-18 (Chiba).

Prince Takamado Trophy JFA U-18 Football Premier League 2020 Kanto
League duration: Sat. 5 September - Sun. 6 December 2020

For more information
Prince Takamado Trophy JFA U-18 Football Premier League official Twitter account (external link)