NEWS
Gamba Osaka fall to River Plate in SURUGA bank Championship 2015 OSAKA
12 August 2015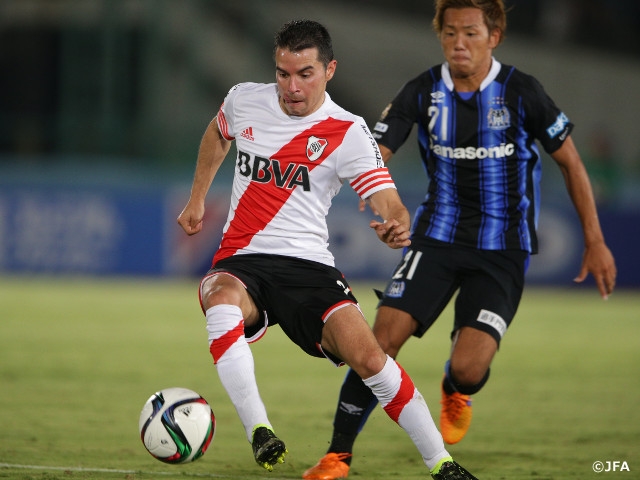 J. League Yamazaki Nabisco Cup champion Gamba Osaka fell 0-3 to Argentina's River Plate, the reigning Copa Total Sudamiericana champions in the 2015 Suruga Bank Championship at Osaka Prefecture's Expo Stadium. It was the first time that a South American side won the title since 2009, halting the winning streak for the J. League teams at five.
River Plate, who just triumphed in the Libertadores Cup on 5 August to earn a spot in December's FIFA Club World Cup as the South American champions, held aggressive offensive attacks from early around forward and former Argentina national Javier SAVIOLA, midfielder Carlos SANCHEZ, who scored a goal in the second game of the Libertadores Cup finals, and defender Ramiro FUNES MORI.
Gamba didn't register goalkeeper HIGASHIGUCHI Masaaki, defenders NIWA Daiki and YONEKURA Koki and forward USAMI Takashi considering their fatigue as they just returned home from the EAFF East Asia Cup. The Japanese club, who also sat midfielder KURATA Shu and defender FUJIHARU Hiroki in the bench, entered the contest with different members. But they were tamed by their opponents, who connected passes with tempo.
On the 8th minute, River Plate forward Nicolas BERTOLO was fouled by a Gamba defender and earned a penalty kick. Sanchez made it to take a lead.
The Argentina powerhouse club connected passed after a corner kick and Saviola managed to fire a shot cutting in the box dodging Gamba defenders on 15th minute.
On the 21th, Gamba forward PATRICK got into a space behind River Plate's defensive line, reacting to a long pass. He tried to score a goal past goalkeeper Marcelo BAROVELO, but Barovelo cut it extending his arms to put the scoring opportunity from Gamba.
Meanwhile, River Plate extended their lead to 2-0 as defender Gabriel MELCADO headded a corner kick into the net on the 31st minute.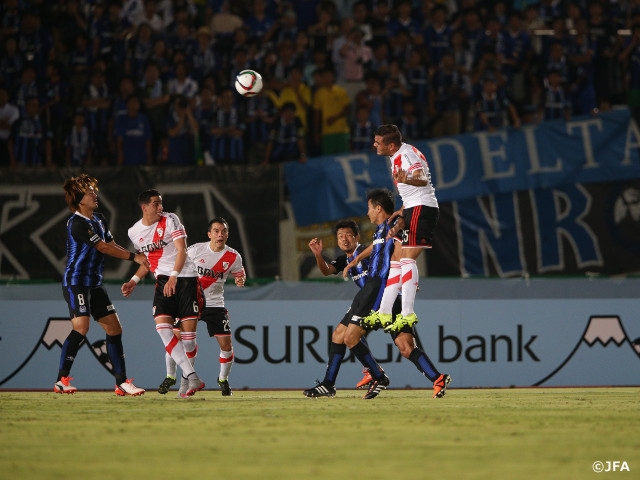 On the 35th, Patrick, who took behind the defenders again, tried to connect a free kick from midfielder ENDO Yasuhito with his right foot, but it was again saved by Barovelo.
The South American champions kept attacking from their sides and Sanchez and forward Sebastian DRIUSSI scared the Gamba goal.
Gamba coach HASEGAWA Kenta sent midfielder Kurata for defender KIM Jungya on the 41st, moving midfielder KONNO Yasuyuki to the defensive line to settle down their defence. Then, Kurata dribbled in the left side and fed a pass into the centre, showing some signs of their rally.
Hasegawa played defender Fujiharu from the start of the second half and midfielder FUTAGAWA Takahiro 10 minutes later, to reinforce the team both offensively and defensively.
But on the 61st minute, Gamba allowed River Plate to have a counter attack. Midfielder Gonzalo MARTINEZ penetrated into the box and scored the third goal for the team.
Gamba gave rallies, connecting passed, against tired Rive Plate. On 69th minute, Endo and Patrick ran into the space before the goal reacting a cross from Futagawa, but neither was able to score.
On the 75th Gamba forward AKAMINE Shingo, who came onto the pitch as a late substitute, reacted to a rebound before the River Plate goal but wasn't able to put it in. And two minutes later, Kurata fired a shot capitalizing on a return pass from midfielder ABE Hiroyuki, also a late substitute, but it was deflected by the River Plate goalkeeper. On the 86th, Kurata kicked a Fujiharu cross with his right foot, but the shot went outside of the goalposts. Gamba failed net a goal until the final whistle was blown. River Plate left the pitch as the 2015 Suruga Bank Championship.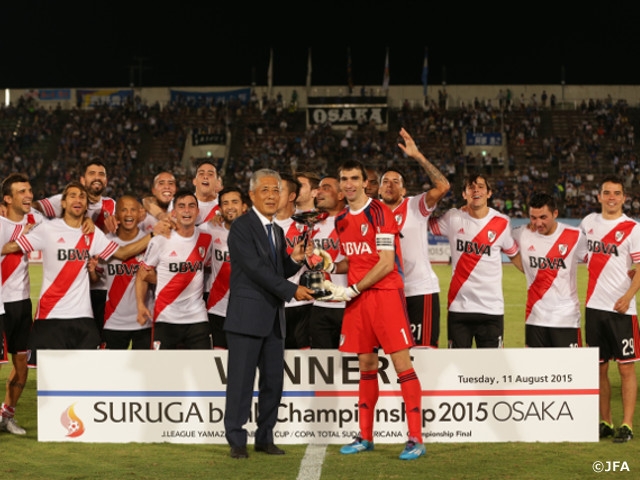 Coaches' Comments
HASEGAWA Kenta, Coach (Gamba Osaka)
It's disappointing that we weren't able to win. We played some football like Gamba play and had some chances but we just came up short. I told our players before the game that we would connect the ball no matter how many times we'd make mistakes. If we'd score a goal when the opponents began lost their movements in the second half because of the heat, we could have added a few more goals easily. We didn't know if the opponents would come aggressively against us or come defensively early on, but even if you are pressured by your opponents that much, you still have to play in your way, otherwise you won't be the real deal.
Marcelo GALLARDO, Coach (River Plate)
We are really glad that we won this title. We didn't have much time to rest after the Libertadores Cup final of last week, and it was a tough schedule that we had to deal with the long trip and couldn't have our practice occasions almost at all, but we were still pleased to compete in this. I told our players before the game that we would play positively, with the pride of what we normally do back in the country. It was also our motivation that we would be the third South American club to win this title.
With the victory of today, we will be able to keep going forward with a positive attitude, and we could add another page for the club, but the most important thing is to keep winning. By doing so, we would like to establish a new chapter, both as an individual and the club.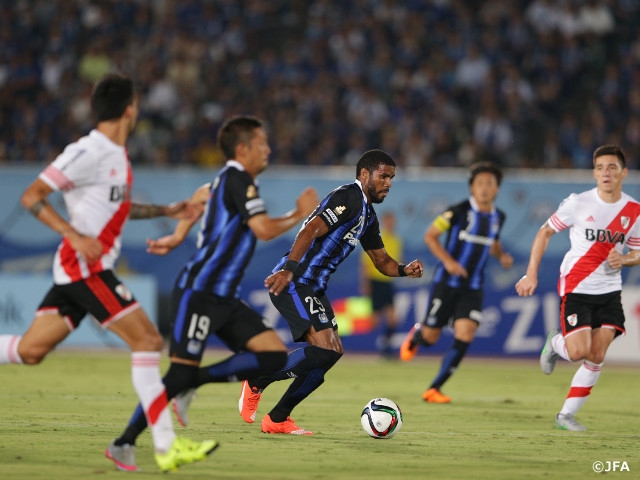 SURUGA bank Championship 2015 OSAKA
J.LEAGUE YAMAZAKI NABISCO CUP / COPA TOTAL SUDAMERICANA Championship Final
Gamba Osaka vs River Plate
2015-8-11(Tue.) -19:00/Open 17:00 (subject to change)
Osaka/Expo '70 Commemorative Stadium