NEWS
2015 Suruga Bank Championship OSAKA – J.League Yamazaki Nabisco Cup/Copa Total Sudamericana Championship, scheduled on 11 August 2015 in Osaka
16 December 2014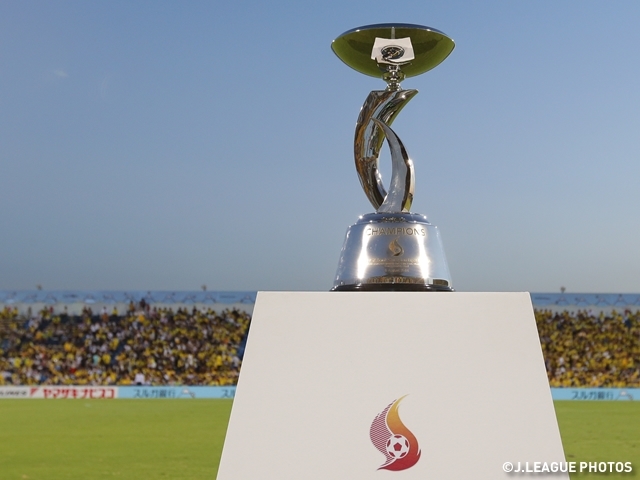 The date and venue of "2015 Suruga Bank Championship OSAKA – J.League Yamazaki Nabisco Cup/Copa Total Sudamericana Championship"originally planned for the summer 2015, were set as follows.
Tournament outlines
Tournament title:
2015 Suruga Bank Championship OSAKA
J. League Yamazaki Nabisco Cup/Copa Total Sudamericana championship
Hosts:
Japan Football Association (JFA)
South American Football Confederation (CONMEBOL)
Japan Professional Football League (J. League)
Matchup:
Gamba Osaka (Japan/2014 J. League Yamazaki Nabisco Cup champions)
  vs.
River Plate (Argentine/2014 Copa Total Sudamericana champions)
Date:
Tue. 11 August 2015
Venue:
Osaka Expo '70 Commemorative Stadium
Reference (Past results)
Year
Venue
Japan
Results
Sudaamerica
1
2008(30 July)
Nagai(Osaka)
Gamba Osaka
0-1
Arsenal FC(Argentina)
2
2009(5 August)
Kyuseki Dome(Oita)
Oita Trinita
1-2
SC Internacional(Brazil)
3
2010(4 August)
National Stadium(Tokyo)
FC Tokyo
2-2
PK4-3
LDU de Quito(Eduador)
4
2011(3 August)
Ecopa(Shizuoka)
Jubilo Iwata
2-2
PK4-2
Indepentiente(Argentina)
5
2012年(8月1日)
Kashima(Ibaragi)
Kashima Antlers
2-2
PK7-6
Universidad de Chile(Chile)
6
2013年(8月7日)
Kashima(Ibaragi)
Kashima Antlers
3-2
São Paulo FC(Brazil)
7
2014年(8月6日)
Kashiwa(Chiba)
Kashiwa Reysol
2-1
Lanús(Argentina)
※Japanese clubs have won 5-2 (On five-game winning streak, including wins in penalty shootouts)
On Copa Sudamericana:
Copa Sudamericana is one of the most prestigious tournaments along with the CONMEBOL Copa Libertadores in the South American football. Previously, there were Copa Merconorte, for which northern South American clubs would compete, and Copa Mercosur, for which southern South American teams would play, and Copa Sudamericana was inaugurated having combined the two in 2002.
In Europe, two of their major international competitions in the UEFA Champions League and Euro League are played in parallel. But in South America, CONMEBOL Copa Libertadores are held in the first half of the season, and then Copa Sudamericana are played in the latter half. Thus, it makes it possible for the powerhouse clubs to play in both tourneys and it can present high-level competitions. In Cope Sudamericana, all the matchups are held with a home and away format from the first round through the final. A total of 47 teams from 10 countries that are the members of CONMEBOL participated in the 2014 edition.
On River Plate:
River Plate is one of the most stories clubs that was established in 1901 bases in the Argentina capital of Buenos Aires, and have won a trophy once. The official name of the team is Club Atletico River Plate. Argentina Marcelo Gallardo is the current head coach of the team. The team have won in the Toyota Cup (1986), Copa Libertadores (1986, 1999) and Supercopa Sudamericana (1997).
Presenting Sponsor