NEWS
Nagoya Oceans advances to Semi-finals for the first time in three years at the AFC Futsal Club Championship Thailand 2019
15 August 2019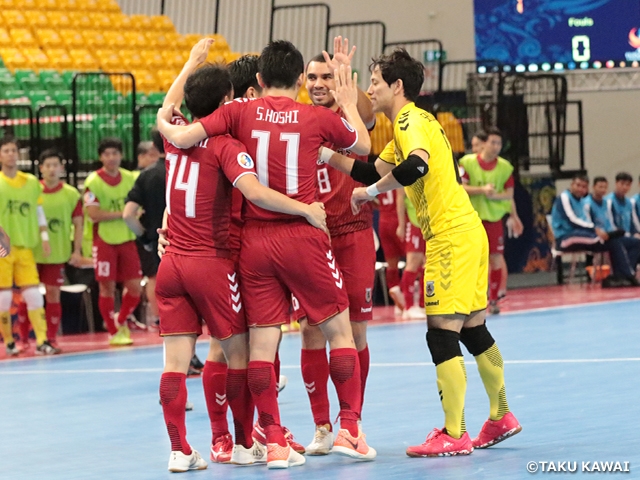 The final round of the AFC Futsal Club Championship Thailand 2019 started its action on Wednesday 14 August. After finishing the group stage as the leader of Group D, the F. League champions, Nagoya Oceans, faced the runners-up of Group C, Vamos FC (Indonesia) at the quarterfinals.
With their captain, HOSHI Ryuta, being suspending for this match, Nagoya started SEKIGUCHI Yushi in goal with the four field players of YOSHIKAWA Tomoki, PEPITA, HOSHI Shota, and NISHITANI Ryosuke. At the beginning of the match, Pepita fired a shot that struck the cross bar to threaten the opposing goal, but with Vamos FC dropping deep in their own territory, Nagoya struggled to create opportunities.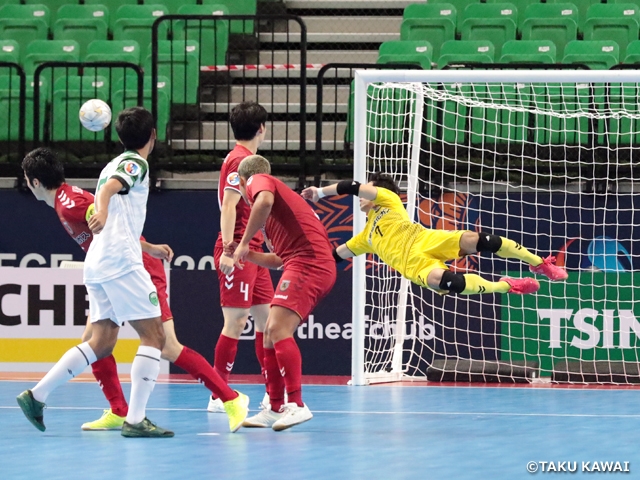 Despite facing a defensive approach taken by the opponents, Nagoya scored the opening goal in the ninth minute. The goal came when Nishitani delivered a pass to Hoshi Shota at the left side, allowing Hoshi to draw the attention of the defenders, before sending a pass to Pepita, who struck a powerful shot from distance that shook the net.
Even after Nagoya's goal, Vamos FC did not change their defensive approach and continued to showcase a well organised defence. However, Nagoya managed to capture their second goal at the end of the first half, when ANDO Ryouhei made a sliding effort to reach the ball sent by Yoshikawa. The cut back sent by Ando was met by HIRATA Neto Antonio Masanori, who made the run to convert the delivery and double the lead for Nagoya before halftime.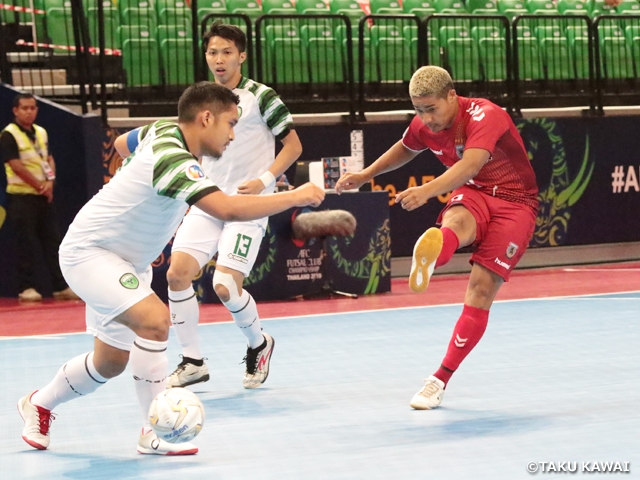 After showing their dominance in the first half, Nagoya continued to take control of the match in the second half. In the 17th minute of the second half, Ando capitalised on a pass sent by Hoshi Shota to extend their lead. Although they conceded a goal to the Indonesian side at the end, Nagoya won the match with a final score of 3-1 to advance to their first semi-finals since 2016.
In the other matches, Thai Son Nam (Vietnam) won their match against Shenzhen Nanling Tielang FC (China PR) with a score of 5-1. Japan Futsal National Team member SHIMIZU Kazuya, who is on a loan with the Vietnamese side, registered two goals and an assist to help the team win, propelling the team into their second straight semi-finals appearance.
On Thursday 15, Nagoya will face Thai Son Nam at the semi-finals. The two sides have clashed in the quarterfinals last year, where Thai Son Nam won the match and advanced all the way to the final. It will be an intriguing rematch between the 2016 champions and last year's runners-up.
Coach and Players' Comments
FUENTES, Coach (Nagoya Oceans)
Strategically this was a very tough match. We weren't able to completely break down the opponents and we are not satisfied with our overall performance. This match has allowed us to realise that we need to filter down the team strategies in more details ahead of the match. We have expected Thai Son Nam to be our next opponent. They are a very strong team, so we will prepare ourselves well ahead of the match. I am very excited for the challenge.
FP #6 YOSHIKAWA Tomoki (Nagoya Oceans)
We weren't able to break down the opposing defence, and it was a very difficult match. We especially struggled in the first half. The overall performance was not so great, but we need to win these kinds of matches in order to make a deep run, so I am glad we were able to win today. However, the match left us with many tasks to work on. After losing to them last year, I am looking forward to playing Thai Son Nam. We hope to showcase a good performance and advance through to the final.
FP #14 NISHITANI Ryosuke (Nagoya Oceans)
This was a very difficult match for us. After facing Vamos FC last year, we felt that this could be a difficult match. In that sense, this was sort of within our expectation. Our coach has given us directions while we also communicated on the court to execute our game plan, but we struggled to score goals and that got us frustrated. We lost to Thai Son Nam last year after allowing our opponents to capitalise on their few opportunities, so we hope to be critical in our own chances to advance through to the final.
SHIMIZU Kazuya (Thai Son Nam)
I am glad that I am producing results for the team. I have been able to not only score goals but assisting others and creating good opportunities for the team, so I hope to continue with this trend and add more accent to our offence. For Nagoya, this will be a revenge match from last year, but I have also lost to Nagoya in my final match in Japan, so am fully motivated to get my revenge against them. Our club is striving to win the title, so this is a match we cannot afford to lose.
AFC Futsal Club Championship Thailand 2019
Tournament Dates: Wed. 7 - Sat. 17 August 2019
Tournament Venue: Bangkok Arena, Thailand