NEWS
MINAMI Moeka & NAGANO Fuka: Hope they can take on challenges while enjoying – the 21st All Japan Youth (U-15) Women's Championship
22 July 2016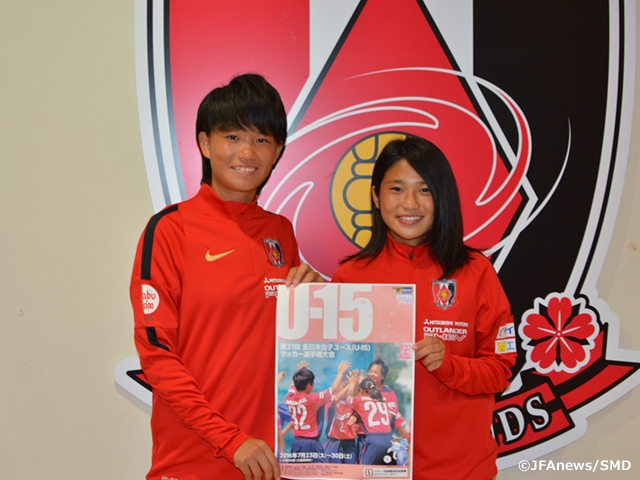 The 21st All Japan Youth (U-15) Women's Championship will get underway on Saturday 23 July at J-GREEN Sakai in Osaka.
Here, MINAMI Moeka (left) and NAGANO Fuka(right), who currently belong to the youth category (Nagano is registered for the senior team as well) and are also members of the national team in their respective age group, appeared and looked back on their experiences from the tournament. They won the 16th and 17th championships as a member of Urawa Red Diamonds Ladies Youth.
My world broadened after battling against various opponents
――Please tell us your memories from the 16th championship you took part in for the first time.
MINAMI Moeka (Hereafter, "Minami"): While other teams included ninth-grade players in the championship, our team took part with only seventh and eighth grade students. One or two years of difference is big amongst our age group, but we took it as "a matter of course."
NAGANO Fuka (Hereafter, "Nagano"): We weren't nervous on the pitch. Weren't we? (Audience laughs.) We didn't really know about other teams. Since we didn't have any 'nerve-racking' information, we were able to advance in the tournament, I think.
Minami: What I specifically remember is the final against ALBIREX NIIGATA LADIES U-18. It was really hot on that day, and the match got into extra-time and, then, penalty shoot-out... After a close match, we won the national championship, and we were happy about it. But we were relying on our eight graders in some part. (Audience laughs.) So we soon changed our focus thinking "Next year will be tough."
Nagano: My first win in the national tournament gave me confidence, and at the same time, I was able to figure out what I needed to improve. I found out I was still "not good enough" when matching up with older players. That was a great lesson learned.
Minami: I came off the bench most of the times, but I still was able to figure out what I needed to improve; I allowed the opponents to shoot easily and get to the ball first on set-pieces.
――What did the championship mean to you back then?
Nagano: We rated it as the most important official tournament of the year and battled it with a strong determination and "do or die" mentality. Our club had won three straight championships before us, so we were desperate not to cut the tradition in our first year.
Minami: Our seniors boosted us up by saying "you've got to win the fourth and fifth ones."(Audience Laughs.) We felt pressured, honestly. The championship was "a learning opportunity." Central defender OSABE Kasumi was on the same team and I wanted to "play like her someday" as we played at the same position. And there were a lot of great players on other teams and I got a lot out of the experience.
Nagano: When I was an elementary school student, I was playing with boys. So I got to know women's national tournament for the first time when I was a seventh grader at the junior high school. For example, I felt Niigata's TAKIZAWA Rio (currently playing for Kanagawa University) got "great skills," and by playing against various players my world broadened.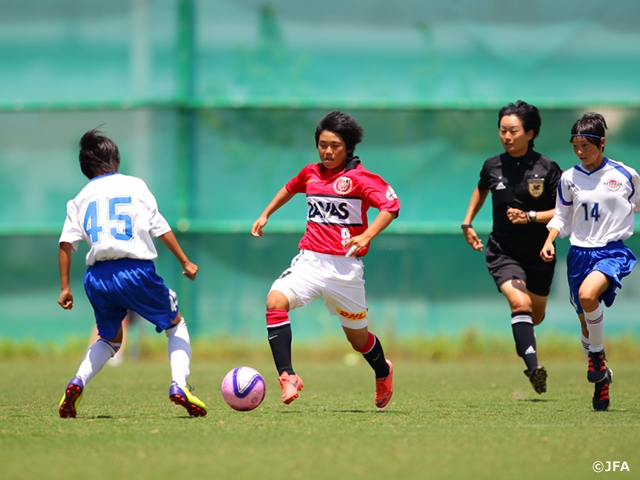 On top of enjoying, I want players to get something out of matches and take advantage of it for their future.
――In the 17th championship in the following year, three of your four matches until the final ended close by a difference of a single goal.
Minami: The matches against Kyoto Seika Gakuen Junior High School in the second round and JFA academy FUKUSHIMA in the third were especially tough (both finishing 1-0). We were prepared to get into a penalty shoot-out at 0-0 in the second match, but Nagano's long shot beautifully found the net just five minutes from time.
Nagano: It was the closing minutes of the match, so I knew scoring a goal was the best way to make a difference. I had already decided to take a shot when turning around after receiving the ball. The best takeaway was that the team grew by getting through the tough second and third rounds. In the semi-final, we had some leeway even after we allowed AS ELFEN SAITAMA MARI to score the opening goal.
Minami: We were quite confident. We thought "there is no problem at all" even after the goal against us. My teammates actually got a goal back soon after that. I felt the team were improving as we played each match.
――Was there any difference between the first championship and the second one?
Minami: I was happy for both. But as I was in a position to be relied on by younger players in the second one, I felt like I was constantly fighting against the pressure to perform. In the final, we allowed the opponents to attack more than any match, but we were tenacious enough to win with a penalty shoot-out.
Nagano: As we were determined to win the back-to-back title, I was happier in the second one than the first one. At the same time, we believed that "we can definitely win," and we were looking at was the championship only.
――Do you have anything that you learned as a junior high student and keep working on even today?
Minami: When you play against players who are older than you, you can't get through only with your normal performance. I learned an attitude to tenaciously get hold of attackers and commit myself in front of goal when I was in junior high school. Now even when playing with more senior players, I don't shy away from it because of the experience from that time.
Nagano: Running and hard-working. When I was a seventh grader in junior high, I didn't have stamina. And I thought "Something has to be done." So I used to run for an hour and kept working on voluntary training on the two off days per week that I had back then.
In football, no matter how old you are, you've got to run more than your opponents in order to win. You can play your game in your favour when you work harder than your opponents. I've learned that being with Urawa.
――Lastly, can you please give a message to players taking part in the tournament this year?
Minami: Teams are gathering from all over the country. You can absorb a lot of things by playing against teams you can't usually face. I want them to enjoy their game and bring something back to take advantage of the experience for their future football life. I hope they can experience a lot from it.
Nagano: I want them to take on challenges and enjoy their game. If you challenge, you can find what you can do and what you can't do, and those turn out to be important for you to grow. Give it your all and enjoy the tournament as long as possible.
The 21st All Japan Youth (U-15) Women's Championship
Sun. 23 July 2016 - Sat. 30 July 2016
J-GREEN Sakai (Sakai City, Osaka)
More information