NEWS
Defending champions Urawa and Tokyo Verdy Beleza move on to the fourth round - Empress's Cup JFA 44th Japan Women's Football Championship
19 December 2022
The fourth round of the Empress's Cup JFA 44th Japan Women's Football Championship took place on Saturday 17 and Sunday 18 December. At Kanseki Stadium Tochigi, four teams from the WE League clashed for their spot in the quarterfinals.
Featured Match 1
Mitsubishi Heavy Industries Urawa Reds Ladies 3-1 (2-1, 1-0) AC Nagano Parceiro Ladies
The match between Mitsubishi Heavy Industries Urawa Reds Ladies (WE/Saitama), ranked third in the WE League, and AC Nagano Parceiro Ladies (WE/Nagano), ranked 10th, started with Urawa, who won their first Empress's Cup title last year, taking the initiative from the early minutes.
Carrying the good form from their league fixtures, Urawa displayed great coordination in offence, as SUGASAWA Yuika assisted the goal of NAOMOTO Hikaru in the fifth minute. In the 18th minute, KURISHIMA Akari, who was given her first start of the season, delivered a pass to setup the goal of Sugasawa to double the Urawa lead.
However, AC Nagano managed to cut their deficit in half when OKUTSU Rena scored a goal during additional time of the first half.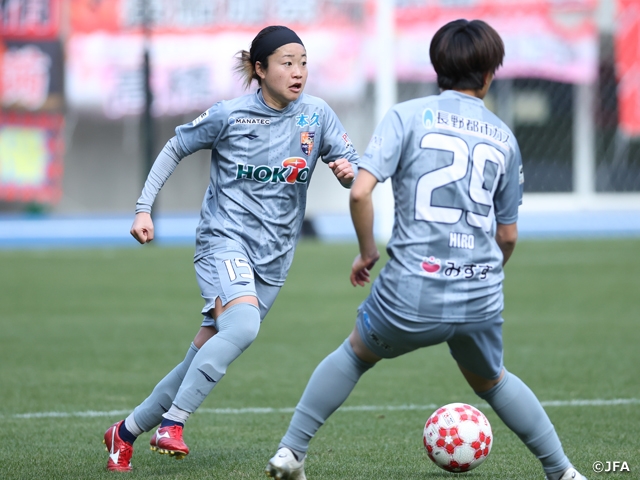 In efforts to equalise, AC Nagano pressed up TAKIZAWA Rio into the attacking third, but led by ANDO Kozue and ISHIKAWA Rion, the Urawa defence showed great composure to fend off the attacks. The goal scored by Sugasawa in the 60th minute, further extended the Urawa lead to two goals, and despite the close opportunities created by AC Nagano, including the shot taken by OKAMOTO Yuka in the 75th minute, Urawa won the match 3-1 to move onto the quarterfinals.
Featured Match 2
Mynavi Sendai Ladies 1-4 (0-4, 1-0) Nippon TV Tokyo Verdy Beleza
The match between Mynavi Sendai Ladies (WE/Miyagi), ranked second in the WE League, and Nippon TV Tokyo Verdy Beleza (WE/Tokyo), ranked fourth, was a one-sided affair from the first half.
The opening goal came in the first minute, when Tokyo Verdy Beleza's UEKI Riko converted the cross delivered by MIYAGAWA Asato with a header. 10 minutes later, KOBAYASHI Rikako assisted the goal of KITAMURA Nanami to make it 2-0. With momentum on their side, Kobayashi and Ueki added a goal apiece to further extend their lead to four goals at halftime.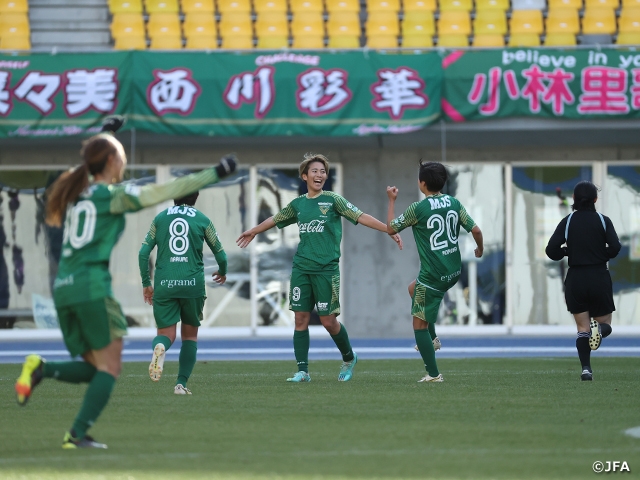 Mynavi Sendai switched from a three-back to a four-back formation while adding SATO Kaede to the defensive line in an effort to alter the game's dynamics. In the 65th minute, KUNITAKE Aimi delivered a cross from the left side to assist the goal of YAKATA Miyu to make it 1-4. Despite the later surge made by Mynavi Sendai, including the attempts made by MIYAZAWA Hinata and Yakata in the 72nd and 79th minutes respectively, Tokyo Verdy Beleza maintained their lead to advance through to the quarterfinals.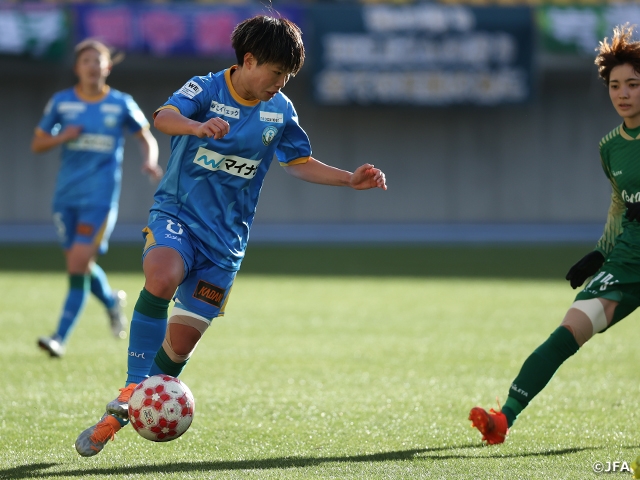 Coaches and Players' Comments
FW #9 SUGASAWA Yuika (Mitsubishi Heavy Industries Urawa Reds Ladies)
We knew where the holes were from our scouting report and that our opponents tended to keep their defensive line up high. I'm happy that I was able to score a goal off of (Kurishima) Akari's assist because she was given her first start after overcoming her injury. Empress's Cup is a knockout tournament, so I am glad we were able to win our first match. I personally want to ignore the fact that we are the defending champions and approach every game with the same competitive spirit as we did last season.
MF #15 OKUTSU Rena (AC Nagano Parceiro Ladies)
I'm glad I was able to show off my prowess at long range shooting. However, the two goals we conceded in the early minutes ruined our game plan. The goal we conceded at the beginning of the second half was also crucial. We are a young team, so we had to be able to outrun our opponents. We are all aware that we have to fight as a team, so we will strive to outplay INAC Kobe Leonessa (WE/Hyogo), who we will face in our next league match, with a total team effort.
MATSUDA Takeo, Coach (Mynavi Sendai Ladies)
We intended to play patiently in the first half, but the early goal caused us to lose our rhythm. The game served as a reminder that we are still extremely vulnerable and have a propensity to lose ourselves in challenging circumstances. We were one step behind our opponents because we were too afraid of losing the duels. We were able to change things around in the second half, but we needed to do that from the start. After this match, the players and I both felt the need to play with a stronger sense of determination as professionals.
FW #9 UEKI Riko (Nippon TV Tokyo Verdy Beleza)
Our coach reminded us that whether we can capitalise on our early opportunities will be key in knockout competitions like the Empress's Cup, so we are glad we were able to convert our chances early on. The first goal came from a cross delivered by (Miyagawa) Asato, who I have been training closely with, so I am happy that I was able to score that goal in such important match like this. I was uncharacteristically composed when I scored the second goal, so I hope I can deliver plays like that in our future matches.
Empress's Cup JFA 44th Japan Women's Football Championship
Tournament Duration: Sat. 26 November 2022 - Sat. 28 January 2023
【1st Round】Sat. 26, Sun. 27 November
【2nd Round】Sat. 3, Sun. 4 December
【3rd Round】Sat. 10, Sun. 11 December
【4th Round】Sat. 17, Sun. 18 December
【Quarterfinals】Sun. 15 January 2023
【Semi-Finals】Sun. 22 January 2023
【Final】Sun. 28 January 2023