NEWS
JFA Nadeshiko Hiroba hosted by KUDEN-SC in Yokohama
25 April 2019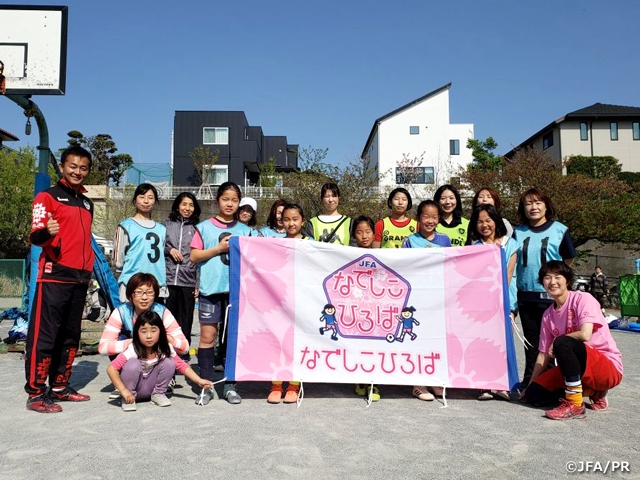 On Saturday 20 April, the JFA Nadeshiko Hiroba in Yokohama, Kanagawa was hosted by KUDEN-SC.
It was the second time KUDEN-SC hosted the Nadeshiko Hiroba this year.
KUDEN-SC "Mermaids" is a team formed by the girls of KUDEN-SC, but the team does not have enough players to conduct training sessions with sufficient numbers. Girls and mothers of Fujinoki SC, who regularly trains with the Mermaids, and sisters and mothers of KUDEN-SC players were gathered for this Nadeshiko Hiroba.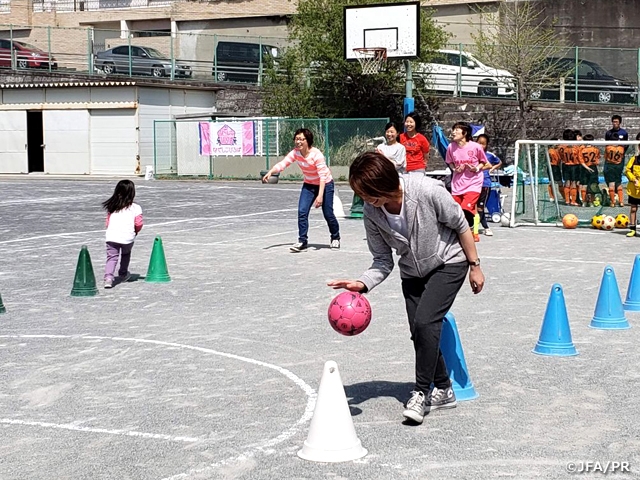 The session started with a warmup routine, where the participants stretched their entire body, as they were seen taking a light jog while moving their arms around. By moving multiple parts of their body at the same time, the participants were able to stimulate not only their body, but their brain as well. The participants then conducted a dribbling drill where they weaved around the markers. Once they got used to the ball, the participants played a game of walking football. Three rules were set for this game, "No running," "No physical contact," and "You must smile and show your happiness when scoring a goal." The key aspect of this game was on how the players without the ball made themselves available to receive the ball. Once the game got heated, some players couldn't hold their urge to run and brought the other participants in laughter. Regardless of their age, all the participants were able to enjoy the game.
Once everyone has warmed up, a small scrimmage was held where the experienced players supported the beginners, as everyone was seen chasing the ball with great joy. To conclude the session, a full court scrimmage was played to allow the kids to run in full sprint. The session was blessed with great weather and everybody seemed to have spent a wonderful time.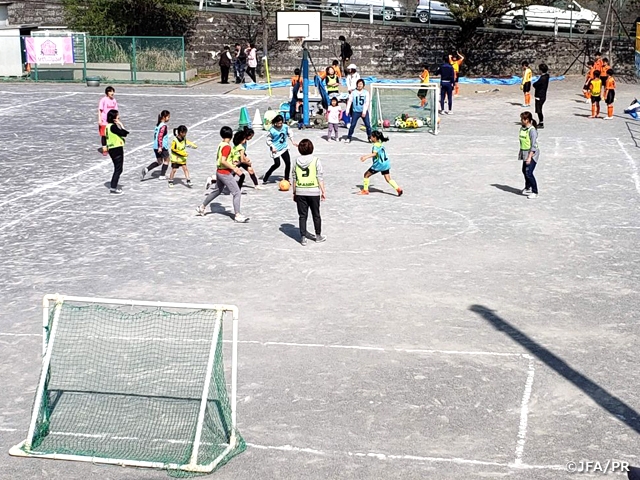 Host's Comment
OZAKI Naoko, Coach (KUDEN-SC Mermaids)
It's always great to see girls challenging the boys with no fear. However, I've always wished that there were more places where girls can enjoy playing football without having to play against the boys. There are many girls that likes the sport and wants to start playing but doesn't have the opportunity to do so. That can be said for adults, too. Some parents find out how fun football can be after their kids started to play. I want everybody to have the opportunity to enjoy playing football. Things that are easy to do with your hands can be so much difficult to do with your feet. That's why when you get better, it's that much more satisfying.
Participants' Comments
・My shoulders got lighter after the warmup session. I had so much fun playing the full-court scrimmage.
・I didn't have any opportunities to exercise, so this was a lot of fun. Thank you for creating this opportunity.
・The scrimmage was so much fun.
・Football is very difficult, but also fun to play.
・I was able to work out and have fun with my peers. It felt great to work up a sweat.
・Walking football is great for team bonding.
JFA Nadeshiko Hiroba
A place where little girls, young ladies, mothers, and grandmothers can all join to enjoy the sport of football. Each event is hosted by local organisations and facilities certified by the JFA.