NEWS
Class S Coach Training Course 2023 Module 1/Intensive Course (1) Participant's Report Vol. 2
28 April 2023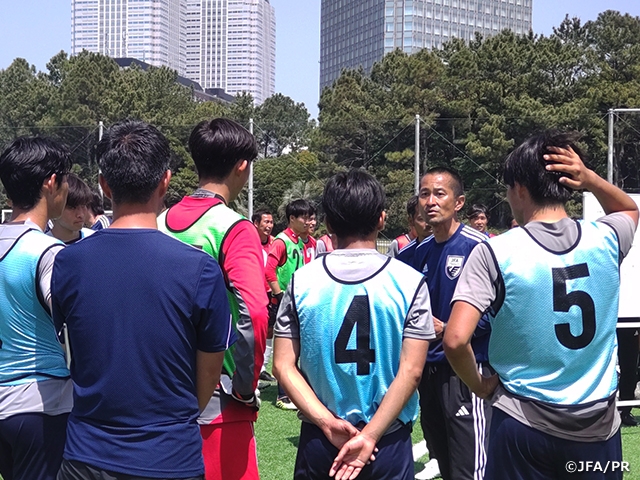 After a weeklong short-course, the intensive course started at Prince Takamado Memorial JFA YUME Field. The curriculum of the intensive-course consists of practical coaching sessions and lectures given by lecturers invited outside JFA, and is designed to enhance the skills, knowledge, and abilities required of professional coaches in areas such as leadership, coaching and management.
As we enter the second week of Module 1, the participants have become more relaxed and the discussions in the practical coaching sessions have become more lively and informative than in the previous week. Thanks to the good weather, the intensive-course started off with smooth sailing.
Module1 Intensive Course (1)
Duration: Mon. 17 - Thu. 20 April
Mon. 17 April
PM
Activities of JFA: TASHIMA Kohzo (JFA President)
Short-course review/Self-scanning: UKISHIMA Bin (JFA Class S Instructor)
Brain-storming: Professor USAMI Makoto (Kyoto University)
Tue. 18 April
AM
Coaching session
PM
Coaching session
Wed. 19 April
AM
Coaching session
PM
Activities of JFA/Coach development:
NISHIKAWA Seidai (JFA Coaches Training Director)
Human Resource Management:
Professor HIROKAMI Junichi (Tokyo College of Music)
Thu. 20 April
AM
Coaching session
PM
Building and practising communication:
HIKITA Yoshiaki (Speechwriter and communications consultant )
Professional coaching theory: UKISHIMA Bin (JFA Class S Instructor)
Cooperation in dispatching support players: Keio University, Edogawa University, Nippon Sport Science University, Wakon Soccer School, Chiba SC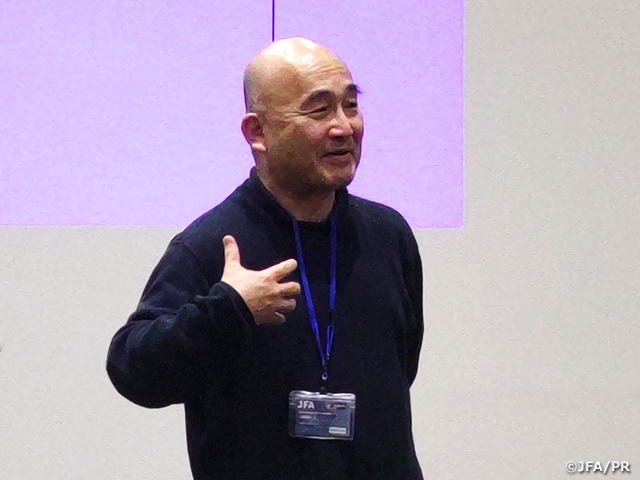 Participant's Comments
Mr. OGURO Masashi (Gamba Osaka)
Intensive-course started this week at JFA YUME Field. In the lecture given by Mr. HIROKAMI Junichi, a professor and conductor at the Tokyo College of Music, he talked about how he teaches students at the university's conducting department and what he keeps in mind when teaching, and it became clear that coaches and conductors have a lot of things in common in many aspects. Professor Hirokami's lecture was very interesting and included stories of his own failures, which made me feel more familiar with the subject matter and I would like to make use of it in my future coaching career. Mr Hikita's lecture on building and practising communication was also very interesting, as he taught us how to speak concisely and influence the players in a positive way. I am spending so much quality time here every day that the incredibly nerve-wracking experience of the trial last December now seems like a distant memory. I want to exchange plenty of football stories with other participants and absorb as much as I can. I am very much looking forward to next week, as we are scheduled to have lectures given by teachers from a variety of fields. I will listen carefully to what each teacher has to say and make the most of it in the future.
Mr. OTSUKA Shinji (Ventforet Kofu)
The Module 1 intensive-course was held at JFA YUME Field. After last week's short course, which started with a lot of tension, you could feel that the bond between the participants had already grown stronger. The openness of everyone to engage with each other, and the sometimes harsh but clean feedback from peers, made it possible to share a very meaningful and fulfilling time. Practical coaching sessions on the pitch are held in groups of four, with each participant assigned with one of the roles of "head coach, assistant coach, goalkeeping coach, and physical coach." The head coach organises the training based on a theme, but I myself was helped a lot by my group mates when I was in the role of head coach. I learned so much during the time I spent talking to the coaches over meals and exchanging ideas with them, as it enabled me to gradually deepen the content of the training session. The hard-working attitude of the support players also helped greatly and was one of the factors that increased the overall quality and enthusiasm of the training. The lectures off the pitch helped me to reconfirm my own principles for managing a team in the future. The words "it is important not to waver in difficult times" that President Tashima used in his lecture struck a chord with me as a leader's responsibility. We also heard about the history and vision of JFA and learned that many of today's national team players have been developed as a result of the reformation of the game environment in the developmental age. I was drawn into the lecture on human resource management given by Mr. Hirokami Junichi. Putting together an orchestra of around 80 people and making great music is a bit like being a football coach. Professor Hirokami told us that, now that he has more experience, he has been able to create a proactive group that thinks and acts on its own, by giving the orchestra awareness by giving them "Slightly feverish affection." I also learnt that as a coach you don't have to imitate someone else, but that it is important to build a team by facing the players in your own original way. In the lecture on building and practising communication, we learned the importance of concise communication, such as "3-phrase talk in 15 seconds," "Poponepo's Law" and "PEP TALK," as well as other techniques for communication, with practical application. As a coach, I was lacking in all of these areas, so learning about them gave me a lot of insight into what I need to change going forward. In the professional coaching theory, we were able to listen to our tutor Mr. UKISHIMA Bin's actual coaching experience and learn that a coach needs to make tough decisions one after another, show the direction in which the team should go, and have the strength to face difficulties with determination. Carlo ANCELOTTI, a renowned coach, once said, "A coach is a marriage on the premise of getting divorced," which I found quite convincing. That is why, in order to make the marriage last as long as possible, I would like to learn the necessary skills as a coach and be prepared to deal with any situation through this year-long Class S Coach Training Course.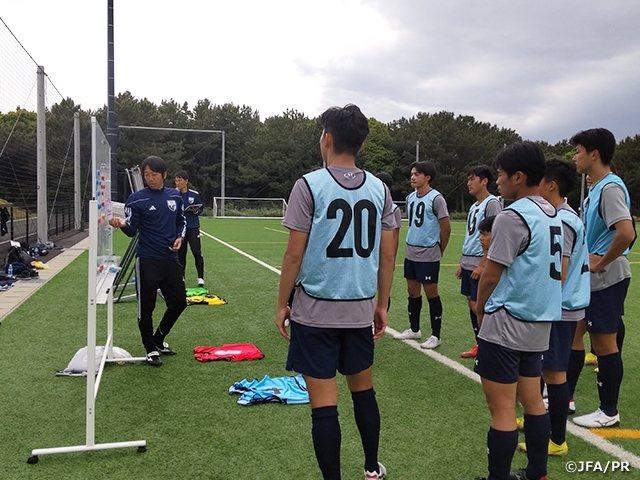 This project is funded by the Sports Promotion Lottery.