NEWS
JFA Kids' Meeting held online
27 January 2022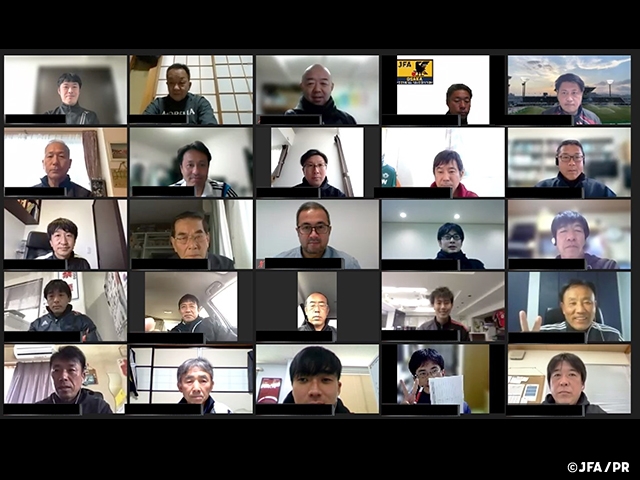 The JFA Kids' Meeting was held online over two days on Saturday 22 and Sunday 23 January. The aim of this meeting is to review and assess the activities involving kids, and to discuss positive examples and challenges.
The event was attended by 136 participants on the first day and 156 on the second day, including chairpersons of the kids' committees of the 47 prefectural football associations, as well as technical directors, FA coaches, and youth directors from each FA. Although the meeting was held online, there was more time for group discussion than last year, which allowed the participants to actively exchange ideas and opinions, as the meeting came to a close with everyone agreeing to work positively towards the activities scheduled for 2022.
Participants' Comments
Mr. ICHIKAWA Yuichi (Aomori Prefecture)
Kids' activities are the gateway to the promotion, development, and strengthening of the sport. In the discussion on the kids' leader training course, we also discussed ways to promote the project. In all of our kids' activities, we try to keep in mind the importance of "sustainability plus something extra," and to continue to improve what we have done well, while "adding something to make it even better," even if it is difficult and challenging. We also want to create an environment where people are more aware of the fact that they can be the face of not only their own FA, but of the whole football community.
Mr. IWATA Junji (Hiroshima Prefecture)
We are grateful that this meeting was not cancelled and that it was held online, despite the ongoing pandemic. We know that a lot of work went into the preparations for this meeting, but for us, it was a great opportunity to share information and to be inspired for our future activities. We were given a lot of time for discussions at this meeting, which allowed us to communicate with a lot of people from different FAs. We will be planning for our next activities before the excitement we received from this meeting cools down. I personally took part in facilitating the discussions, and it was a great learning experience, including the things that went wrong. Thank you very much to all the project members.
Mr. NINUMA Shinsuke (Iwate Prefecture)
Although the event was held online due to the pandemic, we were able to hear from people from different regions, which gave us a lot of useful information for our future activities. We would like to take this back to our own prefecture and brush it up for our kids' activities. It has been a very productive two days and I have learnt a lot from everyone. Thank you very much. I am looking forward to working with the kids with a renewed mind. I sincerely hope that next year we will be able to hold the event in-person.