NEWS
Class S Coach Training Course 2021 Final Exam Participant's Report Vol.15
22 December 2021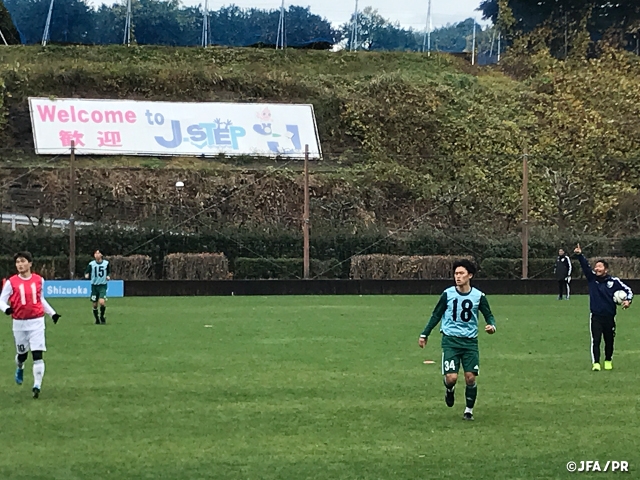 The Class S Coach Training Course 2021, which started on 11 April, is now in its final week. Although there was a period during which the course had to be conducted online due to the pandemic, all 16 participants communicated well within the limited time available and worked as a team to reach the final exam.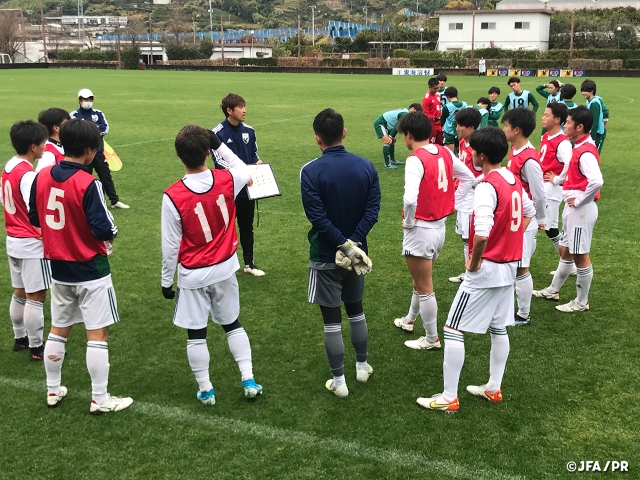 Final Exam
Date: Mon. 6 - Thu. 9 December
Mon. 6 December
Gather at Shimizu National Training Center J-STEP
Scrimmage (Support players)
Tue. 7 December
Practical coaching session
Wed. 8 December
Practical coaching session
Thu. 9 December
Closing ceremony
Individual interviews
Support players: Meikai University Football club
Participants' Comment
Coach MIYAMOTO Tomomi (Nadeshiko Japan)
A year has passed quickly since I joined the Class S Coach Training Course trial last December. With trials for next year taking place this week, I am amazed by how fast time flies.
This week, we met at Shimizu National Training Center (J-STEP) for our final exam. Despite the tense atmosphere, I think each one of us was able to give our best efforts. On the last day of the course, the closing session was held, where the participants watched a film made by the assistant students, which summarised and reflected on the past eight months of the course. As we worked on various tasks individually, in groups, and with the entire class, we were exposed to many insights and perspectives that were different from our own, which shook our beliefs and sometimes destroyed them. In those moments, I was struck down by my own inadequacy and immaturity, but I was able to stay positive by telling myself that I still have a lot of room to improve as a coach, and I was able to spend a valuable eight months facing myself and the sport of football. Although Class-S is the highest level of coaching licence in Japan, I feel that I have finally reached the starting line as a coach, and I hope to continue to learn and grow every day.
Being able to have all the participants present at the final exam is not something to be taken for granted. Following on from last year's course, some lectures were held online due to the pandemic. However, we were able to complete the curriculum without any serious accidents, injuries, or infections, thanks to the arrangements made to create a safe environment for us to learn. We would like to thank the instructors, office staff, assistant students, support players from Meikai University and Edogawa University, the lecturers who gave us valuable talks, the clubs who kindly accepted us as interns, and everyone else involved. We would like to thank all of you for your support and encouragement. Thank you very much.
From now on, I will use what I have learnt in this course, keeping an eye on not only the trends and tactics of football, but also on the various changes in the modern society, in order to create a unique style of football, together with the players and the staff. I would also like to do my best to repay the Japanese football community for all the people I have met as a player and as a coach, and for all the valuable experiences I have had that helped me become who I am today.
Lastly, I would like to express my gratitude to the 15 fellow course-mates whom I have met through this course. Before the course started, I was worried about having to deal with so many strangers, but after spending eight months together, they supported me and gave me their honest opinions, which helped me to broaden my perspective on football and to learn about a world I never knew existed. I will continue to be inspired by the achievements of my fellow course-mates and strive to become a better coach. Thank you very much for your support.
Coach YOSHIMOTO Takafumi (Kochi United SC)
"Time waits for no one." At the beginning of the Class S Coach Training Course, which started on 11 April 2021, my heart was filled with anxiety and anticipation, but after eight months, the course finally came to an end on 9 December.
The final module was an exam period, which made the four days even more intense. It was an exam that tested what we have learnt, and our ability to change and develop. Within the limited time available, I was reminded of the importance of reflecting back, as I frantically input the information and repeatedly made outputs by writing them down by hand. Through this course, I learnt that life and teaching are the same, in a way that it is important to reflect and practice every day, to observe ourselves objectively, to be stimulated by our colleagues, and to discover new things about ourselves, and use them to grow and evolve as a person.
It began with excitement, which turned into nervousness as the course progressed, and then went back to excitement again. I treasure the fact that I was able to discover how unbalanced I was between my body and soul in terms of emotions, thoughts, and actions. The importance of learning the principles of football, the need for originality, the ability to assimilate, and the determination to lead a professional football team and its players, were some of the things we learnt through each module. We were also reminded of the difficulties, joys, and rewards of developing players and teams, which is what "being a coach" is all about.
With a diverse curriculum and stimulation from sports other than football, I spent the past eight months thinking and sometimes even overthinking. Even in the case of a single coaching session, I was able to discover new things about myself through the insights and advice of the instructors and other participants. Not only did I obtain my class S coaching licence, but I was also able to polish my human skills. It's been a great eight months for me, to learn the depth of football, to see how interesting it is, and to understand how difficult it is to convey our thoughts. As time goes by, football is evolving day by day, and as a person and as a coach, I would like to stay eager to learn and to sustain the physical strength to do so. As an individual who is committed to the evolution of Japanese football, I would like to keep an open mind, and work together with my colleagues who are connected by the tool of football, to make the game more exciting.
Last but not least, I would like to express my gratitude to my fellow course-mates who I have met, supported, and worked hard with. Thank you very much. I would also like to express my sincere gratitude to the many people who sought out and planned for face-to-face training whenever possible in the midst of the pandemic, and those who allowed us to complete the course without any incident. Thank you very much.