NEWS
"D" Licence Coach's Training Workshop targeted for female participants held at JFA House
13 March 2019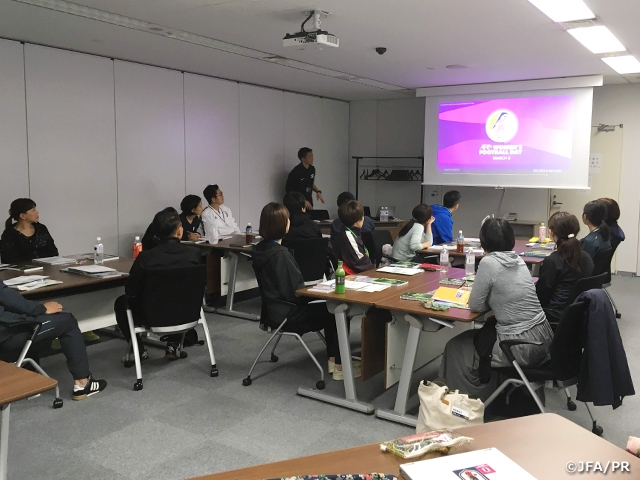 Collaborating with the "International Women's Day" established by the United Nations, the Asian Football Confederation (AFC) celebrated the day by holding the "AFC Women's Football Day" on Friday 8 March. Many events were carried out throughout Asia, as the Japan Football Association (JFA) held a "D" licence coach's training workshop targeting female participants. The two-day curriculum took place at the JFA House on Friday 8 and Saturday 9 March.
A total of 19 participants including members of the JFA and Japan Club Youth Football Federation who works at the JFA House, along with neighbouring personals took part in this workshop.
The participants were seen actively getting involved in discussions and sharing their opinions during the lecture session, while showing great enthusiasm during the practical training session, regardless of their experience in football.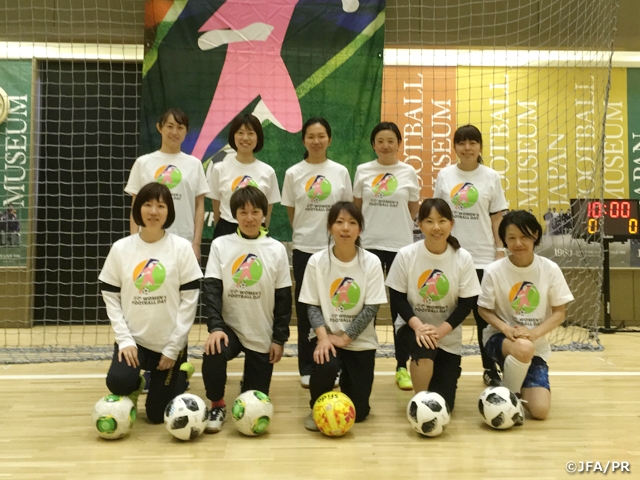 Instructor's Comment
NISHIKAWA Seidai, Kanto Region Chief Coach (JFA National Training Centre)
This "D" licence training workshop was held in collaboration with the AFC Women's Football Day, which was established on the same day of the International Women's Day. As an instructor, I focused on sharing the joy of playing football and to spread the notion to facilitate the independence of the children. We shared the basic knowledge and philosophy, but I was surprised by the enthusiasm showcased by the participants throughout the workshop. I have learned so much from their sincere and genuine attitude. Thank you so much for the two days, let's play football together again!
Participants' Comments
Ms. HASHIMOTO Ayako
I have only played recreational futsal in the past, but I was able to learn the basics of football and the mindset of a coach. The workshop was very easy to understand and the warmup routine we did ahead of the game was very intriguing as well. I will implement the routine when I go workout in the future. The two-day curriculum was very productive, and it went by very smoothly. I am glad I have participated in this workshop.
Mr. NISHIMURA Ryota
By participating in this "D" licence coach's training workshop I was able to re-acknowledge the joy of playing football and gain a precious personal experience. Through this workshop, I have learned that giving the players the opportunity to guide themselves to the correct answer is a key factor for coaches, and it's an important aspect in a sport like football where players must make quick decisions on the pitch. I do not coach any teams right now, but I hope to get myself involved in the future, so that I can spread the joy of football.