NEWS
JFA 14th Japan Beach Soccer Tournament to kick-off on 6 September
02 September 2019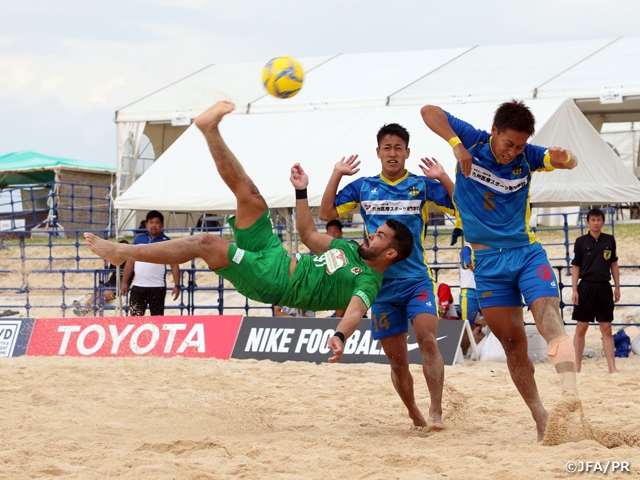 The JFA 14th Japan Beach Soccer Tournament will kick-off its action on Friday 6 September. The tournament will be held for three days to determine the Beach Soccer National Champion.
16 teams who have won their spots through regional qualifiers will compete, as the first round will be played in a group stage where the teams are divided into four groups. The top two teams from each group will advance to the final round where they will determine the champion in a knockout format.
The tournament favourite is Tokyo Verdy BS (Kanto1/Tokyo), who will be seeking for their third consecutive title. Led by MOREIRA Ozu, who is the team captain of the Japan Beach Soccer National Team and has been selected four times as the yearly "Best Five" of the world, Tokyo Verdy has also acquired Tahiti Beach Soccer National Team member, Heimanu TAIARUI to further cement their superiority.
Last year's runners-up, Dorsole Kitakyushu (Kyushu3/Fukuoka), third-place finisher, Tokyo Lequios BS (Kanto2/Tokyo), and Loewe Yokohama (Kanto3/Kanagawa) has also clinched their spots through the qualifiers. Each team has improved their squad since last year, as Lequios acquired NAKAHARA Yuki, who was last year's team captain of Tokyo Verdy, while Loewe added Japan Beach Soccer National Team member OBA Takaaki to their squad.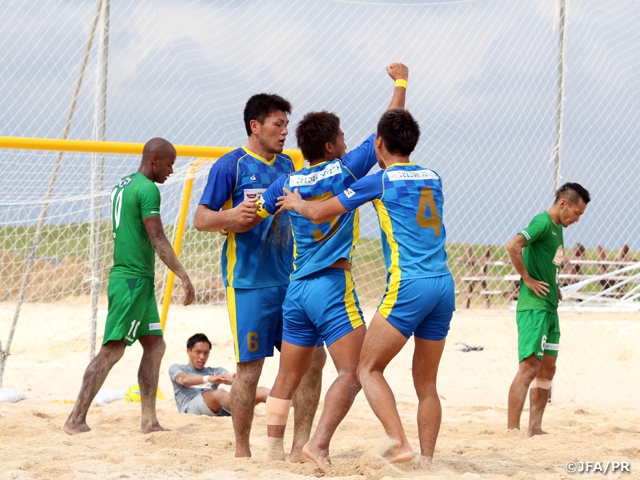 With two of their players, TABATA Teruki and KOMAKI Masayuki, playing for the Japan Beach Soccer National Team, Veertien Mie BS (Tokai/Mie) is another contender, while Aveldage Kumamoto BS (Kyushu1/Kumamoto) will also seek for the title after coming close to taking the title two years ago.
For the first time, this year's championship will take place at Karo Minato Beach, Tottori, as SC Tottori BS will make their tournament debut as the representative of the host region. Tournament regulars, Ninja Miyagi BS (Tohoku/Miyagi) and cabella niigata praia (Hokushinetsu1/Niigata) are also among the teams competing for the national title.
Ahead of the FIFA Beach Soccer World Cup Paraguay 2019 in November, the tournament will also serve as a try-out session for the national team, thus giving extra motivation for the players. Please stay tuned for the heated battles that are about to take place in Tottori.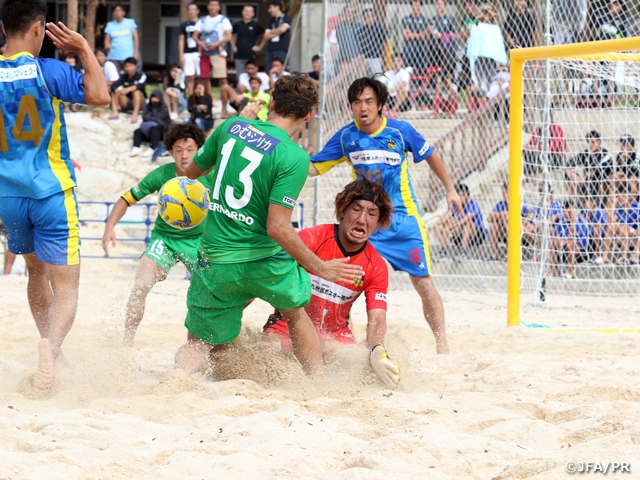 JFA 14th Japan Beach Soccer Tournament
Tournament Dates: Fri. 6 - Sun. 8 September 20
Tournament Venue: Karo Minato Beach, Tottori city, Tottori
Tournament Information