NEWS
Tokyo Verdy BS defeats Sol Mar Praia to claim 3rd consecutive title at the JFA 14th Japan Beach Soccer Tournament
09 September 2019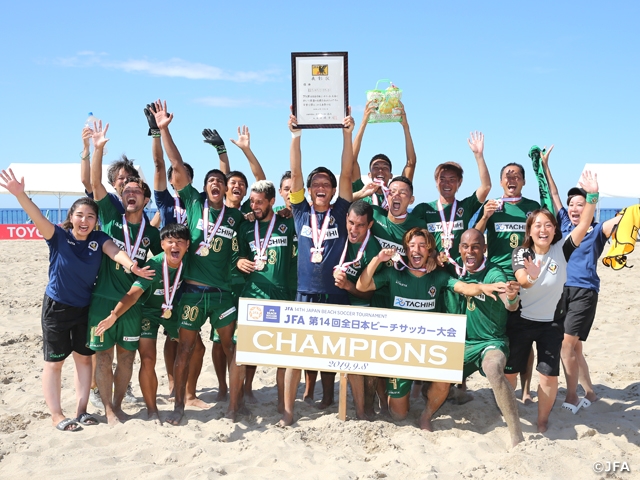 On Sunday 8 September, the final game day of the JFA 14th Japan Beach Soccer Tournament took place, as the semi-finals and final were played in Karo Minato Beach, Tottori.
With both semi-final matches kicking off at 9:30 am, Dorsole Kitakyushu (Kyushu3/Fukuoka) and Sol Mar Praia Okinawa (Kyushu2/Okinawa) clashed in pitch A. While Dorsole scored the opening goal in the fifth minute, Sol Mar Praia did well to contain the opposing ace, AKAGUMA Takuya, and gradually took control of the game. It didn't take long until the Okinawa side took the lead, as EGURO Chikara and SAKAZAKI Dai scored consecutive goals in the seventh and eighth minute respectively. Dorsole responded in the second period with Akaguma's equaliser to make it a 2-2 game before the third period.
The third period saw Sol Mar Praia make many mistakes, but Dorsole failed to capitalise on their opportunities. Then, in the 33rd minute, IKEMIYAGI Keishi scored the go-ahead goal to put Sol Mar Praia on top, followed by TSUBOYA Ryota's 35th minute goal to run away with a 4-2 victory. With the win, Sol Mar Praia has advanced to their first final in three years.
The other semi-final match played in pitch B, was played between Tokyo Verdy BS (Kanto1/Tokyo) and Loewe Yokohama (Kanto3/Kanagawa). The match started off with Verdy's MOREIRA Ozu striking back-to-back bicycle kicks to take the initiative of the match. With momentum on their side, Verdy scored the opening goal in the third minute, when TAKIGUCHI Takashi struck a header that shook the net. The defending champions applied aggressive pressure in defence to contain Loewe from initiating their quick attacks.
Verdy went onto a goal spree from the second period, as Moreira started off by scoring a powerful shot in the 18th minute, followed by a brace scored by Mateus Lopes DOS SANTOS and Bernardo BOTELHO's goal to advance through to the final with a 5-0 victory.
The two big clubs of Japanese beach soccer, Sol Mar Praia and Verdy, collided at the final. In this highly anticipated match, it was Sol Mar Praia who captured the opening goal. The goal came in the second minute, when Tsuboya converted a loose ball in front of the Verdy goal. However, the ace of Japanese beach soccer community single-handedly took over the match, as Moreira scored back-to-back goals in the third and fourth minute to give Verdy the lead.
Moreira's momentum didn't stop there, as he scored two more goals, including a world-class bicycle shot in the second period to give his side a three goal lead. Verdy added another goal to their tally in the 15th minute, when KAWAGUCHI Keisuke converted a volley shot. Although Sol Mar Praia managed to score back a goal from a penalty kick, they conceded another goal to Verdy, as the match entered the final period with a score of 6-2.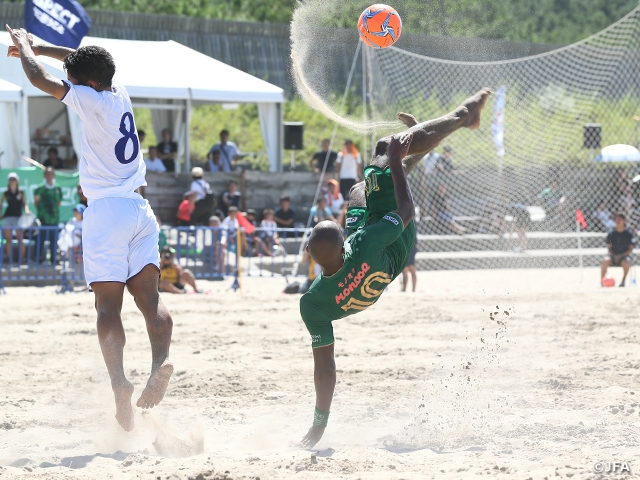 The third period started off with Moreira scoring a kick-off goal to further extend the lead for the defending champions. Sol Mar Praia fought hard until the very end, as they scored two goals in the final period, but at the end, Verdy came out victorious with a final score of 8-4. Verdy has now won three consecutive titles with an astonishing three-year undefeated streak at all official matches.
Coaches and Players' Comments
FP #10 MOREIRA Ozu, Player-coach (Tokyo Verdy BS)
I am speechless. As much as I am happy to accomplish this feat, I am more thankful for my teammates, sponsors, supporters, and team staffs. This year's tournament was very high level, and there were no easy games. That makes this title even sweeter. At the final, we conceded the opening goal, but responded right back with the equaliser. We had been training at a daily basis to keep our composure even when facing adversity, and our work paid off in that scene. I am glad that our game plan proved to be effective and I was able to score five goals. However, more than my personal achievements, I am happy of the fact that we were able to sustain our team strengths at a high level despite rotating the players. Regardless of who was on the field, we didn't lose our balance.
FP #30 Mateus Lopes DOS SANTOS (Tokyo Verdy BS)
I am extremely happy, and I feel so fortunate to be able to win a high level tournament here in Japan. Every team came out with the intention to defeat Verdy, and with our third consecutive title at stake, we played under an enormous amount of pressure. That whole circumstance makes this win even sweeter. I was able to score many goals through this tournament, but they were not scored just by myself. Without the tireless runs, defence, and assists from my teammates, I wouldn't have able to score those goals. I will return to Brazil for now, but I wish to come back to Japan and earn my Japanese citizenship so that I can play for the Japan National Team.
KAWAHARAZUKA Takeshi, Coach (Sol Mar Praia Okinawa)
At the final, we knew our opponent had the upper-hand, so we wanted to ride the momentum after scoring our first goal. I feel like if we could have stayed more patient after trailing 1-3 at the first period, the end result might have been different. We had to be more careful with Moreira. It was certainly a difficult match, especially with this being our first appearance at the national tournament in three years and our first time facing Moreira. Nine out of our 11 players had never played in this tournament, so with that in consideration, I feel like we did a great job. Through the six matches played at this tournament, the team has gained a great learning experience.
FP #8 TSUBOYA Ryota (Sol Mar Praia Okinawa)
Our goal was to win the title, so it is very disappointing, but Verdy was the better team today. We weren't able to take care of the shots from long distance. We gave up consecutive goals to Moreira and we had to be more careful with him. Next time when we face him, we will apply more pressure and give him no space to take shots. Although our opponent had the upper-hand in terms of the technical aspects, we could have applied more pressure to troubled them. Our team is still young, so we hope to learn from this experience and strive to win the title next year.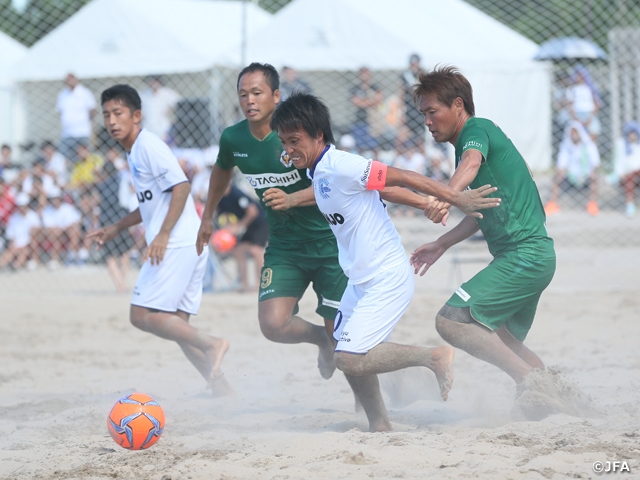 FP #10 OKUYAMA Masanori (Loewe Yokohama)
We played some intense matches in the first two days, so we were pretty fatigued. We tried to stay on the same page as a team, but Tokyo Verdy outran us, and they were the better team overall. Our goalkeeper was able to hold the ball, so we tried penetrating the sides to initiate our attacks, but the defence at the centre was too solid to break through. We lacked that final step, and a bit of quality, especially when we were tired. With that being said, I am proud of our team for making it this far with all the injuries we endured. We will analyse our match against Tokyo Verdy and work on our defence to improve ourselves. As an individual, I will work to strengthen my fitness level and strive to become a better player ahead of the World Cup.

Sun. 8 September Semi-finals Highlights
Sun. 8 September Final Highlights
JFA 14th Japan Beach Soccer Tournament
Tournament Dates: Fri. 6 - Sun. 8 September 20
Tournament Venue: Karo Minato Beach, Tottori city, Tottori
Tournament Information