NEWS
Coach MORIYASU shares aspiration to get back on track "We are fully determined to win" against Australia
12 October 2021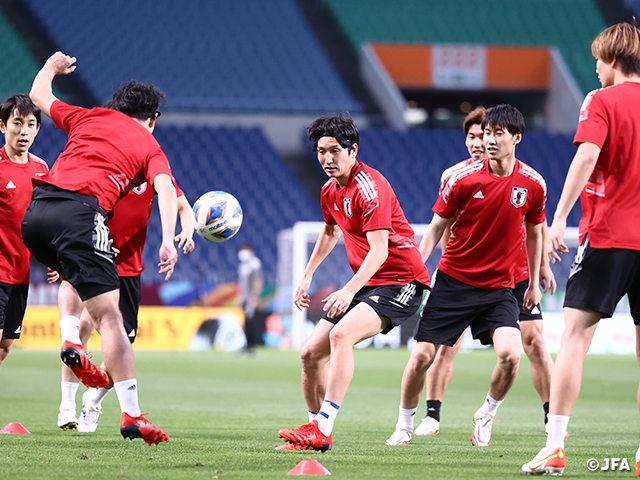 Coach MORIYASU Hajime of the SAMURAI BLUE (Japan National Team) appeared in an official press conference held at Saitama Stadium 2002 on Monday 11 October, ahead of the final round of the FIFA World Cup Qatar 2022™ Asian qualifiers (Road to Qatar) against the Australia National Team. With the team desperately needing a win after staring the final round with one win and two losses, the coach shared his aspiration to get his side back on track, "We will enter the match with only victory in mind."
Japan, who is aiming for their eighth consecutive appearance in the World Cup, is currently in third place in Group B with one win and two losses after dropping an away match against Saudi Arabia on Thursday 7 October. They will now face the group leader Australia, one of the two teams along with second place Saudi Arabia who has started the final round with three consecutive wins.
In order to move into the top two spots of their group, which will automatically qualify them for the World Cup, Japan desperately needs a win against Australia.
When asked about the team's condition following a long trip back from Saudi Arabia, coach Moriyasu mentioned, "The players have recovered both physically and mentally, and they are ready for the match against Australia." Despite the team being in a less than ideal situation with two losses already, the coach expressed his strong will to earn three points against Australia, "We still have a chance to get back on track. In order to qualify for the World Cup, we will enter the match fully determined to win against Australia."
Australia who is aiming to qualify for their sixth World Cup, defeated Oman 3-1 on Thursday 7 October in Doha, which is where they play their home matches under this ongoing pandemic. With this win, they have extended their winning streak at the Asian qualifiers to 11 matches.
Their two wingers, Kenyan-born Awer MABIL and Martin BOYLE was born and raised in Scotland, lead the attack with their speed and skill. Both of them have scored two goals in the recent three matches, contributing to the team's winning streak. The team also consists of players who play in Japan, such as Mitchell DUKE (Fagiano Okayama) and Adam TAGGART (Cerezo Osaka).
Coach Graham ARNOLD, who has taken over the helm in the summer of 2018, is a familiar face in Japan, having served as the coach of Vegalta Sendai and played with coach Moriyasu at Sanfrecce Hiroshima, when the two were still active players.
Facing a team led by his former colleague, coach Moriyasu shared his take on the opponent, "They are a technically sound team with great individual strengths. They have built a team that can fight both tactically and systematically."
Australia is ranked 32nd in the FIFA rankings, compared to Japan's 26th, but the two sides share an even head to head record at the final round of the Asian qualifiers with one win, four draws, and one loss.
On this day, the SAMURAI BLUE held their official training session in which the session was closed to the media except for the first 15 minutes.
Led by YOSHIDA Maya (UC Sampdoria) and NAGATOMO Yuto (FC Tokyo), the team was seen taking a jog to start off the session, before going through their warmup routine to loosen up their body. Coach Moriyasu, who has mentioned to select "players that would give us the best chance to win," keenly watched over the session from the side-line, while the players chased the ball with agile movements and great enthusiasm. The three goalkeepers went through a separate menu to work on their response against crosses.
"Our results will directly affect the future of Japanese football. Whether or not we qualify for the World Cup is a matter of life and death, not only for us, but for everyone involved in football. The significance of this match is very big," said Yoshida, as the team captain continued to mention, "We are bearing a huge responsibility, but we have to turn that pressure into strength."
FURUHASHI Kyogo (Celtic FC) also shared his aspiration for the match, "If I am given the opportunity to play, I think I will have at least one chance, so I hope to capitalise that chance."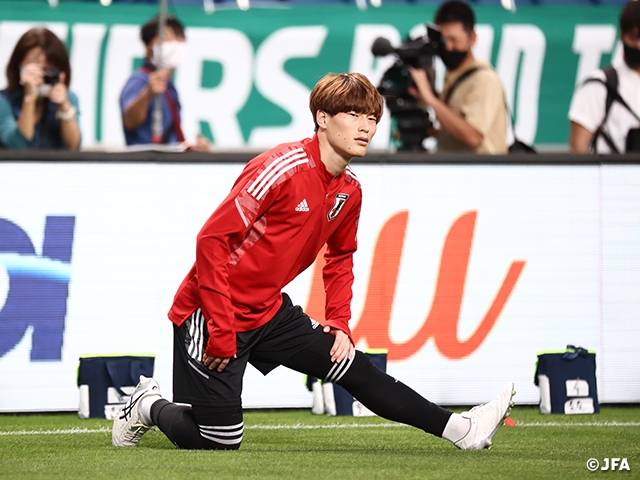 The match between the SAMURAI BLUE and Australia National Team is scheduled to kick-off at 19:10 on Tuesday 12 October at Saitama Stadium 2002.
In this match, "JFA seats" will be set up for those who have been vaccinated against Covid-19 and those who have a negative PCR test result, as the match will be held in front of a maximum of 15,000 spectators with strict infection control measures implemented at the stadium.
Coaches and Players' Comments
MORIYASU Hajime, Coach of SAMURAI BLUE (Japan National Team)
After three matches, we know that we are in a tough situation. However, we were fully aware of the fact that every match in the final round would be a tough match. We still have a chance to get back on track. In order to qualify for the World Cup, we will enter the match fully determined to win against Australia. Despite the long travel and jet lag, the players have recovered both physically and mentally, and they are ready for this match.
It may seem like our playing style has not changed, but every time we face a different opponent, we are trying to eliminate their strengths and strong points as much as possible, while also trying to find out and exploit their weak points within the limited time we have. We want to prepare ourselves so that we can showcase a strong performance while eliminating the strengths of our opponent in tomorrow's match. We need to be able to read the flow of the game and play wisely, but considering the abilities of our players and the current strength of Japanese football, I believe that we can increase our chances of winning as long as we put in enough effort to prepare ourselves for the match. My level of trust in the players has not changed at all. I always tell my players that "we can earn the results we are striving for, as long as we play with confidence."
DF YOSHIDA Maya (UC Sampdoria/Italy)
Our time is limited, so we cannot make drastic changes ahead of our match against Australia, but we need to make efforts to prepare ourselves both mentally and tactically. There seems to be a certain pattern in the way Australia plays their game, so we would like to try to break that pattern and use it to our advantage. We need to regain our aggressiveness, and keeping a good distance is going to be the key to regain our aggression. One or two steps can make all the difference. If we can improve the distance, increase the tempo of our plays, and make successful passes, I think we can gradually regain our confidence and rebuild our momentum. It is important that we keep the ball moving with good pace and take control over the ball possession to build our rhythm. Australia is a tough opponent, but with this being our home game, we need to play wisely and take the initiative of this match.
DF NAKAYAMA Yuta (PEC Zwolle/Netherlands)
In the match against Saudi Arabia, I was told to deliver crosses from the left side, but the match was pretty chaotic when I entered as a late substitute, so I wish I was given more time to play. Australia is a well-organised team, with a lot of fire power in their attacking third. When I play, I want to bring stability to the team. I've been working to improve my plays in the build-ups and offensive involvement, which are my strong points, and I hope to showcase what I have been working on since the Olympics. I hope to make good decisions when getting myself involved in the team's offence. We don't need to score many goals. We just need to be patient and anticipate for our opportunity to score a goal, so that we can win the match 1-0. Qualifying for the World Cup is our ultimate goal, and this is a must win match in order to achieve our goal. We will continue to believe in ourselves and give our utmost effort at any given time.
FW OSAKO Yuya (Vissel Kobe)
We were not able to obtain the result we were looking for in our previous match, but we must move on and focus on our next match. We have been able to hold productive discussions among the players and also with the coach. We have done everything we can to prepare ourselves for this match. The lack of goals scored by our offence has been a major issue for the team. There were plenty of opportunities I had to convert. We have been talking to each other to be more critical in the attacking third. Ahead of our match against Australia, I have been visualising what I need to do at a personal level, but we must also try to apply more pressure as a team. The players have been actively communicating with each other to improve our plays, including how we should maintain the distance between each other. I believe that Japan's lifeline has always been in the midfield, and we have plenty of talented players there. If those players can play with confidence, there will be more matches Japan can win and dominate in the future. That is why I need to provide more support for the midfielders, which will allow them to provide more support for me in return.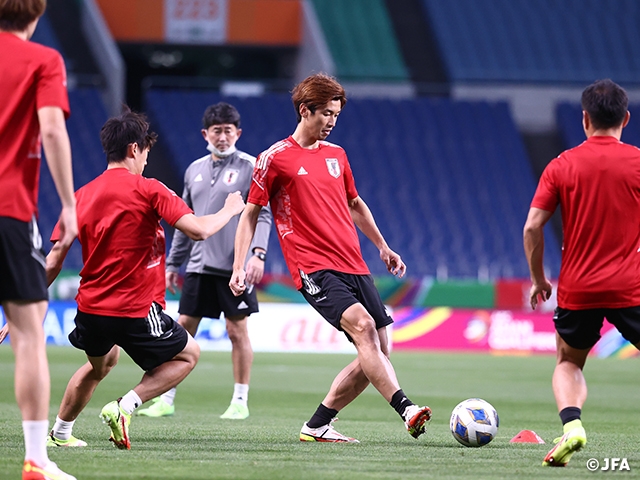 FW FURUHASHI Kyogo (Celtic FC/Scotland)
I am confident that I can create chances for the team, but we need to capitalise on those opportunities to win matches, so I will do my best to score goals that can help the team win matches. Australia has a lot of big players, and they are also capable of possessing the ball. Personally, one of my teammates is on their side, and he is a great goal scorer, so I hope we can apply enough pressure to limit his plays. I think we should be able to hold them off, as long as we can stay on the same page and play as a team. In terms of offence, we need to be more conscious of finishing our plays with a shot. We are under a lot of pressure, but I think it is important that we continue to believe in ourselves and have confidence in our abilities. If we can enjoy this situation and showcase our usual performance on the pitch, I think we should be able to win. I believe that we have what it takes to win this match.
Graham ARNOLD, Coach of Australia National Team
We are prepared both mentally and physically for this match. I believe that our players will be fully focused on their plays to showcase a spectacular match. We are only through three out of 10 matches of the final round of the Asian qualifiers. We have always competed to earn three points, and we have and will never consider playing for a draw. We have been analysing Japan for a long time, so we know them very well. The J.League has been around since the early 90s, and I myself played for Hiroshima from 1995 to 1997. Some of our players also play in Japan and have played against Japanese clubs in the AFC Champions League (ACL), so we are looking forward to tomorrow's match.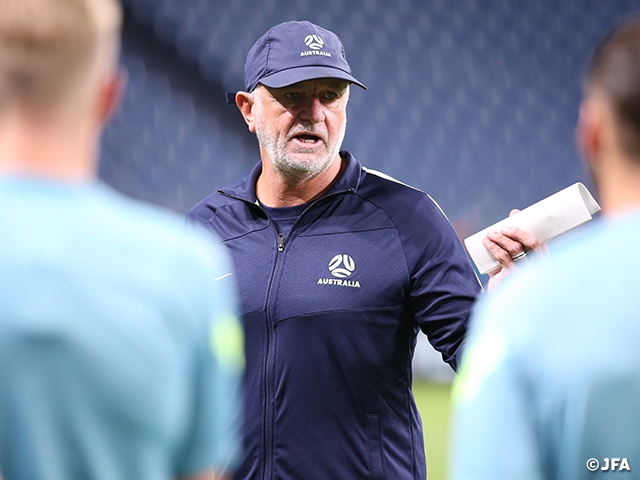 AFC Asian Qualifiers (Road to Qatar)
Tue. 12 October 2021 [19:10]
SAMURAI BLUE vs Australia National Team
Venue: Saitama Stadium 2002 (Saitama)