NEWS
Tajikistan National Team arrives in Japan ahead of second round Asian qualification match for the FIFA World Cup Qatar 2022™
07 June 2021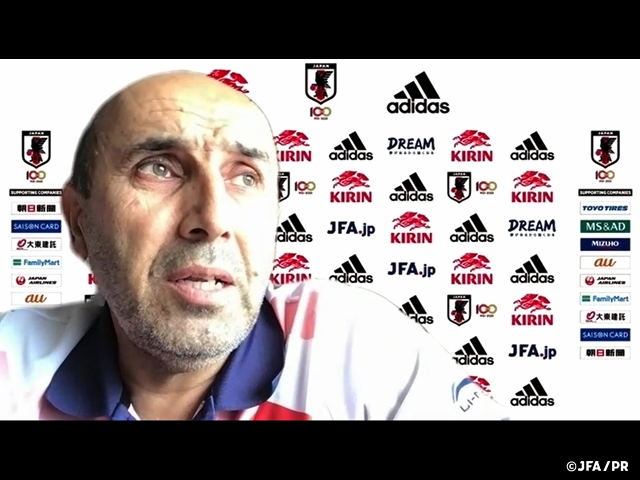 On Thursday 3 June, the Tajikistan National Team arrived in Japan ahead of their second round Asian qualification match for the FIFA World Cup Qatar 2022™ against the SAMURAI BLUE (Japan National Team). Prior to their departure, all players and staffs went through strict measures to prevent the spread of COVID-19, while the players were required to test negatively in a test taken within 72 hours from their departure, followed by an antigen test at the Japanese airport. On Sunday 6 June, coach Usmom TOSHEV appeared in an online press conference held in the morning, before the team held an official training session at the match venue, Panasonic Stadium Suita. The match between the SAMURAI BLUE and Tajikistan National Team at the second round of the Asian qualification for the FIFA World Cup Qatar 2022™, which also serves as the preliminary joint qualification for the AFC Asian Cup China 2023, will kick off at 19:30 on Monday 7 June.
Coach and Player's Comments
Usmom TOSHEV, Coach
We are currently in second place in this group, so we hope to maintain this position. Although we are a bit jet-lagged, the players are in great condition otherwise. I wish we could stay here to get all of our preparation work done for the qualifiers. Japan is a beautiful country and the people here are kind, always smiling, and polite. Just a top level country overall.
Akhtam NAZAROV, Captain
The players are in great condition. We are thankful to JFA for preparing us with this wonderful environment despite the ongoing pandemic. The competition at each group is getting interesting, as every country has a chance of advancing through, and I am looking forward for the remaining fixtures. As you may know, Japan has won all matches in our group, and they are in a wonderful position. The Tajikistan National Team is currently in second place, which is not a bad position to be in. In order to clinch the final round, we must score as many goals as possible and strive to win each match. We know this is not going to be an easy match for us, but we will give our best until the final whistle. The Japan National Team is a wonderful team and they have been showcasing spectacular football, so we are looking forward to facing them.