NEWS
Nakajima scores equaliser in his debut as SAMURAI BLUE draws with Mali
24 March 2018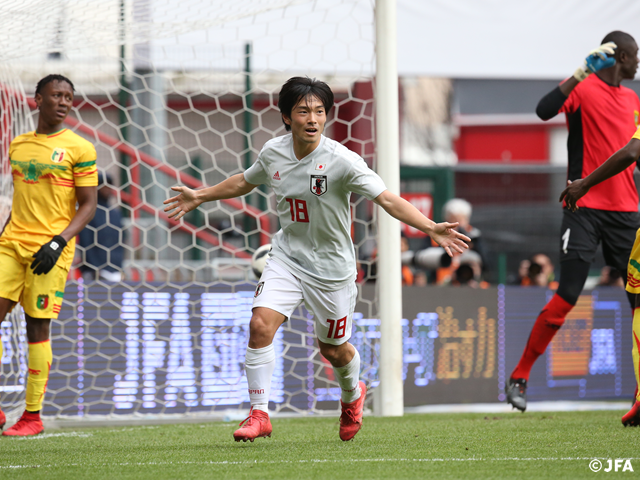 On 23 March, SAMURAI BLUE (Japan National Team) played an international friendly match against Mali National Team in Stade Maurice Dufrasne, Belgium. Forward NAKAJIMA Shoya (Portimonense S.C.) was brought in as a substitute to make his national team debut and scored the equaliser just before the final whistle as the match ended with a final score of 1-1.
Ahead of the FIFA World Cup Russia in June this year, Japan is in progress of strengthening the national team as well as making the final squad selection. This match against Mali was prepared to simulate their scheduled World Cup opponent Senegal, and it also gave them an opportunity to check out the performance of newly selected players and new combinations.
On his 30th birthday defender UGAJIN Tomoya (Urawa Reds) made his first cap for the national team, playing in the right back. Defenders SHOJI Gen (Kashima Antlers) and MAKINO Tomoaki (Urawa Reds) played as the centre-halves, while goalkeeper NAKAMURA Kosuke (Kashiwa Reysol), who made his national team debut in the EAFF E-1 Football Championship last December, was given the start. In the attacking third, the inform midfielder MORIOKA Ryota (R.S.C. Anderlecht) started in the number ten role, and forward USAMI Takashi (Fortuna Düsseldorf) was positioned in the left wing. Forward KUBO Yuya (KAA Gent) played in the right wing while forward OSAKO Yuya was selected as the lone striker.
In the first half, Japan kept their defense line high. Midfielders OHSHIMA Ryota (Kawasaki Frontale) and HASEBE Makoto (Eintracht Frankfurt) moved the ball around well in the midfield, creating chances as they combined with both wingers Usami and Kubo.
In the 11th minute, Usami delivered a cross into the space behind Mali's defenders allowing Kubo to strike a shot with his right foot, but the shot was slightly off target. In the 23rd minute, Ugajin's cross was cleared by the opposing defender, but Kubo picked-up the loose ball before sending the ball to Ohshia, who took a right footed shot. Two minutes later, Kubo attempted a header off a corner-kick delivered by Usami, but both shots were blocked by the Malian goalkeeper.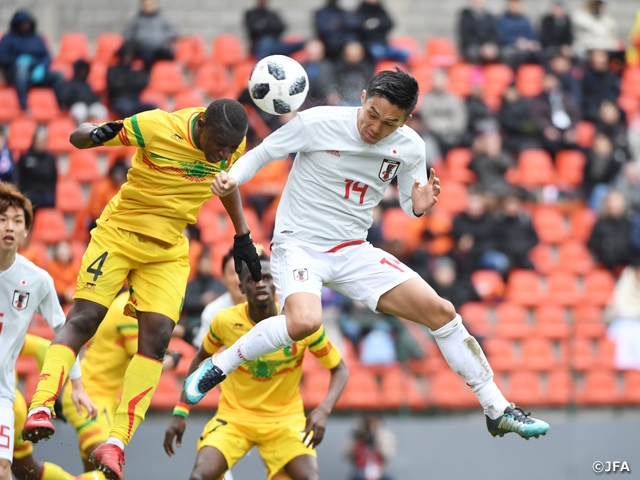 However, in the 35th minute, Ohshima was forced to come out of the game due to injury, and midfielder YAMAGUCHI Hotaru (Cerezo Osaka) came in as a substitute.
The Malian side featured many young players including four players who played in the 2015 U-20 World Cup, when they finished third place. By connecting short passes, they anticipated to find the space behind the Japanese defence. In the 42nd minute, forward Moussa Djenepo drew a foul from Ugajin in the penalty area, earning his side a penalty kick. Forward Abdoulaye Diaby converted the spot kick giving Mali an 1-0 lead at halftime.
At the start of the second half, Japan brought on defender SAKAI Gotoku for Ugajin. In the 60th minute, Nakajima came in for Usami, and midfielder MISAO Kento (Kashima Antlers) for Hasebe. Five minutes later, forward KOBAYASHI Yu (Kawasaki Frontale) was brought on for Morioka, and then in the 70th minute forward HONDA Keisuke (CF Pachuca) replaced Kubo. However, Japan still struggled to create effective attacks.
In the 85th minute, Nakajima made efforts by penetrating with his dribbling skills. The equaliser came during additional time. With the clock winding down, Kobayashi's delivery was cleared by the opposing defender. Misao collected the loose ball before sending a cross towards the centre, finding Nakajima at the far post who snuck in the goal with his left foot.
Japan will face Ukraine National Team in the KIRIN CHALLENGE CUP 2018 in EUROPE on Tuesday 27 March at the same venue.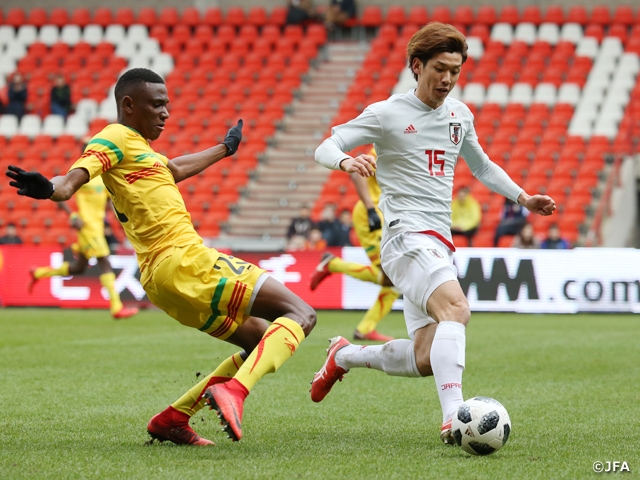 Coaches' and Players' Comments
Vahid HALILHODZIC, Coach of SAMURAI BLUE (Japan National Team)
The fact that we came from behind to tie the match was something positive we can take back. However, we missed out on five or six opportunities to score. We also gave up a penalty kick off of an immature play. The players did manage to stay organised throughout the match.
In all aspects, we still have plenty to work on. We tried many players today, but it's too early to analyse. We are still in the process of solving our issues by giving opportunities to wide range of players. We gained many information, but they were not all positive, we must continue to train hard. At this point we are far from my ideal team heading into the World Cup, and we have long ways to the World Cup. Senegal is a much stronger team than Mali. When facing African teams, it is difficult for the Japanese players to play one-on-one. We must react faster and stronger, or else they will overwhelm us. We still have an opportunity to face an African team so we will utilise it as a test match.
DF #5 NAGATOMO Yuto (Galatasaray S.K.)
It will be hard for us to win at the World Cup if we play like today. Senegal, Colombia, and Poland are at a different level in all aspects, so if we find it difficult to win here, that means it will be disastrous at the World Cup. We lacked creativity in offence and we made it easy for our opponents to defend against us in the second half. We need to come up with more ideas and mix in more position changes. The level of play will be much higher at the World Cup, so we must be able to make adjustments during the match in order for us compete. We also must improve on all the issues we found out today.
MF #26 MISAO Kento (Kashima Antlers)
When we scored the goal, I honestly didn't see Nakajima, but I delivered the cross with an image that someone would be there. I played with the intention to give all I've got, but it was not enough at fifty-fifty situations. Even though I got used to it eventually, the African players presented a very unique rhythm. The level of play at the World Cup would be much higher. We must heighten our level of plays.
FW #18 NAKAJIMA Shoya (Portimonense S.C.)
The scene where I score the goal, the way I positioned myself was something I had been working on at Portugal, so I feel like I have been improving. But I must continue to do so. I have been told by the coach to play aggressively, either with my dribbles or passes, so focused on receiving the ball as much as possible, and play according to the situation. It was my first national team appearance, and the opponents were really good, so I had fun. We will get better in many aspects moving forward.
Mohamed MAGASSOUBA, Coach (Mali National Team)
It was a very difficult match for us today. With this team it is hard to outplay Japan, who showed great physical strengths. We felt like we could have won the match, but that's football. Japan came from behind at the very end, but we are proud to draw against a great team like Japan.

Schedule
Mon. 19 March
PM
Training
Tue. 20 March
PM
Training
Wed. 21 March
PM
Training
Thu. 22 March
PM
Official Training
Fri. 23 March
1-1
International Friendly Match
vs Mali National Team (Stade Maurice Dufrasne)
Sat. 24 March
AM
Training
Sun. 25 March
PM
Training
Mond 26 March
PM
Official Training
Tue. 27 March
14:20
KIRIN CHALLENGE CUP 2018 in EUROPE
vs Ukraine National Team (Stade Maurice Dufrasne)
*Local Time
*The schedule is subject to change due to the team condition, the weather, etc.
International Friendly Match
SAMURAI BLUE (Japan National Team) vs Mali National Team
Friday, 23 March 2018 Kickoff at 13:20 local time (21:20 Japan time)
Belgium/Stade Maurice Dufrasne
Live broadcasting across Japan by TV Asahi
For more information

SAMURAI BLUE (Japan National Team) vs Ukraine National Team
Tuesday, 27 March 2018 Kickoff at 14:20 local time (21:20 Japan time)
Belgium/Stade Maurice Dufrasne
For more information