NEWS
Japan grab first win in final qualifying round over Thailand thanks to goals from Haraguchi, Asano
07 September 2016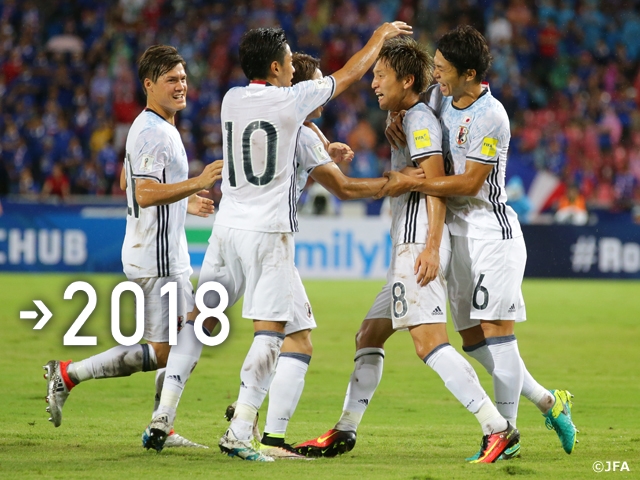 SAMURAI BLUE (Japan National Team) grabbed their first victory, 2-0 over Thailand in their second match of the 2018 FIFA World Cup Asian Qualifiers Final Round (Road to Russia) on Tuesday 6 September at Rajamangala Stadium in Bangkok thanks to goals from forwards HARAGUCHI Genki (Hertha BSC Berlin/ Germany) and ASANO Takuma (VfB Stuttgart/Germany).
With the loss against United Arab Emirates (UAE) four days ago, Japan were desperate to get a win and changed three of the starting line-up from the UAE match, sending on Haraguchi, Asano and midfielder YAMAGUCHI Hotaru (Cerezo Osaka). Japan proved themselves with outstanding performance from those three.
In occasional heavy rain, Japan were composed and focused from the start. After winning the ball by pressing the opponents, the Japanese side passed it to the sides and picked up an attacking rhythm.
Japan created goal-scoring opportunities with left midfielder Haraguchi cutting inside, left back SAKAI Gotoku (Hamburger Sport-Verein/ Germany) sneaking through space behind the opposing defencemen, and defender SAKAI Hiroki (Olympique de Marseille/ France) overlapping and feeding cross balls from the right flank.
The opening goal came from a similar style. In the 19th minute, Haraguchi headed home a right cross from SAKAI Hiroki. His goal was for the first time since the World Cup second-round match against Syria last March.
In the 24th minute, Asano created another chance where Japan would have scored if the timing was right. The young forward dribbled up the left flank and sent a cross toward forward HONDA Keisuke (AC Milan/ Italy), who ran into the box and just fell short.
Honda headed KAGAWA Shinji's free kick in the 12th minute and fired a shot by linking with Haraguchi on the right flank in the 42nd minute. In the closing minutes of the first half, Honda met a right cross, but his effort was denied by the Thailand goalkeeper again.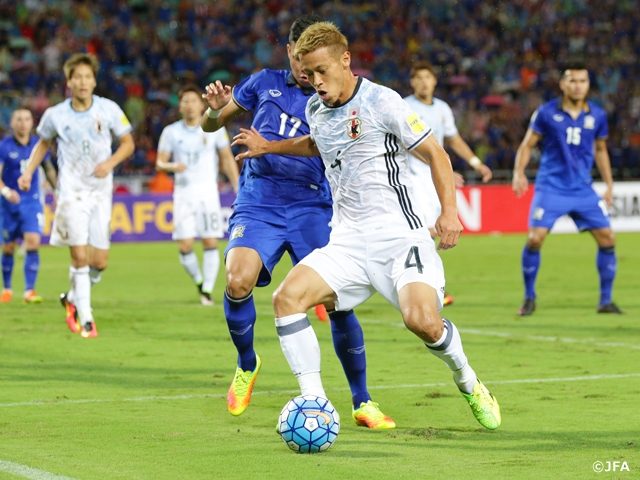 Thailand built a defensive block and, after winning the ball, attempted to build up their attacks through midfielders Chanathip Songkrasin, Charyl Chappuis and Kroekrit Thawikan connecting to each other. The Japanese defence, however, led by Yamaguchi, won back the ball in the midfield not allowing to create any goal-scoring opportunity to the counterparts.
After the first half finished with Japan's 1-0 lead, Thailand tried to rob the ball aggressively at the beginning of the second half, but Japan maintained their attacking momentum. Defender MORISHIGE Masato (F.C. Tokyo), Asano and Kagawa fired shots in a row in the 53rd minute. And one minute later, Haraguchi came close through Asano's cross, but was ruled as an offside. After 60 minutes, Honda, Kagawa and Haraguchi threatened Thais with shots, but all of them were saved by the goalkeeper.
Thailand, who were being forced to defend but looking for a gap to fight back, found a clear-cut chance after forward Teerasil Dangda broke through Japan's defence. However, Japan's goalkeeper NISHIKAWA Shusaku (Urawa Red Diamonds) saved his attempt and keep them from scoring.
Although Japan wasted plenty of golden opportunities, their much-awaited goal adding to their lead came in the 75th minute. Asano received a through ball from HASEBE Makoto (Eintracht Frankfurt/ Germany) with his head while beating defenders and ran forward before launching a shot, which found the back of the net after deflected by the goalkeeper.
While Japan allowed Thailand's counterattacks on a few occasions after that, Thai substitute midfielder Prakit Deeprom was sent off due to the second yellow card of the night. Japan put pressure on the opposing defence with forwards MUTO Yoshinori (1.FSV Mainz 05/ Germany), KOBAYASHI Yu (Kawasaki Frontale) and USAMI Takashi (FC Augsburg/ Germany) coming off the bench in the final minutes of the match, and their defence also committed themselves to cope with attacks from Thailand. Finally, the final moment came and Japan clinched a victory with their first clean sheet in the last four matches.
Other Group B matches saw Australia beat UAE 1-0 on the road and Saudi Arabia also earn a 2-1 away come-from-behind win over Iraq, both marking the second victory of their campaign. As the result, Australia are now on top only by goal difference, while Saudi Arabia stand in second place. Japan passed the UAE to third place despite the same points but on goal difference, followed by Iraq and Thailand with no points.
Japan's next two matches are against Iraq at home on Thursday 6 October and Australia on the road on Tuesday 11 October.
Coaches' and Players' Comments
Vahid HALILHODZIC, Coach of SAMURAI BLUE (Japan National Team)
As the result, this is a very important win. It was not easy, and there was a concern how this team would go out to this match psychologically. Our determination to win this match was really exhibited. I made three line-up changes after the UAE match. I wanted to have young and experienced players compete for the spots. Injuries and fatigue also played a part in my decision. Overall, they performed very well. The goal we scored were not out of coincidence, and they brought a good mood to this team.
We put intense pressure on the opponents and prevented them from executing their attacks. But maybe we lost our focus down the stretch, and we couldn't score in many of the golden opportunities we had. We were also about to give away one or two 'presents' to the opponents late in the match. Considering that, it may be true that we are still far being perfect psychologically. I want to congratulate my players for the good result, and I think we can grow stronger from here on. I also want to congratulate Thailand National Team as well for the wonderful match. Most likely other teams will have a hard time in playing against Thailand.
MF #17 HASEBE Makoto (Eintracht Frankfurt/Germany)
The result was the most important thing, so it was good to get three points. But early in the match, we weren't able to score when we had the chance to do. We made easy mistakes as a team and as individuals. There were stretches where the scoreline could have been tied. We will struggle unless we correct that, and I have a sense of urgency that our current state is still not good enough.
FW #18 ASANO Takuma (VfB Stuttgart/Germany)
It was good that I scored a goal, but more than anything, I was glad that we got three points. Speaking of that goal, when I looked at our bench, Muto was getting prepared. So I tried to show all I had left. The experience of the Olympics has been a big plus for me and I can feel that I am getting even better in this qualifiers as well. I want to keep adding to my 'collection of positive feelings' by attaining excellent results and advancing to the World Cup.
FW #4 HONDA Keisuke (AC Milan/Italy)
It was a match after a loss, so what was important was to make sure to win it. Offensively we have a lot to reflect on, but defensively it was perfect except one. So I want to give credit to that. I don't think only one match can get us out of the urgent situation. We have to keep winning and we have no place to go backward.
DF #21 SAKAI Gotoku (Hamburger Sport-Verein/Germany)
There is no better medicine than winning. So I think this put us back on the right track mentally. Of course we can't let our guard down yet, so we want to keep the first match loss in mind as we continue fighting. We need to feel pressured in a positive way both as a team and as a player.
KIATISUK SENAMUANG, Coach of Thailand National Team
I want to say congratulations to Japan. We tried to do our best against the best team in Asia. But Japan started to put pressure on us, which made it difficult for us to play our football. Japan was really good as we expected and they have a potential to win any match.
Schedule
Sun. 28 August
PM
Training *Open to the public (TBC)
Mon. 29 August
PM
Training *Closed-door
Tue. 30 August
PM
Training *Closed-door
Wed. 31 August
TBC
Training *Closed-door
Thu. 1 September
1-2
ASIAN QUALIFIERS - ROAD TO RUSSIA
vs UAE (Saitama Stadium 2002)
Fri. 2 September
AM
Training *Open to the public (TBC)
Sat. 3 September
PM
Training *Open to the public (TBC)
Sun. 4 September
PM
Training *Closed-door
Mon. 5 September
PM
Training *Closed-door
Tue. 6 September
2-0
ASIAN QUALIFIERS - ROAD TO RUSSIA
vs Thailand (Rajamangala Stadium)
*The schedule is subject to change due to the team condition, the weather, etc.
*Local Time