NEWS
Coach Halilhodzic: We are ready for battle – ahead of Thailand match in Final Qualifiers on 6 Sep.
06 September 2016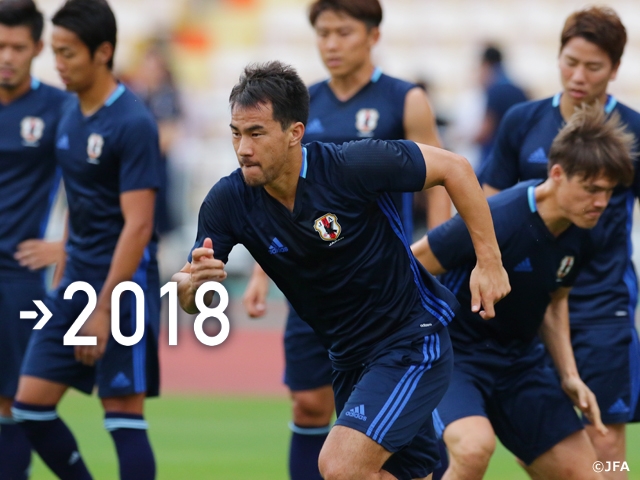 Ahead of their second match of the 2018 FIFA World Cup Asian Qualifiers Final Round (Road to Russia), SAMURAI BLUE (Japan National Team) coach Vahid HALILHODZIC had a press conference on Monday 5 September at a hotel in Bangkok, saying "we are ready to battle for a victory."
As Japan started their qualifying round with a loss to the United Arab Emirates (UAE) at home, they are urged to grab their first win of the campaign in the next match against Thailand.
Halilhodzic says, "The loss to the UAE hurt us" but revealed that he went out to eat Japanese food in Bangkok with his players in his attempt to refresh their mind. And he also speaks on the fatigue that deteriorated the pace of play and resulted in a tough game. "My players are now in better form than in the first match."
Talking about the number of goal-scoring chances that Japan created, "we are as good as any team in terms of stats. The problem is how we score. I want them to be a bit-more realistic and score," Halilhodzic expects his players to improve accuracy of play.
The team had an-hour training session, which was closed apart from the first 15 minutes, at Rajamangala Stadium in the evening in order to go through tactics on offence and defence.
"They deserved to get different results in the Saudi Arabia match," Halilhodzic points out on Thailand. "We already studied how they come out on offence and defence. I told my players how they play."
Thailand also lost their first match 0-1 on the road against Saudi Arabia after a penalty kick in the closing minutes. They are in the same situation as Japan where they are striving for a win. Thailand coach Kiatisuk, who has scored goals himself in a match against Japan as a national team striker, notes, "Japan are being pressured to win the match. We don't have it. That's our strong side."
Japan's boss says, "there is no easy match in the final qualifying round. We are trying to win with a strong mind. We've got to show our characteristics."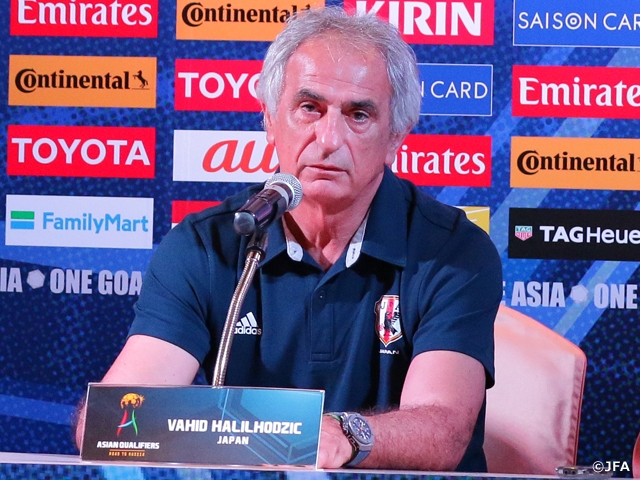 Forward OKAZAKI Shinji (Leicester City Football Club), who is a goal shy of his 50th international goal, shows his enthusiasm, "we already reflected on the last match as a team and as an individual and refreshed our mind. We will beat Thailand and make it even." Midfielder HASEBE Makoto (Eintracht Frankfurt) says, "it's a match right after a loss, so we need players who can fight. We will try to show it on the pitch. We must win it."
The contest will kick off at Rajamangala Stadium in Bangkok at 7:15 p.m. (9:15 p.m. Japan time) on Tuesday 6 September.
Coaches' and Players' Comments
Vahid HALILHODZIC, Coach of SAMURAI BLUE (Japan National Team)
We were really down after the first match and needed to pick ourselves up, but we will go out for the Thailand match with a strong mind. Thailand played very well against Saudi Arabia, but they were also in a situation which lacked justice. They are very fast, their sequence of plays is great, and their home fans are fanatic. But Japan also have experience, quality, and strong determination and are able to control the game. Including Thailand's unique attack, I explained how they play in detail and we are ready to battle. This is the most difficult camp we have ever had, but my players are getting in better form now. I'm looking forward to seeing how they prove it on the pitch.
MF #17 HASEBE Makoto (Eintracht Frankfurt/Germany)
Thailand have got ability and many players who are strong in close-quarter battles. Strikers are also good, and they should come out with momentum because it's their home. They should be a different team from the one on the road in Saudi Arabia. We've got to be careful of the entire team. It's important to control the game, refresh ourselves mentally and start the match in our favour. In the final qualifying round, this coming match will be very important. We must win it.
FW #9 OKAZAKI Shinji (Leicester City Football Club/England)
Thailand have speed and are potent team. They seem to come more aggressively at home than on the road. We need to stay focused. Otherwise, we end up giving up momentum to the opponents. So we've got to get into the game mentally from the start.
We reflected on the dull attacking in the last match. Finishing only with the first wave of attack is not satisfactory. It is important not only to pick up the second balls but build up subsequent waves of attacks. Regarding this, we've got to build a consensus among us.
DF #22 YOSHIDA Maya (Southampton FC/England)
The team atmosphere is very good, and we took enough rest. It's hot here, and we will try to play the match wisely. We believe we have better possession of the ball than the opponents. Risk management when attacking will be important, considering the fact that we gave up chances to the opponents to attack at such moments in the last match. The pitch condition isn't so good, so we need to avoid giving away passes and allowing counterattacks. We need to avoid taking risks and, independent of how we play, go home with three points.
FW #20 MUTO Yoshinori (1.FSV Mainz 05/Germany)
I'm ready for it. If I get a chance, I will do my best to live up to the expectation. Thailand are united as a team. They also run a lot. Unless playing full out, Japan can't win. All we need is to be focused for the match. If we use our feet only, they are going to beat us. We've got to throw our body and at the same time be careful not to give away any foul in the box. It will be the best if I can stay persistent and score goals.
KIATISUK SENAMUANG, Coach of Thailand National Team
The team condition is almost 100%. We couldn't win the first match against Saudi Arabia even though we played well. Tomorrow, we will play a good game against Asia's No.1 team Japan and get as good results as possible. Japan are good on both offence and defence, and I don't see any weakness. But they should be pressured to win because they lost the first match. We don't have pressure because it's been a while since we played in the final qualifying round. That's our strong side. It's our home, so we want to create a good atmosphere. My players are all prepared for it.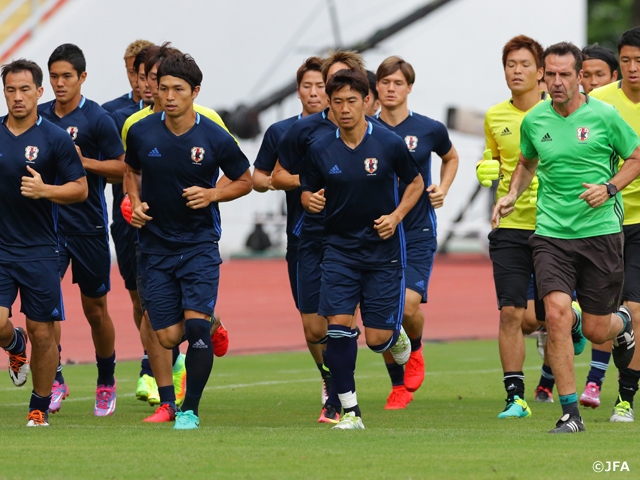 Schedule
Sun. 28 August
PM
Training *Open to the public (TBC)
Mon. 29 August
PM
Training *Closed-door
Tue. 30 August
PM
Training *Closed-door
Wed. 31 August
TBC
Training *Closed-door
Thu. 1 September
1-2
ASIAN QUALIFIERS - ROAD TO RUSSIA
vs UAE (Saitama Stadium 2002)
Fri. 2 September
AM
Training *Open to the public (TBC)
Sat. 3 September
PM
Training *Open to the public (TBC)
Sun. 4 September
PM
Training *Closed-door
Mon. 5 September
PM
Training *Closed-door
Tue. 6 September
19:15
ASIAN QUALIFIERS - ROAD TO RUSSIA
vs Thailand (Rajamangala Stadium)
*The schedule is subject to change due to the team condition, the weather, etc.
*Local Time
ASIAN QUALIFIERS - ROAD TO RUSSIA
2016-9-6 (Tue.) - 19:15 (estimate time) (Japan Time 21:15)
Rajamangala Stadium (Bangkok/Thailand)
Thailand National Team vs SAMURAI BLUE (Japan National Team)
More information