NEWS
U-24 Japan National Team defeats Ghana 6-0 in first match with OA Players
06 June 2021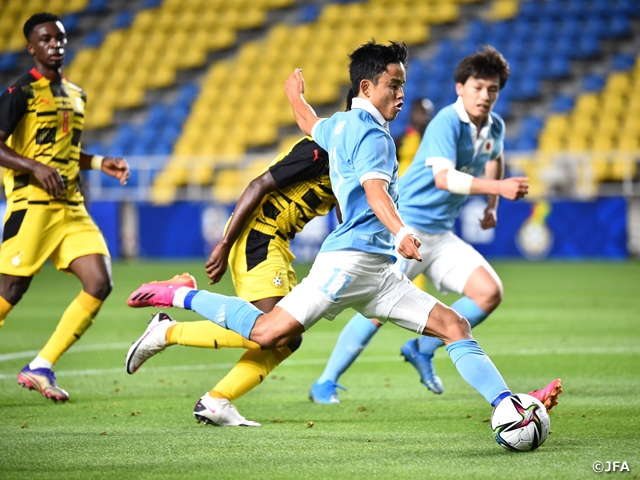 The U-24 Japan National Team, who started their training camp to prepare for the Tokyo Olympics on Monday 31 May, faced the U-24 Ghana National Team in an international friendly match at Best Denki Stadium (Fukuoka) on Saturday 5 June.
In this match, coach YOKOUCHI Akinobu elected to start the three over-age (OA) players, YOSHIDA Maya (U.C. Sampdoria), SAKAI Hiroki (Olympique de Marseille), and ENDO Wataru (VfB Stuttgart) for the first time.
Two days following their match against the SAMURAI BLUE, coach Yokouchi named TANI Kosei (Shonan Bellmare) as the GK with Yoshida, Sakai, TOMIYASU Takehiro (Bologna FC 1909), and NAKAYAMA Yuta (PEC Zwolle) forming the four-back defence line. While Endo and TANAKA Ao (Kawasaki Frontale) were positioned as the defensive midfielders, DOAN Ritsu (DSC Arminia Bielefeld), KUBO Takefusa (Getafe CF), and SOMA Yuki (Nagoya Grampus) were placed as the attacking midfielders with UEDA Ayase (Kashima Antlers) as the lone striker.
With the team in line to face South Africa in their first group stage match at the Olympics, this match against Ghana was a crucial match to simulate the tournament opener for Japan.
However, the players of the U-24 Japan National Team kept talking about the 0-3 loss they suffered against the SAMURAI BLUE in Hokkaido. Doan commented, "I have been thinking what we lacked and why we couldn't win against the SAMURAI BLUE." Tanaka also mentioned, "They really showed us what it takes to be at the top in Japan. To be honest, it was the most frustrating experience in my life." Veteran defender Yoshida, who didn't appear in the match shared his take on the match, "I was actually happy to see our players being upset."
Japan started off the match by showing great intensity, as they took the initiative by applying aggressive pressure from the frontline. The opening goal came in the 16th minute when Doan responded to a deflection caused by a shot taken by Kubo and struck a pin-point volley that shook the net. Kubo followed in the 32nd minute when he converted the cross of Ueda to make it 2-0. After Sakai's cross induced an own goal in the 45th minute, Japan entered the break with a comfortable 3-0 lead.
Japan continued to showcase their dominance in the second half, as Soma, Ueda, and MITOMA Kaoru (Kawasaki Frontale) scored in the 48th, 56th, and 89th minute respectively to top off a 6-0 victory in Kyushu.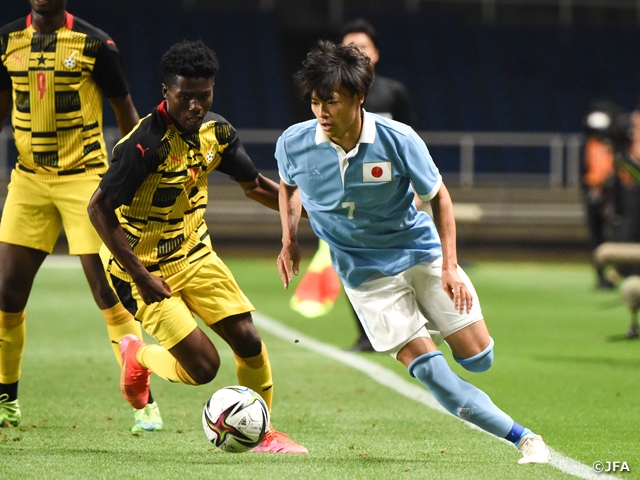 The OA players showed great fit with the U-24 squad as the team displayed a strong performance in both offence and defence. After the match, coach Yokouchi reflected on their performance, "The players were focused from the start and applied aggressive pressure from the frontline. The midfield and defence did a great job to cover the space, which allowed us to make smooth transitions between defence and offence."
However, despite the 6-0 win, the players were not totally satisfied with their performance, as Yoshida demanded a higher standard from the squad, "We were still making easy mistakes, our passes were getting intercepted, and gave the opponent with opportunities to counterattack. We must be more detail oriented."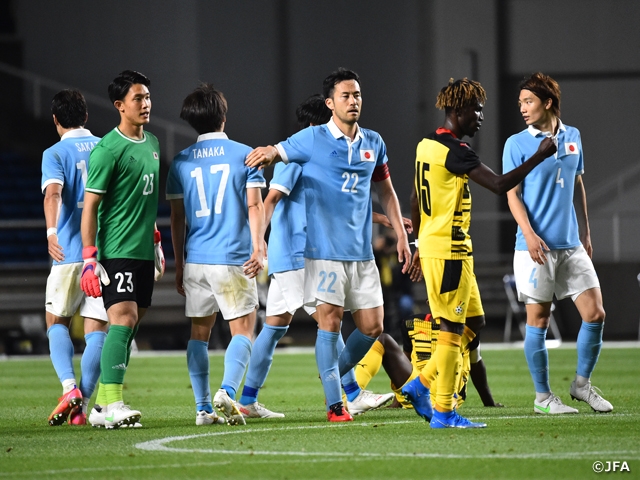 The team will now travel to Aichi to face the Jamaica National Team in an international friendly match at Toyota Stadium on 12 June.
Coach and Players' Comments
YOKOUCHI Akinobu, Coach of U-24 Japan National Team
The OA players were taking the initiative in both offence and defence, which the U-24 players responded to, and allowed them to play aggressively. Although we have won the match, there were many aspects we needed to improve on, so I will be addressing those areas with the players.
DF #22 YOSHIDA Maya (U.C. Sampdoria)
As an OA player, I was feeling the pressure more than any other matches I have played. Regardless of how many caps I have, nobody is going to trust me if I don't perform well, so I was feeling the pressure to lead by example. There are many things you can learn only by playing a match, so it was great that I was able to play in this match.
MF #10 DOAN Ritsu (DSC Arminia Bielefeld)
I was much happier about assisting Soma's goal than my own goal because it came from a play we were anticipating as a team. The three OA players were very dependable in this match. I am used to playing close to Endo and Sakai at the SAMURAI BLUE, so I was very comfortable playing in that position.
MF #11 KUBO Takefusa (Getafe CF)
I am sure it was clear to everybody that the OA players provided great stability to the team. They were able to win the ball when we needed the most. It was very disappointing to lose against the SAMURAI BLUE, and I was very upset after that match, so despite feeling fatigued, I am glad that I was able to score and help the team win today.
FW #26 UEDA Ayase (Kashima Antlers)
I am always anticipating for the opportunity to make a run, and my timing is getting better as we spend more time together. There are still plenty of room for improvements, so we hope to improve ourselves through the remaining training sessions and matches. It was already 4-0 when I scored, so I was feeling more relieved than anything.

International Friendly Match
U-24 Japan National Team vs U-24 Ghana National Team
Date: Sat. 5 June 2021 [19:25]*Subject to change
Venue: Best Denki Stadium (Fukuoka)