NEWS
Introduction of the referees in charge of the International Friendly Match between U-24 Japan National Team and U-24 Ghana National Team
05 June 2021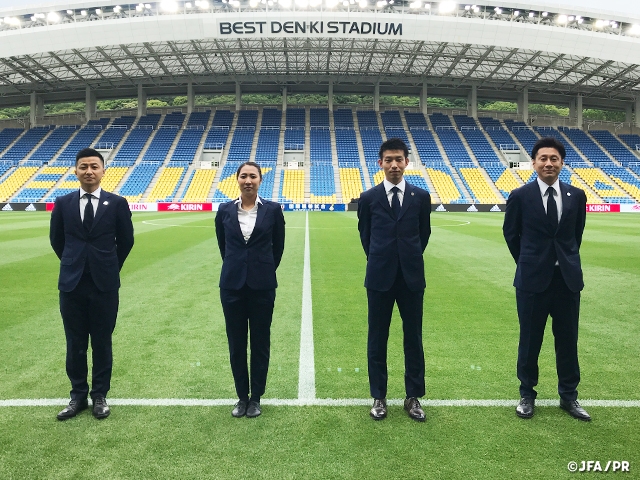 Ahead of the international friendly match between the U-24 Japan National Team and U-24 Ghana National Team scheduled to be played at Best Denki Stadium (Fukuoka) on Saturday 5 June, the referees in charge of the match shared their aspiration for the match.
Referees in charge
Referee: KASAHARA Hiroki
Assistant referee 1: KARAKAMI Satoshi
Assistant referee 2: HIRAMA Ryo
Fourth official: KANEMATSU Haruna
Referee's Comment
Mr. KASAHARA Hiroki
We are thankful to all the people who have worked to make this friendly match possible despite the ongoing pandemic. I am thrilled to be a part of this match played at my hometown, Fukuoka. I will give my utmost effort throughout the entire 90 minutes to fulfil my duty. While the society is making forward progress towards recovery, I strongly believe that this match will remind everybody the beauty of sports and the power of football.
International Friendly Match
U-24 Japan National Team vs U-24 Ghana National Team
Date: Sat. 5 June 2021 [19:25]*Subject to change
Venue: Best Denki Stadium (Fukuoka)