NEWS
【Match Report】U-23 Japan Futsal National Team defeat France 6-1 to cap off first international tour
02 February 2023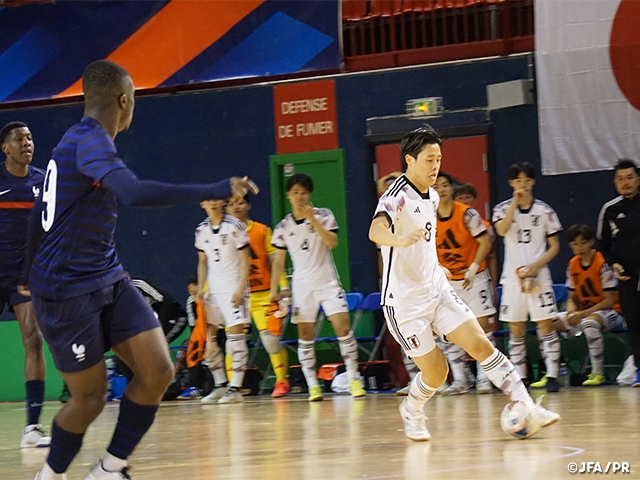 International Friendly Match
Wed. 1 February, 20:00 (local time) 40mins (20mins×2)
Centre Cultural et Sportif (Saint-Brice-sous-Foret, France)
U-23 Japan Futsal National Team 6-1 (3-1, 3-0) U-23 France Futsal National Team
Scores
3' MORI Gensuke
7' OSAWA Masashi
15' Goal Against
20' Own goal
27' KANAZAWA Sora
30' OSHIMA Akihiro
32' TSURUYA Haruto
Starting Line-up
GK: IDO Kosei
FP: YAMADA Kaito, KANAZAWA Sora, MORI Gensuke, HARADA Kokoro
Reserves
GK: NAKAZAWA Wataru
FP: HASHIMOTO Reira, KURASHINA Ryoma, OSAWA Masashi, MIYAGAWA Taiki, YAMANAKA Shoto, TSURUYA Haruto, OSHIMA Akihiro, NAKASHIMA Keita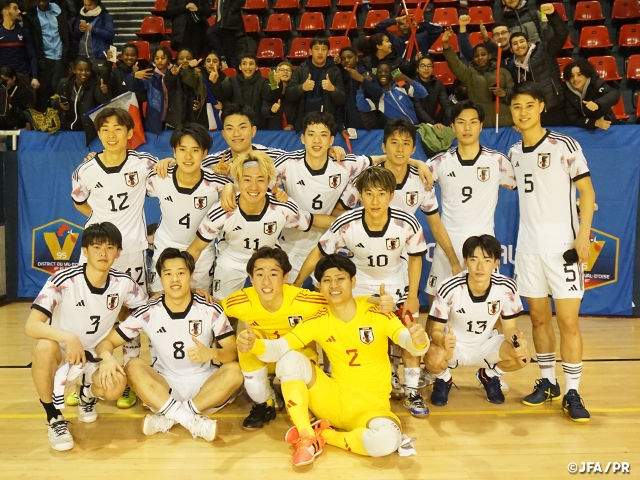 Match Report
The U-23 Japan Futsal National Team finished their first international tour with a 6-1 victory over the U-23 France Futsal National Team on Wednesday 1 February.
Following Tuesday's 4-3 victory over France, Head Coach KOGURE Kenichiro gave his team a pep-talk before the second match, saying, "Let's try to showcase our best performance on the pitch so that we can return home on a high note. With this being an away match, there will be a lot of pressure on us, but let's try to have fun. Our opponents will be desperate to win, but we are going to dominate by outscoring them."
Japan took an early lead when MORI Gensuke intercepted the ball deep in the opposing end before slotting the ball into the net in the third minute, as he later reflected, "Our opponents seemed sluggish in the early minutes, so I thought we could create chances if we applied enough pressure." Gaining momentum from the opener, Japan created opportunities from variety of attacks, one of which led to the goal of OSAWA Masashi in the seventh minute. Trailing by two goals, France rallied back with their counterattacks, but IDO Kosei made his presence felt in front of the goal, as the Japanese goalkeeper made numerous saves to keep the home side at bay. Despite conceding a goal in the 15th minute, Japan got scored back a goal in the 20th minute, when the shot taken by Osawa induced an own goal.
Holding a 3-1 lead at halftime, coach Kogure sent off his players by telling them, "Don't be content with the lead we have. Let's try to play well and finish the game strong." Responding to the words of their coach, Japan began the second half with great aggression and extended their lead in the 27th minute when KANAZAWA Sora capitalised on a turnover he forced in the opposing end. Three minutes later, OSHIMA Akihiro converted a designed play from a corner kick before TSURUYA Haruto scored the team's sixth goal in the 32nd minute. With six minutes left on the clock, France deployed their powerplay, but Japan showed great composure to prevent the home side from finding the back of the net, as Japan finished their first international tour with a 6-1 victory.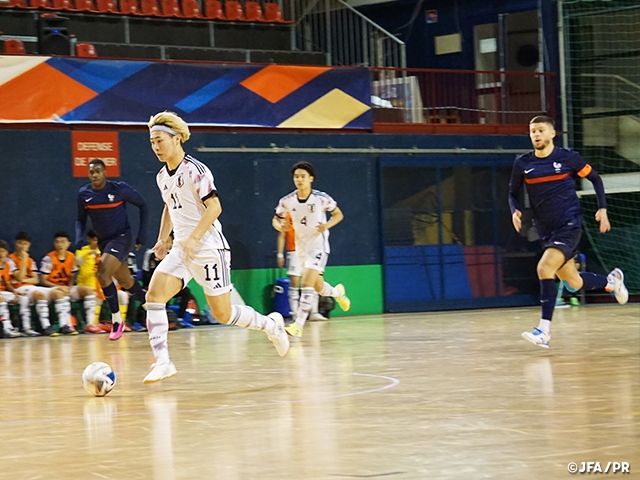 Coach and Players' Comments
KOGURE Kenichiro, Head Coach (U-23 Japan Futsal National Team)
Even though this is an under-age category, the fact that we were able to win back-to-back matches away from home demonstrates how far Japanese futsal has come. I want to thank everyone who understood and helped us carryout this tour. I feel that we were able to showcase matches that satisfied us in terms of both the outcome and the performance. Hopefully, these young players will carry this momentum over to the senior national team.
#5 OSAWA Masashi (ElPozo Murcia FS/Spain)
I want to start by expressing my gratitude to everyone who helped make this tour possible. This gave us a priceless opportunity because we don't often get the chance to compete against foreign players of our generation. Even though I'm not entirely happy with how we performed, both as a team and individually, I'm happy that we were able to end the tour with back-to-back victories. I will continue to work hard so that I can become a member of the senior team.
#6 MIYAGAWA Taiki (Nagoya Oceans)
I am pleased that we were able to win both matches played in France. Although this is an under-age category, we are grateful to be given the opportunity to play overseas. As the team prepares ahead for the World Cup in 2024, the competition to make the senior team will intensify, but I will make the most of this experience to reach the senior team. I will do my best to produce results at my club and strive to become the best fixo in Japan.
#8 YAMANAKA Shoto (Pescadola Machida)
Although we were up against two tough away matches played abroad, I am pleased with the way we fought as a team and finished the tour with two consecutive wins. This was my first time playing for the national team and I was able to clearly see what worked and what didn't work at the world level. I was able to play with confidence in the areas where I excelled, such as my dribbling and passing skills. Defence is one of the areas I really need to improve on, as I was involved in one of the goals we conceded from a set-piece. Once I return to my club, I will continue to work as hard as I can so that I can make it to the senior national team.
#14 NAKASHIMA Keita (O Parrulo Ferrol FS/Spain)
This was my first call-up to the national team since joining a team abroad. As a pivot, I am very disappointed that I wasn't able to score or assist a goal. Although we were able to win back-to-back matches in this tour, we must not rest on our laurels , because all of the players on this squad are aiming to reach the senior team and win the World Cup. I would like to thank everyone who supported us through the live stream, even though the matches took place early in the morning for those who live in Japan.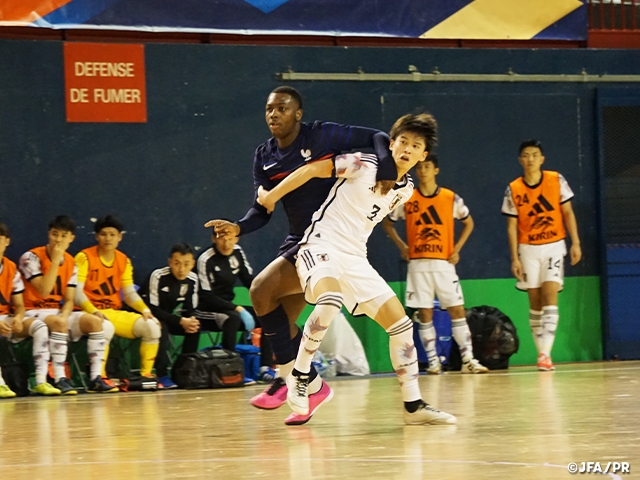 International Friendly Match
Dates: Tue. 31 January - Wed. 1 February 2023
Venue: Centre Cultural et Sportif (Saint-Brice-sous-Foret, France)