NEWS
【Match Report】U-23 Japan Futsal National Team win first match against France 4-3
01 February 2023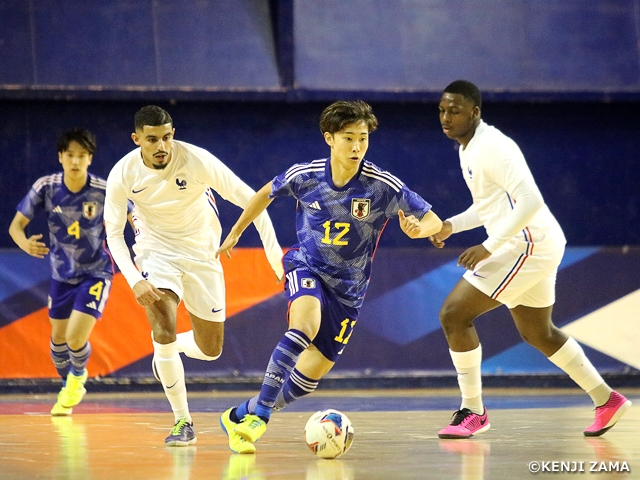 International Friendly Match
Tue. 31 January, 20:00 (local time) 40mins (20mins×2)
Centre Cultural et Sportif (Saint-Brice-sous-Foret, France)
U-23 Japan Futsal National Team 4-3 (2-1, 2-2) U-23 France Futsal National Team
Scores
13' HARADA Kokoro
15' MORI Gensuke
20' Goal Against
21' Goal Against
31' Goal Against
37' KANAZAWA Sora
40' MORI Gensuke
Starting Line-up
GK: NAKAZAWA Wataru
FP: MIYAGAWA Taiki, KANAZAWA Sora, YAMANAKA Shoto, MORI Gensuke
Reserves
GK: IDO Kosei
FP: HASHIMOTO Reira, KURASHINA Ryoma, OSAWA Masashi, YAMADA Kaito, TSURUYA Haruto, HARADA Kokoro, OSHIMA Akihiro, NAKASHIMA Keita
Match Report
The U-23 Japan Futsal National Team opened their European tour with a 4-3 victory over the U-23 France Futsal National Team in an international friendly match held in France.
The U-23 Japan Futsal National Team was primarily composed of players who were unable to compete in international tournaments after the AFC U20 Futsal Asian Cup was postponed due to the impact of the corona pandemic. With many players making their national team debut, Head Coach KOGURE Kenichiro addressed the players in a pre-match meeting, saying, "Japan is the Asian Champions and even though we are not the senior team, we must take pride in that and fight with all our might. Let's believe in ourselves and demonstrate what we are capable of. We must also remember to show our gratitude to our teams for sending us overseas in the midst of the league season. Let's show our gratitude through our performance and the result of this match."
The match kicked off at 8pm with nearly 500 local supporters cheering on the French side. Despite the away atmosphere, the Japanese players showed great aggression from the outset, as coach Kogure repeatedly emphasised the importance to apply pressure against the opponent's dominant foot. Facing the fierce intensity shown by the away side, France struggled to possess the ball, allowing Japan to create close opportunities from the early minutes. KANAZAWA Sora, who was given the armband for this match, assisted the goal of HARADA Kokoro in the 13th minute to put Japan in the lead. MORI Gensuke doubled the lead in the 15th minute, and despite conceding a goal in the 20th minute, Japan led the match 2-1 going into the break.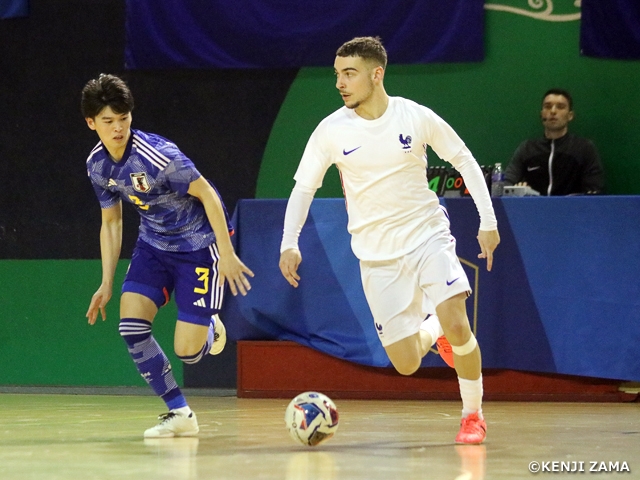 When France equalised in the first minute of the second half, the crowd erupted in jubilation, which gave the home team even more momentum, but Japan kept up their intense pressure as Mori chased the ball in the attacking third while YAMADA Kaito, a player from the Spanish Primera Division, made his presence felt in defence to prevent the French attackers from scoring. France, however, scored the following goal when they converted a free kick in the 31st minute. Japan started their powerplay with five minutes remaining by having YAMANAKA Shoto wear the goalkeeper's jersey, which allowed Kanazawa to score the equaliser in the 37th minute. Both teams used their powerplays when they had the ball in an effort to score the game-winning goal, and in the 40th minute, Mori converted a free kick to give Japan a thrilling 4-3 victory.
The two teams are scheduled to play another friendly match on the following day.
Coach and Players' Comments
KOGURE Kenichiro, Head Coach (U-23 Japan Futsal National Team)
The players fought hard amidst an extremely demanding schedule. For many of the players, this was their first time playing in Europe, and I think they were able to gain a valuable experience which they would not be able to have in Japan. We will aim to showcase an even better performance tomorrow.
FP #7 YAMADA Kaito (Inter Movistar FS/Spain)
First of all, I would like to express my gratitude for the opportunity to be able to participate in this tour during the final stages of the league season in Japan and in the middle of the league season in Spain. Thank you very much. We were able to enter today's match after conducting four training sessions in France, and this match served as a reminder that we need to do more, both as a team and as individuals. However, we were able to fight as a team at all times, which led to today's result. We will try to make the most of this experience to prepare for our next match, so please continue to support us.
FP #9 MORI Gensuke (Real Betis/Spain)
Since the U-23 category has never existed in futsal before, we are very grateful to have the opportunity to compete with foreign players of our generation. Although we are not totally satisfied with our performance, we are glad that we were able to win today. We will keep working hard to better ourselves so that we can play the style of football we aspire to in tomorrow's match.
FP #10 KANAZAWA Sora (Tachikawa Athletic FC)
First of all, we are happy to have won a difficult away match. However, it also reminded us that we still have a lot to work on. In offence, we need to play with more confidence to showcase what we have been working on. In defence, we need to apply more pressure to the opposing pivot. We need to improve how we approach them in one-on-one situations. We have matches scheduled on back-to-back days, so we must focus on recovering our bodies and try to finish the tour on a high note.
FP #12 HARADA Kokoro (FC Barcelona B/Spain)
I am glad we were able to win this match, especially because we knew this was going to be a very difficult match for us. It was very nice to see our side score goals against such tough opponent. Although we gave up the lead in the second half, the fact that we maintained our focus until the end led us to this victory. We are not satisfied with our overall performance, so we will do our best to prepare ourselves in order to showcase a better performance in our next match.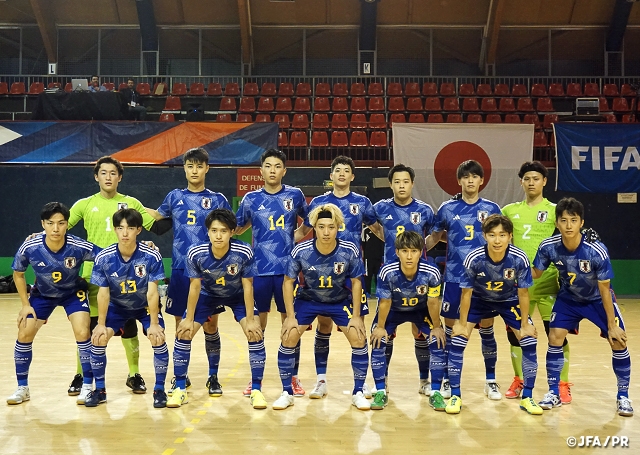 International Friendly Match
Dates: Tue. 31 January - Wed. 1 February 2023
Venue: Centre Cultural et Sportif (Saint-Brice-sous-Foret, France)