NEWS
【Match Report】U-20 Japan National Team start off FIFA U-20 World Cup Argentina 2023™ with a 1-0 victory over Senegal
22 May 2023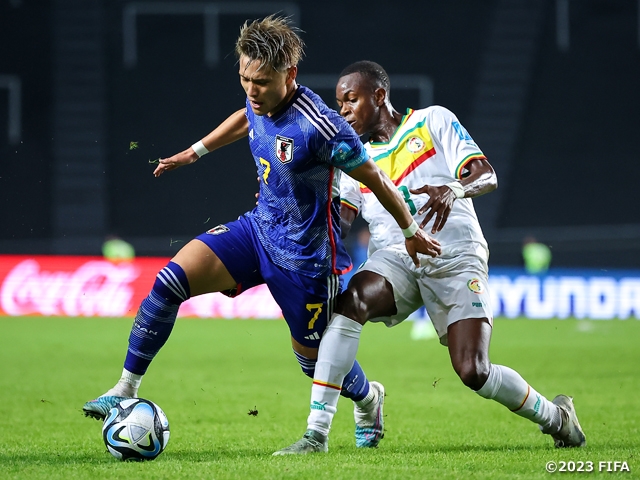 The U-20 Japan National Team faced the U-20 Senegal National Team in their opening group stage match of the FIFA U-20 World Cup Argentina 2023™ on Sunday 21 May.
For this match, Head Coach TOGASHI Koichi started KIMURA Ryoya (Nihon University) in goal, with TAKAI Kota (Kawasaki Frontale), CHASE Anrie (VfB Stuttgart), TANAKA Hayato (Kashiwa Reysol), and TAKAHASHI Niko (FC Barcelona) forming the four-man defence line. FUKUI Taichi (FC Bayern Munich) and SANO Kodai (Fagiano Okayama) anchored the midfield with EINAGA Takatora (Kawasaki Frontale), MATSUKI Kuryu (FC Tokyo), and KITANO Sota (Cerezo Osaka) playing beneath the lone striker KUMATA Naoki (FC Tokyo).
In the opening minutes, Japan was confined to their own half as they struggled to contain Senegal, who consisted of players with exceptional athleticism and individual skills, as Chase later reflected, "It was difficult to take the initiative in the first match of the tournament." However, Matsuki quickly turned things around in the 15th minute when he received a pass from Fukui at the edge of the penalty area and swung in a left-footed shot that found the back of the net.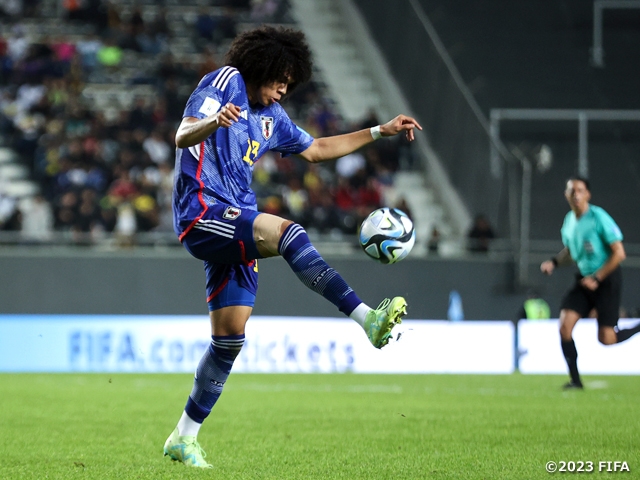 Gaining momentum from this goal, Japan began to find their rhythm and up their intensity and ball possession in order to generate more opportunities.
After finishing the first half with a one-goal lead, YAMANE Riku (Yokohama F. Marinos) was introduced to start the second half as a defensive midfielder, with Sano shifting his position to the right side. Despite the team's intention to score more goals, it was Senegal who dictated the pace in the second half, as Matsuki later commented, "We were overwhelmed by our opponents and couldn't possess the ball."
Senegal created several close opportunities but fell short to convert them, allowing Japan to hold onto their lead and earn a 1-0 victory to open the group stage.
The U-20 Japan National Team will now face the U-20 Colombia National Team on Wednesday 24 May.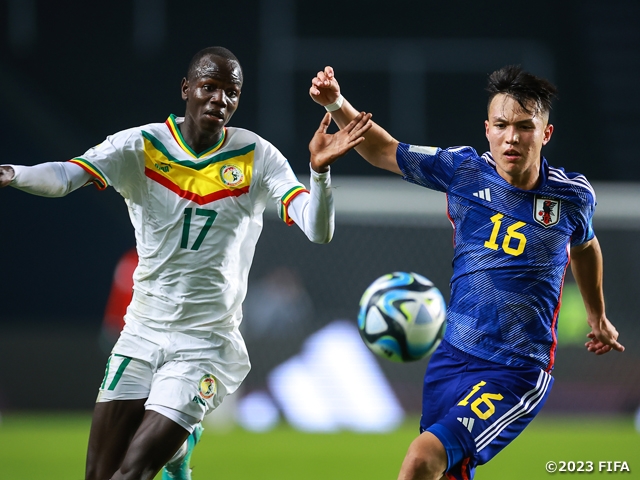 Coach and Players' Comments
TOGASHI Koichi, Head Coach of U-20 Japan National Team
The players worked hard to earn this victory. This match reminded us of the challenges of winning a match in the U-20 World Cup, but the players did a great job of concentrating on the tasks at hand, including the stadium's atmosphere and the pitch condition. We have worked so hard to compete in this World Cup. Senegal were much stronger than we anticipated, but through this match, I believe that the players were able to feel their growth and that they are on the right track to achieve their goal of becoming the world champions.
DF #13 CHASE Anrie (VfB Stuttgart/Germany)
It became extremely difficult near the end of the second half while holding a 1-0 lead. Although we were dominate by our opponents, I'm glad we were still able to escape with a clean sheet. Playing against opponents with great athleticism and power made it very difficult, especially in the last 10 minutes of the match. This match reminded us of the need to improve our ability to control the defence line.
DF #16 TAKAHASHI Niko (FC Barcelona/Spain)
We were able to stay aggressive against bigger opponents. Although I am younger than most of the players, I don't feel like that is a disadvantage at all. I am happy with the way I played defence, but I feel the need to get more involved in our offence. (About playing in his father's hometown, La Plata) I am really happy to be here, and I am grateful for all the support I have received from my family and friends. We will continue to give our all to win the title.
MF #7 MATSUKI Kuryu (FC Tokyo)
I was fully determined to score a goal when I received the ball from (FUKUI) Taichi and I am glad it went in. I feel like everyone on this team was capable of competing at this level. I strongly believe that we can win the World Cup if we can continue to play with high intensity to win the ball and make quick transitions between offence and defence. This win gives us a great boost to our confidence. Now that we have shown what we are capable of doing, we will now strive to win back to back matches to clinch our spot into the next round.
FIFA U-20 World Cup Argentina 2023™
Tournament dates: Sat. 20 May - Sun. 11 June 2023
Tournament Information