NEWS
U-20 Japan National Team begins training ahead of first match against Senegal - FIFA U-20 World Cup Argentina 2023™
18 May 2023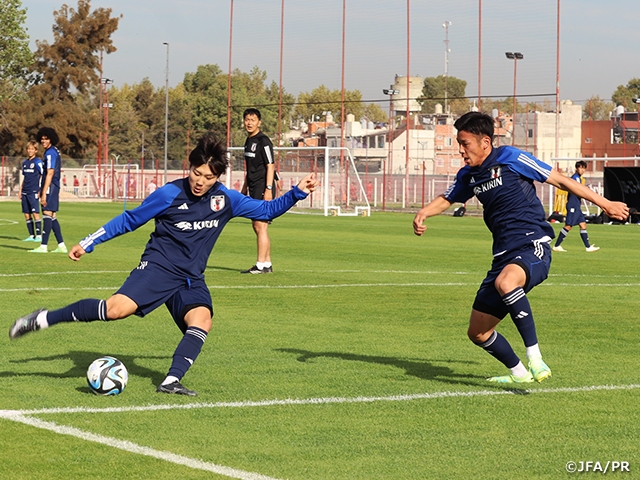 On Wednesday 17 May, the U-20 Japan National Team began their final tune-up for their first match of the FIFA U-20 World Cup Argentina 2023™ against Senegal, scheduled to take place in four days.
In the training session held in the afternoon, Head Coach TOGASHI Koichi told the team that the theme was to "Battle."
After going through their warmup routine, the team went onto play a variety of possession drills, before engaging in a small-sided scrimmage to conclude the hour and a half session. They have been in Argentina for about a week now, and the players who have been complaining that their bodies were a little heavy and that they couldn't move as much as they wanted, are now adjusting to the surroundings. The team will now ramp-up their trainings with the match against Senegal in mind, while further improving their combinations.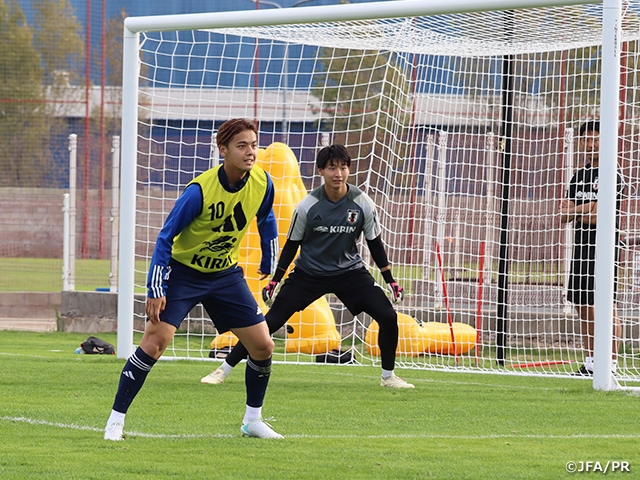 From this day forward, the team will lodge at a hotel and train at a venue designated by FIFA. With the decision to host the event having been made about a month and a half ago, preparations for the tournament are proceeding at a rapid pace. The FIFA match directors and others lay a strong foundation to guarantee that the players are supported, and the procedure leading up to the tournament runs smoothly to guarantee a stress-free opening. After dinner, all players and staff participated in the FIFA Team Arrivals Meeting, where they discussed topics on anti-doping, integrity, and refereeing.
The team was welcomed warmly at the Japanese School in Buenos Aires and the official residence of the Japanese Ambassador to Argentina the day before, on Tuesday 16 May.
The U-20 Japan National Team will play their first match on Sunday 21 May at 18:00 (Monday 22 May at 6:00 Japan time), in La Plata, where many Japanese people reside.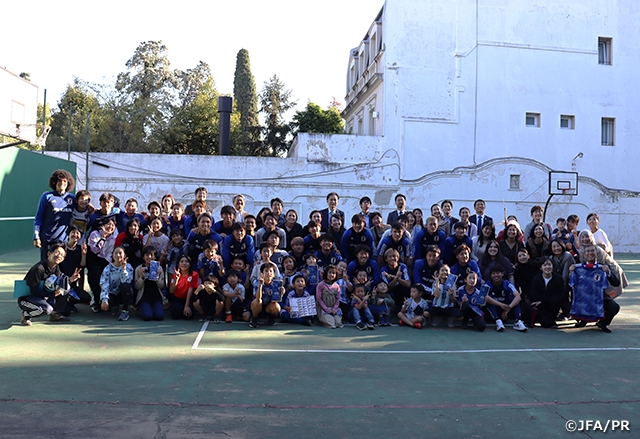 Players' Comments
DF #13 CHASE Anrie (VfB Stuttgart/Germany)
It is my job to help the team keep a clean sheet and score off set-pieces. I feel like I was able to communicate well and interact with my teammates without any issues. Senegal consists of many players with great physicality and athleticism. I enjoy playing against these types of opponents, so I'll try my hardest to prevent them from scoring. We must play with the tenacity to win in every one-on-one situation individually while also playing as a team to defend against them. Being a good centre-back requires experience, so I want to participate in as many games as I can. I intend to give it my all and make an effort to promote my name to clubs all over the world because we only get to participate in this tournament once.
FW #9 FUKUDA Shio (Borussia MG/Germany)
Although it was fantastic to be able to play a training match against Argentina, I am not at all happy with my performance because I was unable to register any goals. Since moving to Germany, I've spent more time working out and gained weight as a result. I think I have become a better scorer now because I pay more attention to ball control and make more runs behind the defence line. We hope to score early and try to win in a good way because the opening game of a tournament is always challenging. I've always wanted to represent my country, so I'm incredibly honoured to be here. However, my goal is not to just make the team, so I'm determined to leave a mark in this competition.
FW #11 SAKAMOTO Isa (Fagiano Okayama)
I feel like my condition is improving day by day. My strength is in my ability to make runs into the final third, so I am focused on increasing the number of runs I make. I want to brush up on the quality of my plays while working to improve the combination plays with my teammates. We were able to display a competitive match against Argentina, so we just need to build on that when we take the pitch on Sunday. With this being my first World Cup, I intend to enjoy myself. I want to showcase my strength and make a name for myself at the world stage.
FIFA U-20 World Cup Argentina 2023™
Tournament dates: Sat. 20 May - Sun. 11 June 2023
Tournament Information