NEWS
U-18 Japan National Team loses to Norway in their second match of the 25th Lisbon International Tournament U18
14 June 2019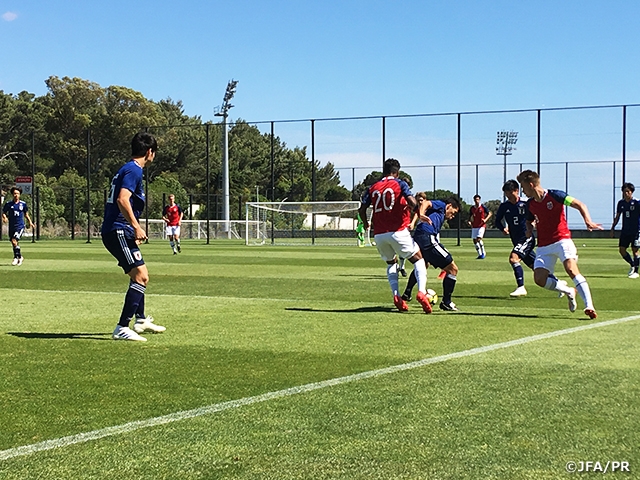 The 25th Lisbon International Tournament vs U-18 Norway National Team
Thu. 13 June 2019 16: 00 (Local time) Match duration 90mins (45mins x2)
Cruz Quebrada / Cidade do Futebol, Lisbon, Portugal
U-18 Japan National Team 2-3 (0-1, 2-2) U-18 Norway National Team
Scores
3' goal against (U-18 Norway National Team)
49' goal against (U-18 Norway National Team)
58' NISHIDO Hisatoshi (U-18 Japan National Team)
86' goal against (U-18 Norway National Team)
90' MIHARA Shuma (U-18 Japan National Team)
Starting Line-up
GK: KOKUBO Leobrian
DF: KIMURA Seiji, TABIRA Tatsuya, HAYASHIDA Kaito
MF: SHIBATA Sosuke, ODA Yutaro, NISHIDO Hisatoshi, ISHIURA Taiga, BANGNAGANDE Kashif, MIHARA Shuma
FW: SAKURAGAWA Soromon
Reserves
GK: MITSUI Daiki
DF: TAKAHASHI Yusho, OGURA Hinata
MF: MATSUDA Eitaro, MATSUMURA Yuta
FW: HARUYAMA Misaki
Substitutions
HT TABIRA Tatsuya → HARUYAMA Misaki
52' ODA Yutaro → MATSUDA Eitaro
57' SAKURAGAWA Soromon → MATSUMURA Yuta
76' BANGNAGANDE Kashif → TAKAHASHI Yusho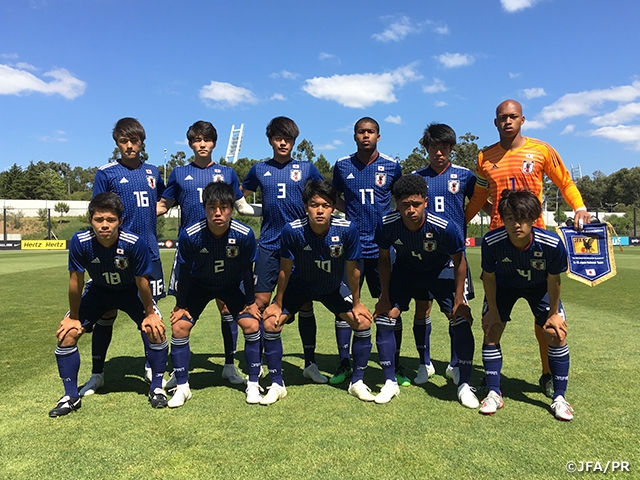 Match Report
The U-18 Japan National Team faced the U-18 Norway National Team in their second match of the tournament. Norway has won against Portugal 1-0 in their first match, making it a tough opposition to face, especially with Japan needing to score multiple goals in order to claim the tournament title.
Japan started off the match by showing great energy to apply pressure from their front line. Once forcing a turnover, the team utilised the width of the field to create opportunities, showing positive signs in the early minutes. However, the team once again conceded the opening goal to their opponent, as they gave up a goal from a corner kick in the second minute. After seeing the early goal, and with Norway playing a four-back formation, coach TOGASHI Koichi made the decision to switch their formation from a three-back to a four-back system. Although Japan managed to take control of the ball possession, they struggled to create any threats against the compact and well organised defence showcased by Norway, as the match entered halftime with a score of 0-1.
In efforts to change the dynamics of the match, Japan brought in HARUYAMA Misaki to start the second half. However, it was once again Norway who found the back of the net. In the 49th minute, Norway broke through the flank and converted a cross to double their lead. With the team desperately needing a goal, Haruyama repeatedly made runs behind the opposing defence line, while ISHIURA Taiga kept the team energised through his courageous plays. The long-awaited moment came for Japan in the 58th minute, when Ishiura delivered a through ball into the space behind the opposing defence, allowing NISHIDO Hisatoshi to make a run and score the goal to cut Japan's deficit in half. The goal seemingly gave new life to Japan, as they started to build their offence through their side attacks and deliver through balls to penetrate the open space. But for the third time in this match, Norway shattered the hopes of the Japanese side, as they capitalised on a corner kick in the 41st minute, making it 1-3. Just before the final whistle, MIHARA Shuma struck a powerful shot to score back a goal, but their rally ended their, as the match came to an end with a final score of 2-3.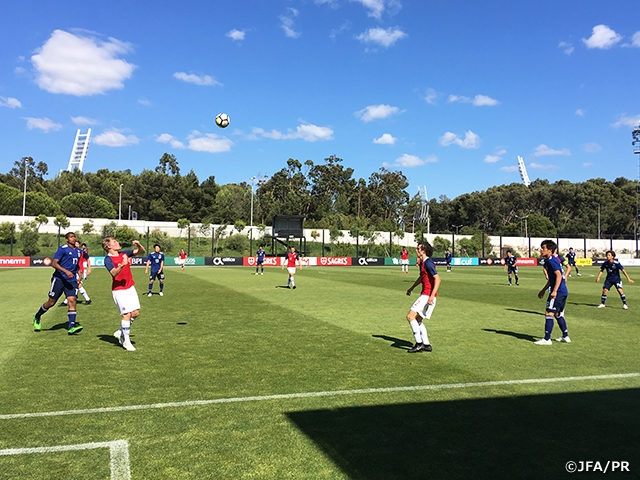 Coach and Players' Comments
TOGASHI Koichi, Acting Coach
Including the training match, we ended up with just a win and two losses during this Portugal tour, which is kind of disappointing, but the players showed great improvements over the course. It was evident that each player was thinking what they need to do to help out the team and got themselves involved in both offence and defence. However, we still need to make better decisions on the field, as we saw many occasions where we rushed our plays and made simple mistakes. Ahead of the qualification round for the AFC U-19 Championship 2020 in November, I will continue to monitor the players and observe the growth of each player. We were once again supported by many people to make this precious tour possible. We thank every one of you for all the support.
GK #1 KOKUBO Leobrian (SL Benfica)
I am very honoured to be able to play in this tournament. With today's match result, we finished in last place at this tournament. However, the fact that we fought hard as a team until the very end, gives us hope for the future. At a personal level, I've learned that a simple mistake can cost the team the entire match, and I still have to work hard to improve myself in many aspects. The last 10 days flew by quickly and it the tour made me want to work on the small details to become a better player.
MF #8 NISHIDO Hisatoshi (Waseda University)
I am very thankful for this opportunity to participate in this tour. After playing as a team for a week and a half, we entered the final match with the chance to win the tournament title. Although we weren't able to earn the results we were looking for, I was able to gain so much at a personal level. I am sure that no one is satisfied with the results we earned at this tour, so we must all go back and think what we need to do to improve ourselves. I will do my best to become a better player and strive to earn another opportunity with this team.
MF #18 SHIBATA Sosuke (Shonan Bellmare)
This tour has left us with a very disappointing result. Perhaps our biggest weakness was exposed, as we showed our inability to win matches, regardless of how well we play. In both matches against Norway and Portugal, compared to our opponents, we lacked the ability to respond to sudden changes. In order to win matches against tough opponents, we must learn how to make adjustments on the pitch. I will come back as a better player and help the team win in our next competition.
Schedule
The 25th Lisbon International Tournament U18
Sun. 9 June
0-3
1st Match vs U-18 Portugal National Team
(Cruz Quebrada / Cidade do Futebol)
Mon. 10 June
AM
Training
Tue. 11 June
7-1
Training Match vs CD Mafra
Wed. 12 June
AM
Training
Thu. 13 June
2-3
2nd Match vs U-18 Norway National Team
(Mafra / Municipal Sports Park)
*Local Time
*The schedule is subject to change due to the team condition, the weather, etc.
The 25th Lisbon International Tournament U18
Tournament Dates: Sun. 9 - Thu. 13 June 2019
1st Match:
Mon. 10 June 2019 1:00 (Japan time)
vs Portugal National Team
2nd Match:
Fri. 14 June 2019 0:00 (Japan time)
vs Norway National Team