NEWS
Current situation of Portugal and a message towards the football family from MAEDA Daizen
30 April 2020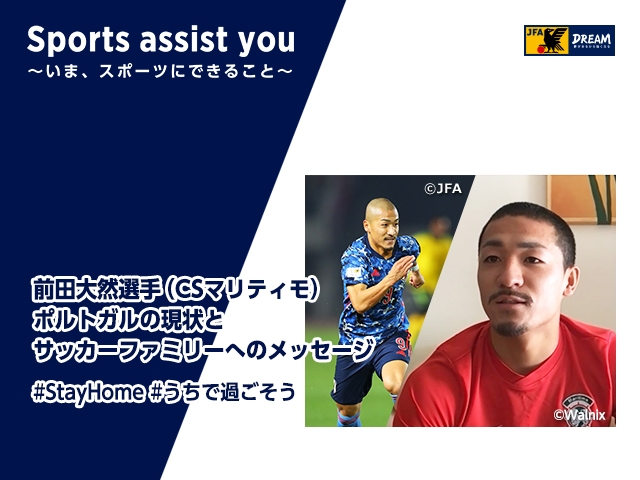 During the ongoing outbreak of the novel coronavirus, many people are choosing to stay at home in efforts to contain the spread of the virus. Here we have conducted an interview with MAEDA Daizen (CS Maritimo), where he shared the current situation of Portugal and his message towards the football family.
*This interview was conducted online on Wednesday 15 April.
――CS Maritimo is not located in the mainland of Portugal, but the club is based in Madeira Island. How is the current situation of the island right now? (Madeira Island is located 1,000km south-west from Portugal's capital city Lisbon. Population is about 260,000.

Maeda There has been an increasing amount of people getting infected with the coronavirus in Portugal, but the island has been relatively unaffected up to this point. However, restrictions still apply for any outdoor activities, so we can only go outside to go shopping or take a walk. I have been able to go out running and kick the ball, though.

――How is the current situation of your club?

Maeda It is like the off-season. Even if the league resumes to complete the 2019-20 season, there is a possibility of starting the next season soon afterwards, so we are using this time to refresh ourselves.

――Have you been training at home?

Maeda The team has been giving us training menus to work at home, so we get together online to work on those menus together. It used to be a mandatory session, but the team is now treating this period as an off-season, so it is no longer mandatory. But I still participate most of the sessions. I will be participating in a session at 11 o'clock today, too. The training session contains core trainings and physical workouts we can conduct inside our houses. That is the only time I can communicate with my teammates as well.
――Has your Portuguese improved?

Maeda I used to spend lots of time studying the language before my family came, but now that I have my family here with me, I have not been able to spend as much time to study. I am at a level where I can pick up some vocabularies to understand daily conversations.

――You have teammates from countries like Brazil and Argentina. Are they also staying here at Madeira Island?

Maeda Currently there are no flights going out, so we cannot leave this island. I have heard that they will resume operation soon, but I will be busy once the league resumes, so I probably will not be able to go back to Japan anytime soon.

――How are you mentally managing this situation?

Maeda I really want to play football, but at the same time I have been able to spend lots of time with my family, so I am coping with the situation positively.

――Are you experiencing any difficulties living outside of Japan?

Maeda Tons of issues. (while laughing) But I do not have any time to be negative, so I am always trying to keep my mindset positive.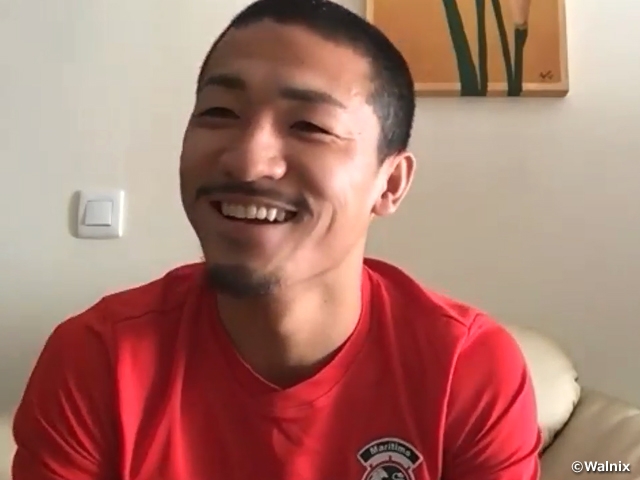 ――What is your honest thought about the Olympics getting postponed?

Maeda It is something beyond our control, so I am just trying to make the most of the situation to improve myself as a player. (Regarding the age limit of the tournament) I am not worried about that. Once again, that is something beyond my control, so if I can participate, that is great, but if not, that is that.
――Can you send a message towards the football family?

Maeda Living in Europe really makes me realise the importance to stay at home. The people here only go outside for very specific reasons, and I want the people in Japan to take the same approach. It will be horrible if you cause your loved-ones to get infected, so please stay at home. I have been spending my time playing with my child and preparing meals for my family. I hope the people in Japan can also find ways to relieve their stress. Let's fight through this tough time together.