NEWS
【Ahead of the Tokyo Olympics】Interview with TANAKA Shunta
12 March 2020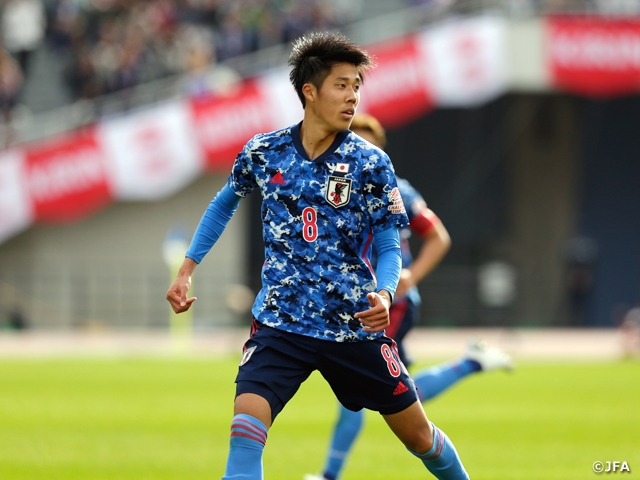 Although it was announced that their activities during the FIFA International week in March were cancelled, the U-23 Japan National Team continue to prepare themselves ahead of the Tokyo Olympics. Here we have conducted an interview with TANAKA Shunta (Hokkaido Consadole Sapporo), who made his first call-up to the U-22 Japan National Team in last year's Toulon International Tournament, and most recently took part in this January's AFC U-23 Championship Thailand 2020.
――As you grew up playing for Gamba Osaka Junior Youth, did you have aspirations to play professionally?
Tanaka When I was in primary school, I went to the Gamba Osaka try-outs because my teammate wanted to go. Of course, I dreamed of playing professionally, but I wasn't very serious about that thought at the time.
――You were a part of the Gamba Osaka Junior Youth team that won the first ever triple crown (JFA Premier Cup, Prince Takamado Trophy All Japan Youth Football Tournament, JAPAN Club Youth Football Championship) in that age category, but couldn't advance to the Gamba Osaka Youth Team.
Tanaka It was a very disappointing experience, because I thought I was going to advance. However, a part of me also wanted to play football for a high school team, so I converted that disappointment to my motivation to do well in high school and prove them wrong.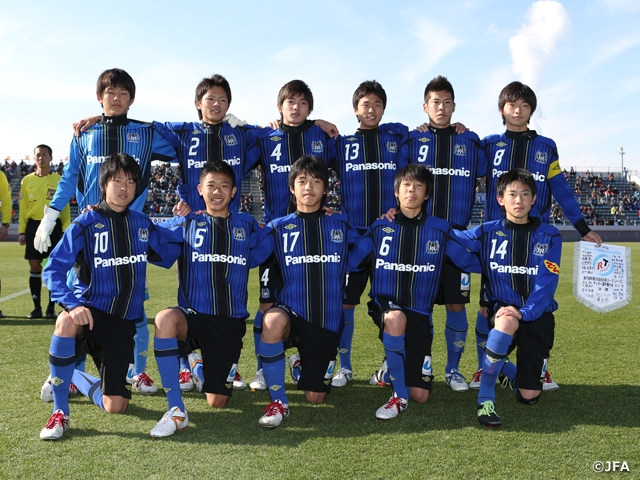 ――From Riseisha High School, you advanced to Osaka University of Health and Sport Sciences.
Tanaka I wanted to turn pro after high school, but I didn't get any offers. I simply wasn't good enough, so I made the decision to become a better player in college and turn pro afterwards.
――In fact, you received a professional offer during college and you also got a call up from the SAMURAI BLUE (Japan National Team). What was the key to your success?
Tanaka At Osaka University of Health and Sport Sciences, I had to play a football style that was a complete opposite from my style. There I had to run hard and defend hard. I was demanded to showcase defensive strengths in one-on-one situations, and that was exactly what I lacked during my junior youth and youth career. So, I was able to overcome my weaknesses during my time in college.
――Were you inspired by seeing your former teammates from Gamba Osaka Junior Youth and DOAN Ritsu, who was a year younger than you, doing well at the professional stage?
Tanaka I saw them on the news, so they were great inspiration for me. Although we were playing at a different stage, it made me want to do well under the give circumstance I was in.
――Last you was a big year for you. You signed with Hokkaido Consadole Sapporo, was named into the JFA/J.League Special License Player System, U-22 Japan National Team, the SAMURAI BLUE, and won a championship at the Universiade.
Tanaka It's hard to imagine all the things I've experienced last year. It proved that I was heading towards the right direction and gave me great confidence. I really wasn't expecting to get called-up to the national team, so I was actually puzzled when I was selected. It was that unreal for me.
――You earned your first call-up to the U-22 Japan National Team in May, finished as the runners-up at the Toulon International Tournament in June, and won the title at the Universiade in July. What was it like to be wearing the national team jersey?
Tanaka Compared to our collegiate league matches, there were tons of people watching us and we had to play in behalf of our country. I definitely felt the pressure and made me realise that I must commit myself to each play.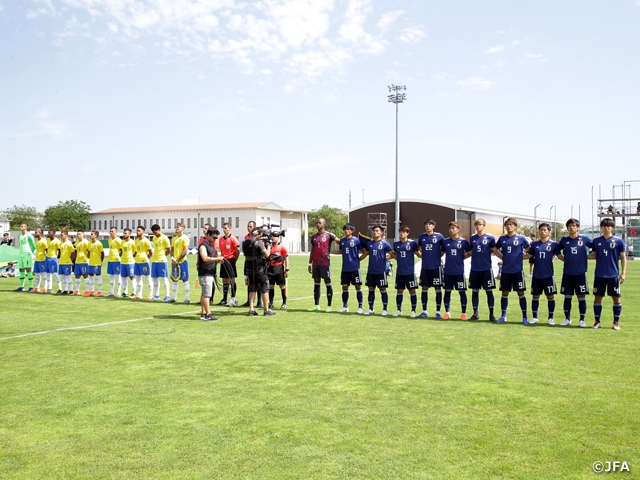 ――What did learn from the international matches?
Tanaka The off the ball movements displayed by the foreign players were very quick. I oftentimes played as a defender, so it was hard adjusting to their speed. I learned so much from their off the ball movements. I was also surprised by the athleticism and physical strengths displayed by the foreign players, and it made me realise that I need to raise the standards from my daily trainings.
――Were you ever nervous or scared playing for the national team?
Tanaka I tried not to think too much, so it didn't occur to me while I was playing, but when I looked at the highlights after the match, I came to realise that I was playing at a very high stage.
――You made your first call-up to the SAMURAI BLUE for the EAFF E-1 Football Championship in December, and you were the only college player selected into the squad.
Tanaka It really shocked me, because I didn't think I was good enough to be selected into the senior team. I was more surprised than being happy at that moment. After playing with the team, I was amazed by the quality of each play showcased by the players there. It really made me realise the difference between the top players and myself.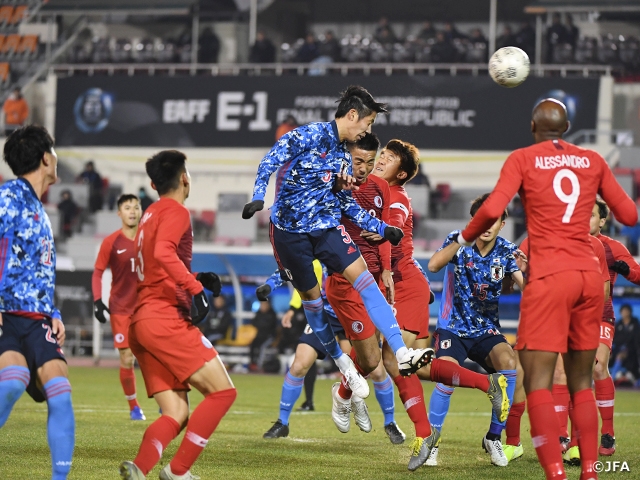 ――What are the things coach MORIYASU Hajime demand from you?
Tanaka Regardless of whether I played as a defensive midfielder or as a defender, I was in charge of initiating the build-up plays. Game making was a huge part of what I was asked to do.
――What did you focus on when playing for the national team?
Tanaka I was surrounded by very skilful players, so I focused on keeping my plays simple and to utilise the strong points of my teammates. While I focused on getting my job done as a defensive midfielder, I was also anticipating for my opportunities to get involved in our offence.
――You must have been gaining confidence as you played with the national team.
Tanaka I felt that my strong plays, such as my involvement in build-up plays, were effective at that level. However, there were also many aspects I felt that I need to improve on. When facing a strong opponent, a simple positioning error can be costly. I feel that I was given a precious learning experience.
――The competition to earn a spot for the Olympics is getting intense.
Tanaka The roster is limited to 18 players. In that sense, my ability to play both as a defender and a defensive midfielder is a huge plus. In order to win my spot on the final roster, I hope to maintain the quality of my plays regardless of where I play. If I can do that, I think I have a fair chance of getting selected.
――What is it like to play with the players of the Tokyo Olympics generation?
Tanaka They are always very cheerful. We have been playing with a very positive vibe, even before matches. The players are well aware of when to have fun and when to be serious. I think we are a very discipline team in that sense. I am personally very close with HATATE (Reo) and TANAKA Ao (共にKawasaki Frontale). We always spend time together.
――What is your aspiration for the Tokyo Olympics?
Tanaka It will be a wonderful experience if I can get selected into the Olympics team. All my family and friends will be watching, and it will be a very exciting event, so I will give my utmost effort to win the gold medal. However, my goal is set beyond this tournament, as I hope to make the Olympics as a steppingstone to earn my spot on the senior team.
――So your ultimate goal is set towards the FIFA World Cup in 2022?
Tanaka Our generation must become the propelling force of the team. It is our responsibility to push the national team to a higher level.
――What kind of player do you want to become?
Tanaka I want to be a versatile player who can respond to any needs of the coach. I want to become a player that can be trusted at any position.
――Who is your idol player?
Tanaka I like Luka MODRIC (Croatia). He can defend and also play as an attacker. He is capable of getting involved all over the pitch, and that is the football style I am striving for.
――Share us with your future goals.
Tanaka I will try to earn consistent minutes for Consadole. Playing in the World Cup is a dream of mine, but I must first make a case for myself through each match. The Olympics and the World Cup only comes after I do well at my club.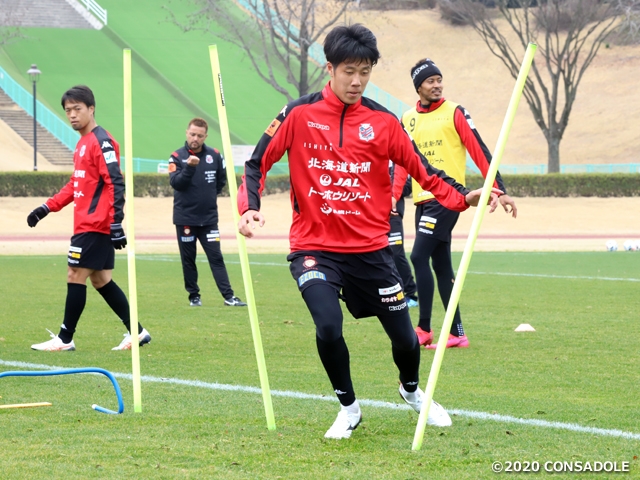 (This interview was conducted in late February)