NEWS
【Match Report】U-20 Japan Women's National Team defeat Ghana to earn back-to-back wins at FIFA U-20 Women's World Cup Costa Rica 2022™
15 August 2022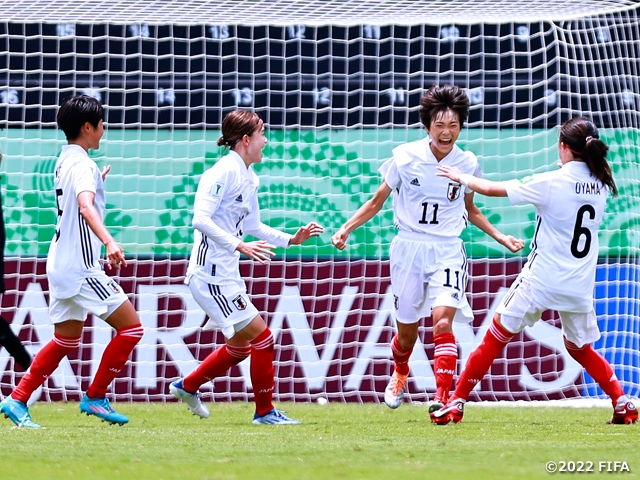 On Sunday 14 August, the U-20 Japan Women's National Team played their second group stage match of the FIFA U-20 Women's World Cup Costa Rica 2022™ against the U-20 Ghana Women's National Team at Estadio Alejandro Morera Soto.
Following their first match against the Netherlands, coach IKEDA Futoshi made four changes to their starting line-up, as NODA Nina and NISHINO Akane made their first appearance, while MATSUKUBO Manaka and YOSHIDA Riko were given their first start of the tournament.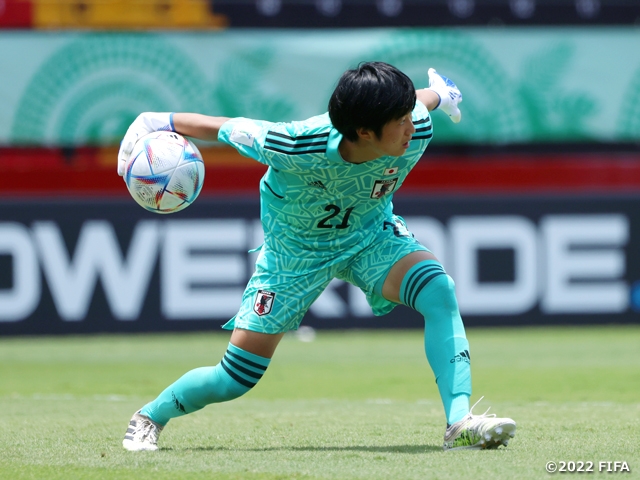 The match started with Japan taking the initiative. While Ghana relied on their individual strengths to win the ball, Japan utilised their combinations to create chances. The first big opportunity came in the ninth minute, when Matsukubo responded to a through ball sent by OYAMA Aemu to strike a shot. Yoshida made an attempt to convert the deflection of this shot, but Ghana's goalkeeper Cynthia KONLAN was there to make the save. Japan then had difficulty creating any decisive chances against the Ghanaian side, who tightened up their defence in front of their goal.
In the 30th minute, FUJINO Aoba carried the ball from the right flank towards the centre to strike a powerful shot. Although her attempt was denied by the opposing goalkeeper, Japan started to regain their momentum from this play. Four minutes later, Matsukubo received a pass from AMANO Suzu and fired a shot that struck the cross bar.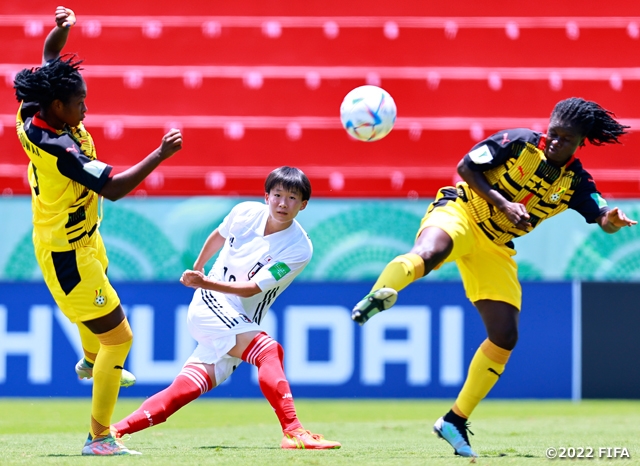 Just as the Japanese side picked up their pace, Ghana created a close opportunity of their own in the 36th minute, when Mukarama ABDULAI responded to a cross delivered following a counterattack. Although the Ghanaian striker was able to send Noda to the wrong direction, her shot narrowly missed the goal, causing the Japanese side to breathe a sigh of relief.
After a scoreless first half, Japan sent HIJIKATA Maya up front. In the 61st minute, a cross delivered by Hijikata hit the hands of an opposition defender and a penalty kick was awarded to Japan. HAMANO Maika stepped up to take this spot kick and calmly converted the shot to break the deadlock.
Scoring the long-awaited first goal, Japan continued to press forward to create opportunities, while also managing the risks against the Ghanaian offence who sought chances through power-plays. In the 67th minute, coach Ikeda introduced IWASAKI Kokona and YAMAMOTO Yuzuki. Four minutes later, Iwasaki drew a foul inside the box to earn a penalty kick, which was once again converted by Hamano to give Japan a 2-0 lead.
Torrential rain accompanied by thunderstorms swept through the area in the final stages of the match, but Japan remained focused until the end to win the match 2-0. With back-to-back shut-out victories, Japan maintained their top position in the group stage.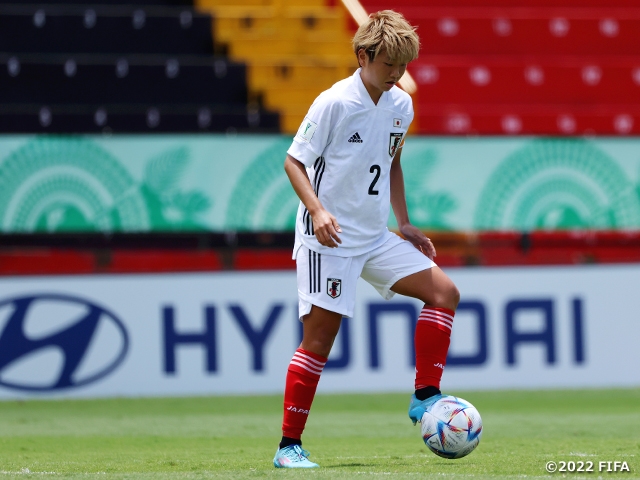 The U-20 Japan Women's National Team's next match against the USA, in which a draw or better will see them through to the knockout stage, will be played at the same venue on Wednesday 17 August.
Coach and Players' Comments
IKEDA Futoshi, Head Coach of U-20 Japan Women's National Team
We knew it was going to be a difficult match because Ghana is a team that plays a lot of long balls. I told them to fight tenaciously within the given circumstances, so I'm glad that we were able to do that and win the match. In the first half, our ball movements were a little monotonous, so I sent the players off to the second half by reminding them to play more aggressively towards the goal and to make adjustments to the opponent's attacks. It is great that we were able to finish this match with a clean sheet, while gaining experience of playing against different opponents in the World Cup. We are competing in a tough group, so we want to prepare well for our next match against the USA.
GK #21 NODA Nina (Nippon TV Tokyo Verdy Beleza)
With this being my first World Cup, I was a bit nervous at first, but I just tried to enjoy the moment. Our opponents were anticipating to exploit the space behind us, so I focused on utilising my speed to cover the space. I am pleased with the fact that I was able to respond to some of the balls behind our defence line and get involved in our build-up plays. However, I felt like I had to be more decisive when playing defence and deliver a steadier performance in the first half. I also wish I could have played with more composure to initiate plays in the second half. We will now face the USA in the third match, who are capable of scoring from fast crosses, so I must stay alerted while also focusing on utilising more long balls to create more chances for the team.
DF #2 NISHINO Akane (Mynavi Sendai Ladies)
With our opponents dropping deep in their territory, we struggled to showcase our strengths in the first half, but we managed to score goals in the second half, thanks to the halftime pep-talk given by coach Ikeda, who told us to keep playing aggressively. I was able to work in tandem with Ishikawa to cover the long balls, as we took turns challenging the ball and covering the space, reminding each other that we didn't want to let the ball behind us. However, our opponent's number eight was really fast, and we were exploited by her on many occasions, so that is an area we need to improve on. The team has gained great momentum from these back-to-back victories, so we hope to prepare ourselves well ahead of our match against the USA and compete with a challenger's spirit.
MF #19 YOSHIDA Riko (Nittaidai SMG Yokohama)
I was given my first start, but couldn't convert the chances I was given, so that is something I need to work on. I was surprised by the opponents' athleticism, which made me make mistakes on some occasions, so it reminded me that I can't just play the way I always do. In the first half, I didn't get involved with the ball much, so once I became more conscious of getting involved in the centre, I think I was able to create good scenes with KOYAMA Shinomi. I'm determined to win the match against the USA, and personally I want to score goals, so I will play offensively if I am given the opportunity to play.
FW #11 HAMANO Maika (INAC Kobe Leonessa)
We expected our opponents to play aggressively from the start, but once we realised that they weren't coming after us that much, we started to get impatient to score goals. However, we talked during halftime and shared that there was an open space between the opposing defence line and the midfield. That was where (Hjikata) Maya made runs to receive the ball and create opportunities in the second half. I usually don't decide on where to spot my penalties until the last second, but I ended up aiming the left side on both occasions. We will continue to work together as a team and strive to win our next match against the USA. I personally would like to score goals to contribute to the team's victory.
YouTube(FIFA):#U20WWC Costa Rica 2022: Matchday 4 Review
FIFA U-20 Women's World Cup Costa Rica 2022™
Tournament Dates: Wed. 10 - Sun. 28 August 2022

Group Stage
1st Match: Thu. 11 August 14:00 vs U-20 Netherlands Women's National Team
2nd Match: Sun. 14 August 11:00 vs U-20 Ghana Women's National Team
3rd Match: Wed. 17 August 17:00 vs U-20 USA Women's National Team
*Time shown in local time