NEWS
【Match Report】U-20 Japan Women's National Team start off tournament with win over the Netherlands
12 August 2022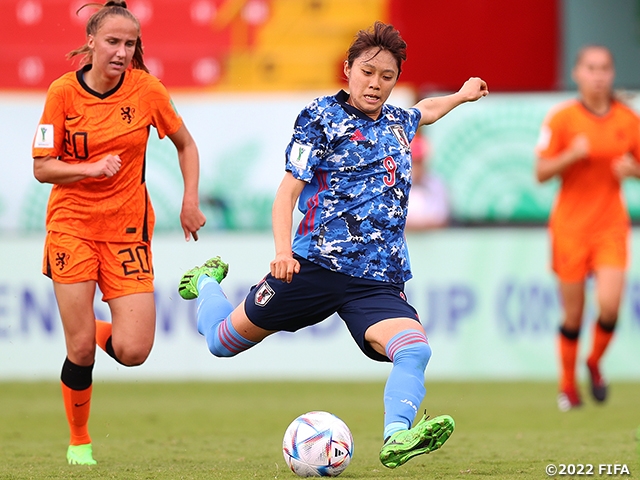 On Thursday 11 August, the U-20 Japan Women's National Team played their first group stage match of the FIFA U-20 Women's World Cup Costa Rica 2022™ against the Netherlands Women's National Team. In the match played at Estadio Alejandro Morera Soto, Japan won 1-0, thanks to the goal scored by YAMAMOTO Yuzuki, to start off the tournament with a victory.
Entering their first match of the tournament, coach IKEDA Futoshi started FUKUDA Shiori in goal with NAGAE Ibuki, ISHIKAWA Rion, TABATA Haruna, KOYAMA Shinomi, and SUGISAWA Mihoshi forming the defence line. OYAMA Aemu, AMANO Suzu, and FUJINO Aoba were placed in the midfield with Yamamoto and HAMANO Maika up top.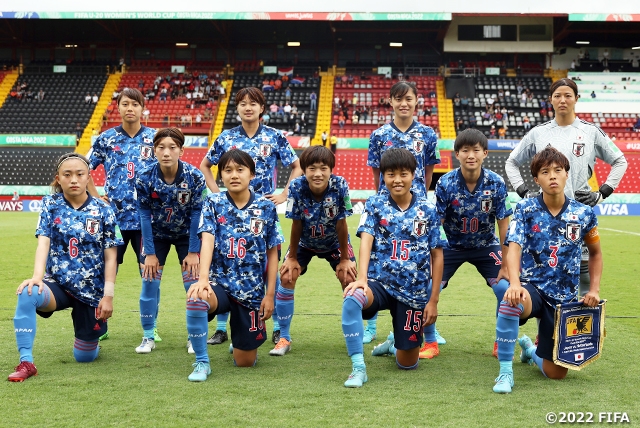 The Netherlands, whose senior team is ranked fourth in the FIFA rankings, is a formidable force in the U-20 category, combining great athleticism and organisational skills. However, through their well-coordinated defence, Japan did not allow the Dutch side from showing their strength and dominated from the start. Led by the shots taken by Fujino in the fourth and seventh minutes, Yamamoto, Hamano, and Amano repeatedly made attempts to threaten the opposing goal.
Japan's early aggression came to fruition in the 23rd minute, when Yamamoto responded to a through ball delivered by Hamano and scored the opening goal with a superbly executed right footed shot. With momentum on their side, Japan continued to dominate the match, as Amano, Sugisawa, and Koyama made overlapping runs to add layers to their offence, while Oyama made her presence felt in midfield to keep the Dutch side from initiating counterattacks.
With a one goal lead, Japan introduced MATSUKUBO Manaka to start the second half. The Netherlands on the other hand, started to utilise more long balls to create opportunities, but the Japanese defence maintained their composure to keep the opponents at bay. In the 65th minute, Fukuda made a big save to deny the Netherlands from scoring the equaliser.
As Fukuda later reflected, "We tried to be decisive in each of our plays," the Japanese players made their intentions clear, as they kept their plays simple to keep the Dutch offence from creating opportunities. A back-and-forth battle continued in the closing stages, but Japan won the match after defending a one-goal lead to start off the tournament on a high note.
Aiming for a second straight win, the U-20 Japan Women's National Team will play their next match against Ghana at the same venue on Sunday 14 August.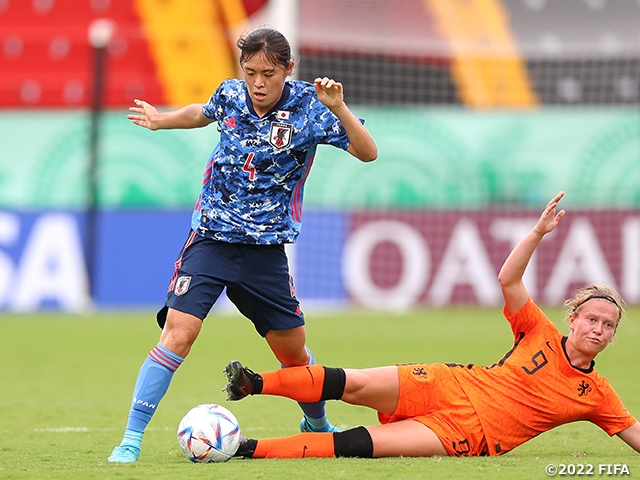 Coach and Players' Comments
IKEDA Futoshi, Head Coach of U-20 Japan Women's National Team
Especially in the first half we were able to show what we had prepared for, in the way we moved the ball and in the positions we were in, which gave us an advantage. It would have been nice to score one more goal there, but I am very happy with the victory and the players fought well. In the second half, the opponents played long balls with three or four players left up front, so we focused on deflecting the first ball, not to let them create any chances, and to increase our ball possession. I think we managed to do that towards the end of the game, but I think if we could have settled down a bit quicker, we could have made it more difficult for our opponents. Ahead of our next match against Ghana, we will first focus on recovering our conditions, analyse the first match, and prepare well for the match.
DF #4 ISHIKAWA Rion (Mitsubishi Heavy Industries Urawa Reds Ladies)
I am happy that we were able to earn three points in a difficult first match. The opponents gained control of the ball in the second half, but our defensive line was able to manage the risks and deal with the spaces behind, which enabled us to win the game with a clean sheet. However, there were many situations where we were running around in accordance with the opponents, so we would like to correct this so that we can all defend with the same intention as a team. This is my first time playing in the World Cup, so I got goosebumps when the crowd cheered us on as we walked onto the pitch. We will now face Ghana, who I think are bigger and stronger, so I hope we can showcase a strong performance to win the match.
MF #6 OYAMA Aemu (Nippon TV Tokyo Verdy Menina)
In order to defend our title, I thought we absolutely had to win the first match, so I am really happy with this result. I wasn't nervous at all, in fact, I was excited the whole time. We had to cover a wide area in the midfield, but I feel like we did a great job moving our players to win the ball in the midfield and attacking third. Although it didn't lead to a goal, I am glad I was able to showcase my ability to deliver through balls into the flanks and final third. With the ball speed increasing in the rain, it makes it easier for us to execute our passing game, but we also need to be extra careful in defence. We will have two days to prepare ourselves for the next match, so I want to get a good rest tomorrow and get ready to play Ghana.
FW #9 YAMAMOTO Yuzuki (Nippon TV Tokyo Verdy Beleza)
There was a VAR check when I scored the goal, but I was confident that I was onside. I was able to take a good look at the goalkeeper and put the ball into the net as I wanted. Our opponents came out playing a passing style football in the first half, so our aggressive pressing style was well suited against their approach. We had a few opportunities we could have scored from counterattacks, so we need to be more critical in those situations. Our patience was being tested after our opponents started to utilise more long balls in the second half, and I am glad we were able to keep the clean sheet intact. I think Ghana has more speed and athleticism than the Netherlands, so I want to rest up, get my mind straight, and prepare so that I can help the team win and advance through to the next stage.
FW #11 HAMANO Maika (INAC Kobe Leonessa)
I think this victory was won by all of us, including those who couldn't be here and those who supported us from the bench. It was great to assist Yamamoto's goal, but I wanted to deliver results as a forward, especially when the team was struggling. Throughout the match, we were able to show what we have been practising as a team. I think we can score more goals if we can make a little bit of adjusts in our plays in the final third. I enjoyed playing on this world stage without feeling much pressure because of the support of so many people. I will do my best to score goals that will lead the team to victory against Ghana.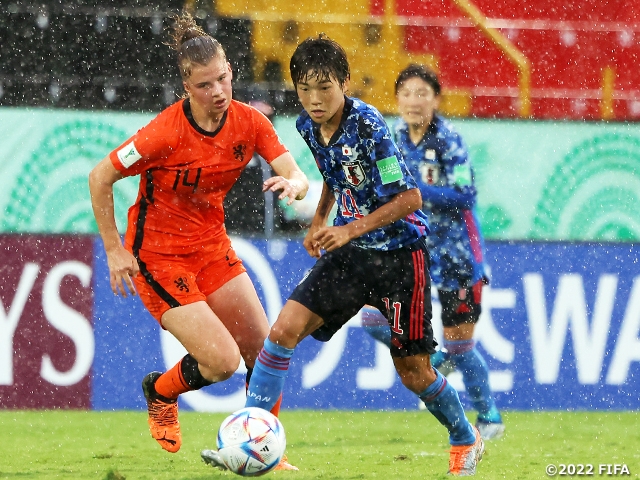 YouTube(FIFA):#U20WWC Costa Rica 2022: Matchday 2 Review
FIFA U-20 Women's World Cup Costa Rica 2022™
Tournament Dates: Wed. 10 - Sun. 28 August 2022

Group Stage
1st Match: Thu. 11 August 14:00 vs U-20 Netherlands Women's National Team
2nd Match: Sun. 14 August 11:00 vs U-20 Ghana Women's National Team
3rd Match: Wed. 17 August 17:00 vs U-20 USA Women's National Team
*Time shown in local time