NEWS
Futsal Japan National Team beat Iran, defend the AFC title
11 May 2014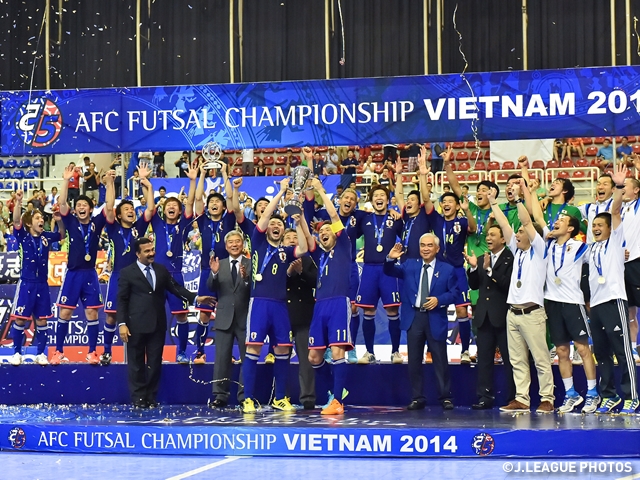 AFC Futsal Championship Vietnam 2014
10 May 2014 19:00Kick Off 20 minutes half
Phu Tho Stadium(Vietnam/Ho Chi Minh)
Japan National Futsal Team 2-2(1st 0-1、2nd1-0、Extra1st 0-1、Extra2nd 1-0、PK3-0)Iran National Futsal Team
Scores
8min Goal Against(Iran National Futsal Team)
26min INABA Kotaro(Iran National Futsal Team)
42min Goal Against(Iran National Futsal Team)
46min WATANABE Tomoaki(Iran National Futsal Team)
Starters
GK:SEKIGUCHI Yushi
FP:MORIOKA Kaoru、TAKITA Manabu、NIBUYA Kazuhiro、YOSHIKAWA Tomoki
Substitutes
GK:FUJIWARA Jun
FP:INABA Kotaro、OSODO Nobuya、HOSHI Shota、NISHITANI Ryosuke、WATANABE Tomoaki、NAKAMURA Yusuke、MINAMOTO Akira、UCHIMURA Shunta
Players not listed on the game roster
GK:KAWAHARA Hisamitsu
FP:SATO Toru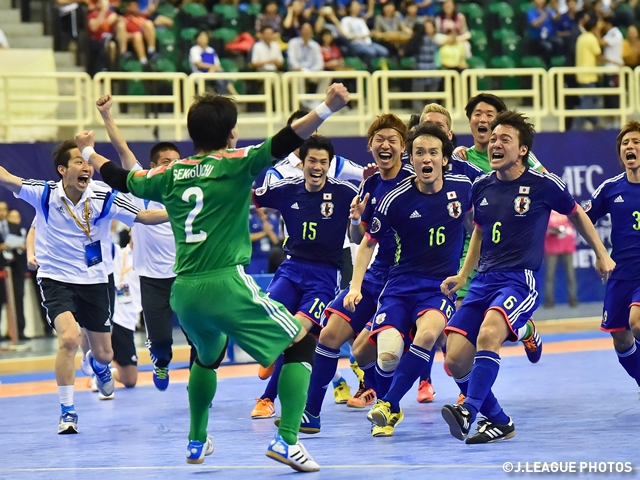 Match Report
The day of the final match finally has come in the AFC Futsal Championship.
Prior to the final, Uzbekistan edged Kuwait in the heated 3rd –place match. Japanese players see it as they prepare for their own, which surely fires them up.
Backed by cheers from local fans and supporters visiting from Japan, players are already displaying their heightened emotions even during the warm-up.
As expected by many, Iran started off dominating the match. Japan effectively defended the opposition's offence and its strength. When the match is about to start looking very even, Iran's attack finds a gap in Japan's defence at the 8th minute and fire a long shot, which leads to the first goal of the match for Iran.
The first half ends with Japan trailing by one goal. Head Coach Miguel makes sure how Iran lay out its attacks and convinces players that Japan are still in a good shape and it's Iran that are struggling. He says "Iran have not played a close match like this before. With this low-scoring match they will be frustrated and go out of their rhythm. We have got to be patient until that moment comes."
Then at the 26th minute, Inaba hits a freekick into the goal to tie the match. Iran start showing frustration while Japan keep their aggressiveness offensively and defensively to go for a go-ahead goal. But Iran still displays outstanding defence to protect their goal until the second half finishes without seeing any more goals. The match now goes into the extra time.
Although Japan seem to have gained the control of the match, Iran again takes the first lead in the extra time with another goal. In the second half of the extra time, Japan also scores to tie again when Watanabe's shot gets deflected by hitting Iran's player and goes in. As cheers and shouts for both teams from all the supporters and local fans are reaching their peak, they see the end of the extra time again with the match being tied. Now the fate of the both teams is up to the penalty shoot-out.
Japan kicks first. Nibuya flawlessly scores to put Japan ahead and early pressure on Iran. Then Japan's GK Sekiguchi stops the first Iranian kicker. Japan continues their surge with Yoshikawa and Minamoto follow and both score as Sekiguchi shuts out Iran by stopping three straight shots. The shootout unexpectedly sees a quick and easy ending compared the heated battle of the regulations.
Japan concluded the AFC Futsal Championship 2014 by repeating their title for the first time in their history.
Comments
Miguel Rodrigo, Head Coach, Futsal Japan National Team
Our opponent was very offensive Iran National Team, so it was important for us to stay patient and not to allow them a goal early in the match.
I think we did good job of not letting them execute their normal game plan and rather making them worried.
Our focus was keep picking up their balls, keep our possessions, gain the tempo and control the match. And at the same time, we wanted our defence line to keep the ball at all times.
We did those things pretty well and as the result of it, we spent most of the first half defending. But that took energy away from Iran and we could fight back in the second half.
After tying the match in the second half, we played as we expected. It was almost as good as scoring another goal late and winning the match.
Then, it gave Iran some fear of losing. They started thinking like "We may end up losing. What's going to happen?" With that going on, we headed into the penalty shoot-out.
During the shoot-out, we were relaxing and they were panicking. It was so opposite and you know the result.
I said to Sekiguchi "You will stop three." I am happy he did just that.


DAINI Kuniya, President, Japan Football Association
It was a tough match, but players did very well. Japan's futsal is getting better. We should give credit to the F-League. But each one of players has got to get better, too.
Schedule
AFC Futsal Championship Vietnam 2014
Thu. 1 May
12 - 0
Group Stage 1st leg
vs. Korea National Futsal Team
(Ton Duc Thang University Stadium)
LIVE
NHK BS1 Thu. 1 May 17:40 - 17:49
NHK BS1(Sub ch102) Thu. 1 May 17:49 - 20:00

Video Recording
TV Asahi Channel 2 Fri. 2 May 21:00 - 23:00
TV Asahi Channel 2 Tue. 13 May 17:00 - 19:00
Sat. 3 May
1 - 2
Group Stage
vs. Uzbekistan National Futsal Team
(Phu Tho Stadium)
Video Recording
NHK BS1 Sun. 4 May 08:00 - 09:50
TV Asahi Channel 2 Sun. 4 May 20:30 - 22:30
TV Asahi Channel 2 Wed. 14 May 17:00 - 19:00
Mon. 5 May
4 - 0
Group Stage
vs. Kirghiz National Futsal Team
(Phu Tho Stadium
LIVE
NHK BS1 Mon 5 May 20:15 - 21:49
NHK BS1(Sub ch102) 5/5(月) 21:49 - 22:30

Video Recording
TV Asahi Channel 2 Tue. 6 May 21:00 - 23:00
TV Asahi Channel 2 Thu. 15 May 17:00 - 19:0
Wed. 7 May
3 - 2
Quarter Final
vs Thailand National Futsal Team
(Ton Duc Thang University Stadium)
LIVE
NHK BS1 5/7(水) 17:15 - 17:49
NHK BS1(サブch102) Wed. 7 May 17:49 - 19:30
TV Asahi Channel 1 Wed.7 May 17:25 - 20:00

Video Recording
TV Asahi Channel 2 Thu. 8 May 21:00 - 23:00
TV Asahi Channel 2 Fri.16 May 17:00 - 19:00 
Thu. 8 May
6 - 1
Semifinal
vs Kuwait National Futsal Team
(Phu Tho Stadium)
LIVE
NHK BS1 5/8(木) 17:15 - 17:49
NHK BS1(Sub ch102)Thu. 8 May 5/8 17:49 - 19:30
TV Asahi Channel 1 Thu. 8 May 17:25 - 20:00

Video Recording
TV Asahi Channel 2 Fri. 9 May 21:00 - 23:00
TV Asahi Channel 2 Sat. 24 May 19:00 - 21:00
TV Asahi Channel 2 Thu 29 May 00:00 - 02:00 
Sat. 10 May
2-2
(PK3-0)
Final
vs Iran National Futsal Team
(Phu Tho Stadium)
LIVE
TV Asahi Channel 1 Sat. 10 May 20:55 - 23:30

Time Lag Broadcast
NHK BS1 Sat 10 May 21:10 - 21:55
NHK BS1(Sub ch102)Sat 10 May 21:55 - 00:00

Video Recording
TV Asahi Channel Sun 11 May 20:00 - 22:30
TV Asahi Channel 2 Mon 12 May 21:00 - 23:00
TV Asahi Channel 2 Mon 26 May 00:00 - 02:00  
※All match time is local time.
※The time for TV broadcasting is Japan time。