NEWS
【Match Report】Japan Beach Soccer National Team advance to final with 5-1 win over UAE - AFC Beach Soccer Asian Cup Thailand 2023
26 March 2023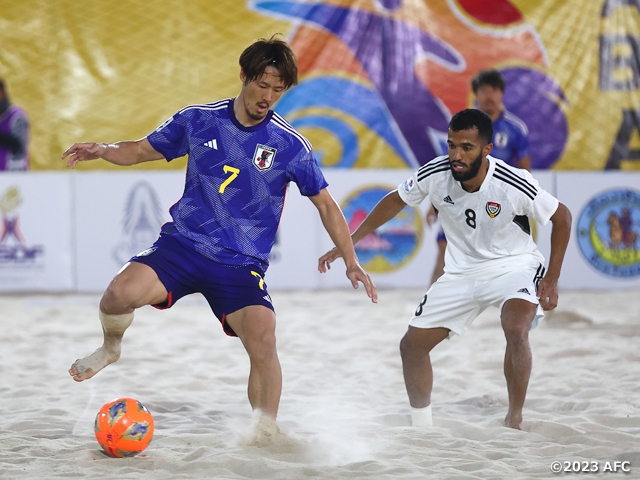 On Saturday 25 March, the Japan Beach Soccer National Team faced the UAE Beach Soccer National Team in the semi-finals of the AFC Beach Soccer Asian Cup Thailand 2023.
The opening goal came in the second minute, when Japan's starting goalkeeper SHIBAMOTO Shinya delivered a throw to OBA Takaaki, who slotted the ball into the net with his left foot. YAMADA Takahito doubled the lead in the 10th minute when he fired a powerful shot to convert a free kick.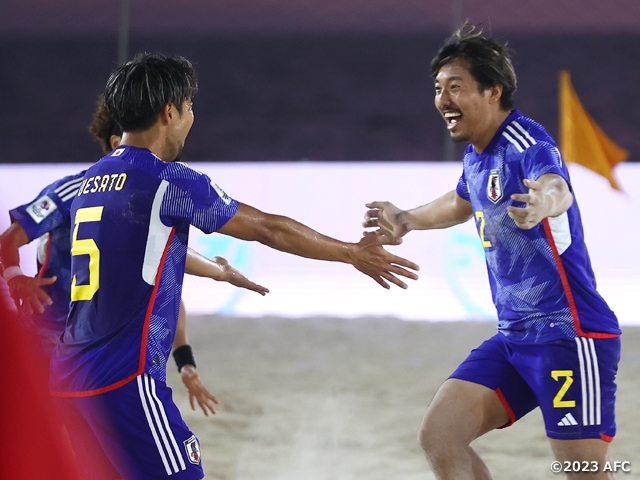 At the beginning of the second period, Japan conceded a free kick from close range, but KAWAI Yusuke, who started the second period as the goalkeeper, made a superb save to deny this attempt. However, Japan gave up a penalty kick in the fourth minute, in which UAE successfully converted to cut their deficit in half. Gaining momentum from this goal, it was UAE who dictated the pace in the remainder of the second period, but the Japanese players' physical and tenacious plays ensured that they did not concede any further goals.
In the third minute of the third period, AKAGUMA Takuya received a pass from MATSUDA Kosuke, before striking a bicycle shot that captured the bottom left corner of the goal. After Akaguma added another goal in the eight minute, YAMAUCHI Shusei capped off the match by scoring the team's fifth goal, as Japan won the match 5-1.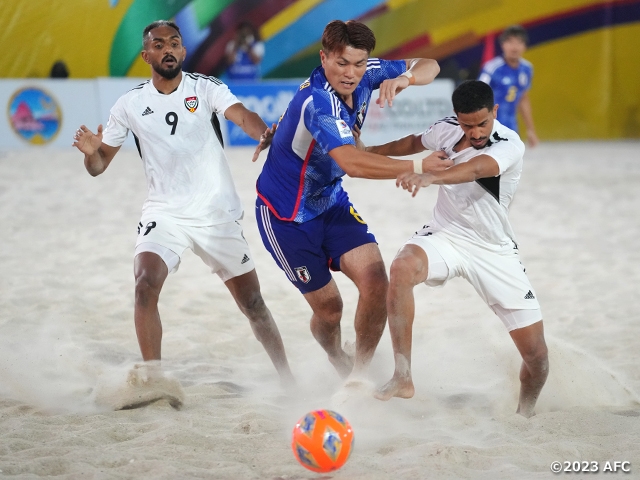 Japan will now face IR Iran in the final on Sunday 26 March.
Coaches and Players' Comments
MOREIRA Ozu, Player-Coach (Tokyo Verdy BS)
I think we played well in the first period, as we showed great consistently. In the second half, we had trouble controlling the ball at our own pace, but overall, I think we played a much steadier game than the previous ones. The UAE were tactically and systematically organised, and although they were a tough opponent, our three pivots were able to score goals and it was fun match to play. IR Iran is a great team where every player on their roster is capable of scoring goals. We must stay alerted against their counterattacks when we face them.
TABATA Teruki, Assistant Coach (Veertien Mie BS)
Even though we won the game and advanced to the final, it was undoubtedly a difficult game. It once more brought home to us the challenges facing Asian qualifiers. The second period saw a change in momentum in favour of our opponents, but it was fantastic that we maintained our lead. The final pits us against a formidable side, but we'll try to play with confidence to claim the championship.
GINOZA Tomoya, GK Coach (Sol Mar Praia Okinawa)
Both goalkeepers are doing really well for the team. Their individual characteristics and strengths are showing in each match. Shibamoto is capable of scoring goals, while Kawai is a very balanced goalkeeper who knows his job well. The presence of the goalkeeper has increased enormously in beach soccer in recent years. Looking at the top four teams in this year's tournament, all countries have good goalkeepers. Of course, the two Japanese goalkeepers are also very good. I will do my best to allow our players to enter the final in good condition.
GK #1 KAWAI Yusuke (Tokyo Verdy BS)
Despite having a strong start to the game, we had trouble controlling the ball due to the aggressive pressure applied by our opponents. It was great that we were able to remain composed and find our rhythm in the third period. While I consider my throwing ability to be my strongest skill, Shinya has excellent foot skills and is capable of scoring goals. We will keep working together to advance ourselves because I believe it is very challenging to play against a team with two distinct types of goalkeepers.
GK #12 SHIBAMOTO Shinya (Tokyo Verdy BS)
I've been scoring goals, and I'm happy with how I've been playing so far. Up until the second period, we had a very difficult time because UAE has a lot of talented players. I believe that this competition has helped me become a better player. Compared to me, Yusuke-san has excellent throwing ability, while my strength is in my footwork. I believe that the two of us can each bring something unique to the team. Yusuke-san is a very generous and skilful player. We want to motivate one another to reach for greater heights.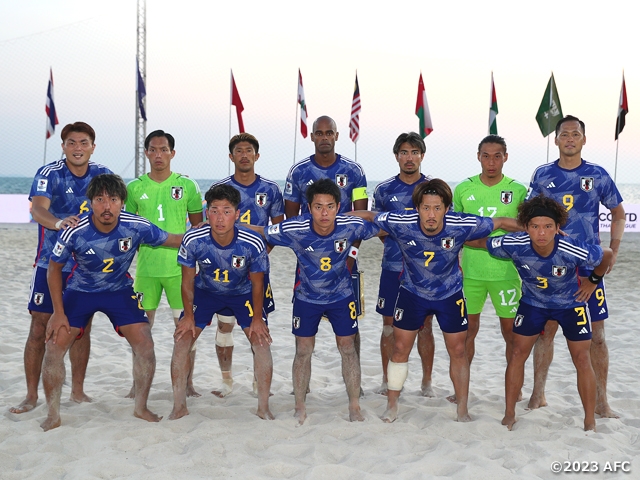 YouTube(AFC):#ACBeachSoccer Thailand 2023 | UAE 1 - 5 Japan
AFC Beach Soccer Asian Cup Thailand 2023
Tournament Date: Thu. 16 - Sun. 26 March 2023