NEWS
Nadeshiko Japan resumes training ahead of match against Argentina at the FIFA Women's World Cup France 2019
06 June 2019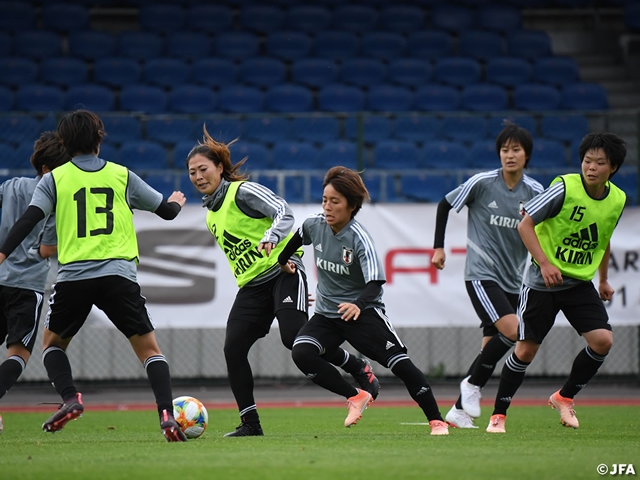 On Wednesday 5 June, the Nadeshiko Japan (Japan Women's National Team) held a training session in Paris ahead of their first match at the FIFA Women's World Cup France 2019 scheduled to take place on Monday 10.
Following their international friendly match against the Spain Women's National Team held at Le Touquet on Sunday 2, the team held a recovery session before making their way to Paris. With the team taking the next day off, it made this training session their first intensive training in three days. During this session, the players were seen going over their warmup routines thoroughly at the beginning, followed by agility drills to get their heart rate up. The team then went through variations of passing and possession drills to increase the intensity of their plays. The session concluded with a 7 vs 7 drill that required the players to build their attacks from the defence line, allowing the players to work on their transition from offence to defence, and vice versa.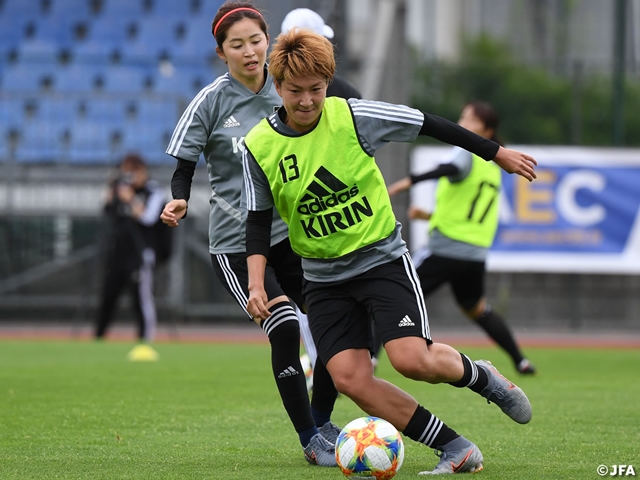 As part of a programme carried out by FIFA, Coach TAKAKURA Asako and five players of the Nadeshiko Japan paid a visit to a local hospital in the afternoon, where they spent a joyful time playing football with the patients. Following the exchange programme with the local Japanese school held on the day before, the players were once again given the opportunity to gain energy and inspiration from the kids.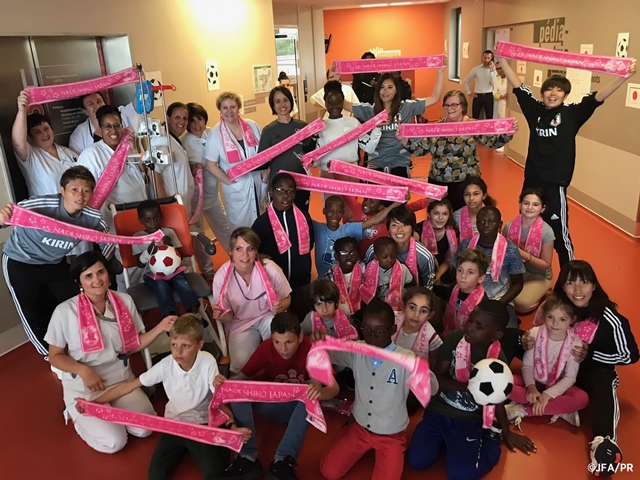 The FIFA Women's World Cup France will kick-off on Friday 7, with Japan playing their first group stage match on Monday 10 against Argentina Women's National Team.
Players' Comments
DF #12 MINAMI Moeka (Urawa Red Diamonds Ladies)
After arriving in Paris, I am really starting to feel that the World Cup is just around the corner. Following our match against Spain, Coach Takakura has told us to try carrying the ball at the centre half position and have a wider perspective during our build-up plays. In the early minutes of the match against Spain, we struggled to deal against the pressure applied by our opponents and made many mistakes, but after we got used to the pressure, we did a much better job, so we hope to do better from the beginning in our next match and create opportunities from our build-up plays.
FW #8 IWABUCHI Mana (INAC Kobe Leonessa)
We've came long ways to get here and we will gradually get ourselves ready for the upcoming matches. I've been having a lot of fun training with this team and I feel truly blessed to be given this opportunity to train under such wonderful environment to play for the World Cup. I am not sure if I am at my top form yet, but I am giving my best efforts to do what I need to do, so I fell that I am in good condition right now.
FW #8 KOBAYASHI Rikako (Nippon TV Beleza)
It has been a while since I joined the training session with my teammates. I was starting to get a little impatient, but now I just need to focus on getting my conditions up. My legs are feeling much better now, so I am not worried. I will give my best efforts to do what I can do to help out the team.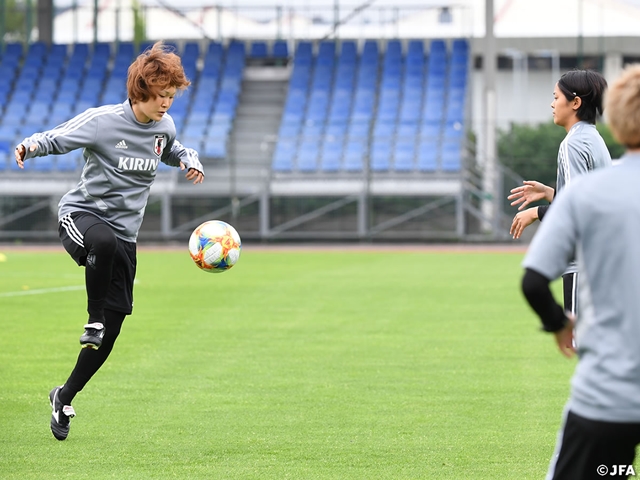 Schedule
Nadeshiko Japan (Japan Women's National Team) Squad, Schedule
FIFA Women's World Cup France 2019
Tournament Dates: Fri. 7 June - Sun. 7 July 2019
Group Stage:
Tue. 11 June 2019 01:00 (Japan time)
vs Argentina Women's National Team
Fri. 14 June 2019 22:00 (Japan time)
vs Scotland Women's National Team
Thu. 20 June 2019 04:00 (Japan time)
vs England Women's National Team