NEWS
Yokohama FM thrash Funabashi Municipal with a seven-goal haul! - Prince Takamado Trophy JFA U-18 Football Premier League 2022
09 May 2022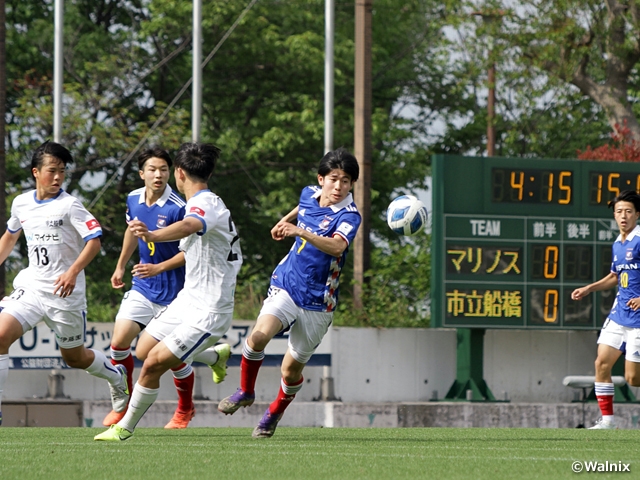 The sixth sec. of the Prince Takamado Trophy JFA U-18 Football Premier League 2022 EAST took place on Saturday 7 and Sunday 8 May. At Hodogaya Park Soccer Field, Yokohama F.Marinos Youth (Kanagawa) faced Funabashi Municipal High School (Chiba).
Featured Match
Yokohama F.Marinos Youth 7-0 (4-0, 3-0) Funabashi Municipal High School
After starting the season with back-to-back victories, Yokohama FM lost their next two matches before beating Kashiwa Reysol U-18 (Chiba) last weekend. They will need to keep the momentum going with a win over Funabashi Municipal, who have started the season with one win, two draws, and two losses, to stay in contention for the title.
The match started with the home side taking the initiative, as Yokohama's coach OKUMA Yuji later reflected, "The players managed to play aggressively." Although they missed out on capitalising their first big chance in the fifth minute, Yokohama managed to score the opening goal in the seventh minute, when MATSUMURA Kosuke (#10) converted the cross sent by IKEDA Shunta (#25) from the left side.
With Matsumura scoring the second goal in the 15th minute, HATANO Yuma (#22) scored a header off of a corner kick in the 28th minute to make it 3-0. With momentum on their side, Yokohama went onto score their fourth goal in the 41st minute, with FUNAKI Daisuke (#24) setting up the goal of ISOGAYA Kashin (#7), putting the match out of reach for Funabashi Municipal.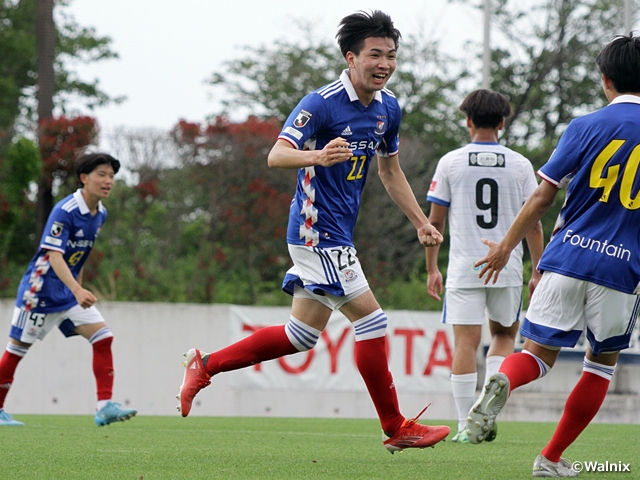 "We couldn't possess the ball at all, which made our players play even more passively. We weren't using the width of the pitch effectively and kept crowding ourselves once we had the ball," said Funabashi Municipal's coach HATA Shugo, as the Chiba side had a difficult time finding their rhythm in the first half.
Despite their struggles in the early going, Funabashi Municipal managed to pick up their pace in the second half, as FUJITA Hiroto (#23) later reflected, "We were able to stay on the same page from the start of the second half." TOKI Taito (#11) struck a shot that went off the post in the 64th minute, before making a run into the open space to face the Yokohama goalkeeper FUKUI OJIRO (#20) one-on-one, but his attempt was denied by Fukui.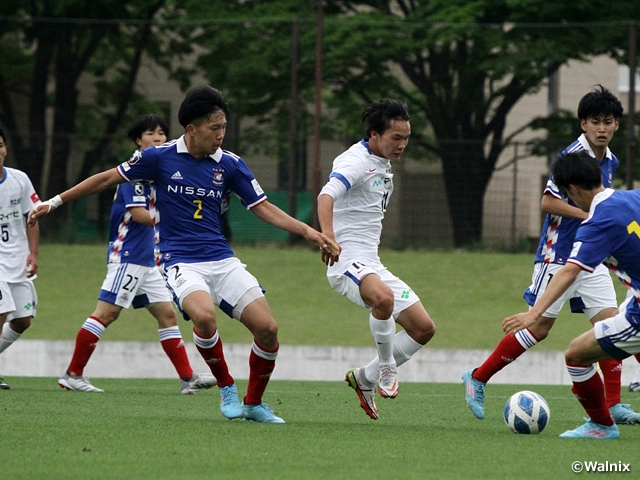 While Funabashi Municipal struggled to capitalise on their opportunities, Yokohama continued to showcase their effectiveness in the final third, with Isogaya, UCHINO Kotaro (#9), and SATO Mikuya (#11) adding to the tally in the 68th, 70th, and 82nd minutes respectively to further extent their lead. In defence, Hatano led the way to keep the Funabashi Municipal offence at bay, as the defender later mentioned, "We were determined to keep a clean sheet," as Yokohama walked away with a 7-0 victory.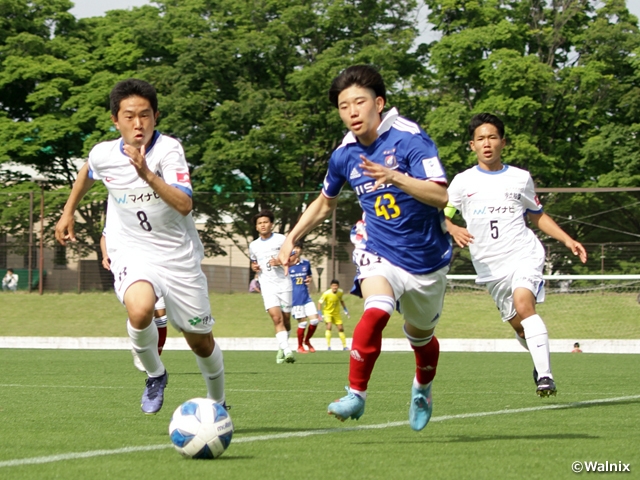 Following the match, Yokohama's coach Okuma mentioned "We are still lacking in terms of quality. We could have possessed the ball longer." Funabashi Municipal's coach Hata on the other hand commented, "This is where we stand right now. We just need to get better from here."
Coaches and Players' Comments
OKUMA Yuji, Coach (Yokohama F.Marinos Youth)
Several players left the team to play in the Elite League, but I entered this match thinking that this would be a great opportunity for those who are not usually in the starting line-up. The fact that we had first-year players start in matches like this, that Isogaya scored a brace, and that we were able to see how much this league has helped us improve individually, makes me even happier than the victory itself.
DF #25 IKEDA Shunta (Yokohama F.Marinos Youth)
The first assist was all game intuition, as I wasn't really aiming to deliver the ball to Matsumura. My ability to provide coverage for the centre-halves after they fought for the ball is my forte and I think I did a fine job in that aspect. I have been converted as a fullback during last season, and I feel like my strengths lies on my ability to add layers to our offence. I am also confident in my ability to make quick turns in defence.
HATA Shugo, Coach (Funabashi Municipal High School)
The fact that we conceded early may have influenced the rest of the match, but we still needed to bounce back. It was a match that displayed all of our shortcomings. (During halftime) I emphasised the importance to play aggressively and make better decisions. Although we were able to create chances in the second half, we didn't have the quality to convert them, which is yet another aspect we need to improve on.
DF #23 FUJITA Hiroto (Funabashi Municipal High School)
We entered the match very poorly and the early goals we conceded really dampened our spirit. The fact that we started playing passively after conceding the goals is something we need to address and fix as a team. It's disappointing that we conceded seven goals but just as the team got better after conceding nine goals to Aomori Yamada High School last season, we just have to get back on the horse and try to bounce back from this loss.
Results of other matches
Maebashi Ikuei High School 3-2 (2-1, 1-1) Aomori Yamada High School
Kiryu Daiichi High School 1-3 (0-0, 1-3) Omiya Ardija U18
Ryutsu Keizai University Kashiwa High School 1-2 (1-2, 0-0) FC Tokyo U-18
Yokohama FC Youth 5-0 (2-0, 3-0) JFA Academy Fukushima U-18
Kawasaki Frontale U-18 5-1 (4-0, 1-1) Kashiwa Reysol U-18
In the match between two high school powerhouses, Maebashi Ikuei High School (Gunma) defeated Aomori Yamada High School (Aomori) thanks to the brace score by YAMADA Kosei (#17). After scoring three goals in the second half, Omiya Ardija U18 (Saitama) marked their second win of the season in an away match against Kiryu Daiichi High School (Gunma). FC Tokyo U-18 (Tokyo) held onto the one-goal lead they created in the first half to win over Ryutsu Keizai University Kashiwa High School (Chiba). Yokohama FC Youth (Kanagawa) scored five goals to cruise past JFA Academy Fukushima U-18 (Shizuoka). Kawasaki Frontale U-18 (Kanagawa) scored four goals in the first half, including the brace of GOKITA Kishin (#9), to defeat Kashiwa Reysol U-18 (Chiba) 5-1 at home.
#高円宮U18 プレミアリーグ 2022
EAST 第6節(5/8)

試合結果#流経大柏 1-2 #FC東京#横浜FC 5-0 #AC福島#川崎F 5-1 #柏#横浜FM 7-0 #市立船橋

結果詳細はこちらhttps://t.co/Y65xFaJ4cM#高校サッカー pic.twitter.com/lgOh1lTZIh

— 高円宮杯 JFA U-18サッカープレミアリーグ (@jfa_u18) May 8, 2022
#高円宮U18 プレミアリーグ 2022
EAST

暫定順位表
1⃣ #川崎F
2⃣ #FC東京
3⃣ #横浜FM
4⃣ #前橋育英
5⃣ #青森山田
6⃣ #横浜FC
7⃣ #大宮
8⃣ #市立船橋
9⃣ #流経大柏
1⃣0⃣ #AC福島
1⃣1⃣ #柏
1⃣2⃣ #桐生第一

詳細はこちらhttps://t.co/xyY4xTh7XQ#高校サッカー pic.twitter.com/hvrO77rRSz

— 高円宮杯 JFA U-18サッカープレミアリーグ (@jfa_u18) May 8, 2022
Prince Takamado Trophy JFA U-18 Football Premier League 2022
League Duration: Sat. 2 April - Sun. 4 December 2022