NEWS
Iwata escapes last place with win over Omiya at the 13th Sec. of the Prince Takamado Trophy JFA U-18 Football Premier League EAST
17 September 2019
The 13th Sec. of the Prince Takamado Trophy JFA U-18 Football Premier League 2019 EAST took place on Saturday 14 and Sunday 15 September. The matchup between Omiya Ardija U18 (Saitama) and Jubilo Iwata U-18 (Shizuoka) was held at NACK5 Stadium Omiya on Saturday, where Iwata claimed the victory in dramatic fashion.
Pick-up Match
Omiya Ardija U18 0-1 (0-0, 0-1) Jubilo Iwata U-18
As Omiya's coach TANNO Yusuke later reflected, "we entered the match poorly and couldn't get off to a good start," the match started with Iwata taking the initiative in the early minutes. Despite losing their defender SUZUKI Kaito (#23), who sustained an injury while participating in a tour abroad with the U-17 Japan National Team, and their goalkeeper/team captain, SUGIMOTO Mitsuki (#21), who got injured during their practice session one day before the match, Iwata did not allow these unfortunate incidents affect their game. Goalkeeper NAKAJIMA Keitaro (#31) stepped up to the occasion to help his side, as he later mentioned, "I have always mentally prepared myself to play in any given match."
Although Omiya did manage to find their rhythm for a short stint, they finished with only one shot taken in the first half. Their goalkeeper KUBO Kenya (#1) came up with many fine saves to keep them in contention, as coach Tanno praised his performance, "he is very consistent, and his plays have saved our team in many occasions."
Despite their struggles in the first half, it was the home side who created the first close opportunity in the second half, as ARAI Seijiro (#9) connected with the cross delivered by TAKADA Soya (#10) to threaten the opposing goal. However, Nakajima made a great read to deny the shot, as he later mentioned, "I saw the player responding to the cross, so I was able to position myself accordingly."
The two sides created numbers of close chances in the second half, but they both struggled to convert their opportunities. The golden moment arrived in the 88th minute, when Iwata broke through the right flank from a counterattack. The final pass delivered by WATANABE Shoya (#22) connected with MIKI Naoto (#18), who made a great run to score the game winning goal.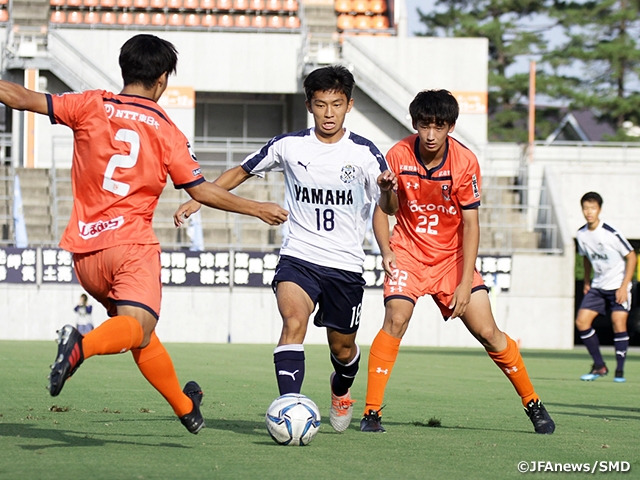 With this 1-0 victory, Iwata made a huge leap from last place to seventh place and escaped the relegation zone. As coach SETO Taiji reflected after the match, "this was a crucial game for us," this match certainly was a pivotal turning point for the teams competing for their survival at the Premier League.
Coaches and Players' Comments
TANNO Yusuke, Coach (Omiya Ardija U18)
We entered the match poorly, and we weren't able to control the game as much as we wanted. We wish we could have created more opportunities. We thought our opponent will start running out of gas towards the end, but that never happened. We conceded from a play that our opponent had previously tried during the match, so that was a play we had to stop. There has been lots of close matches, so we hope to implement these experiences to become a better team.
DF #3 MURAKAMI Yosuke (Omiya Ardija U18)
We weren't able to get off to a good start as a team today. Although we managed to keep a clean sheet while our opponent took control of the match, we couldn't keep the ball moving and that is an aspect we must improve on. I could have done a better job to block the shot in the scene where we conceded the goal and I had to give better directions to our defence, so I feel responsible for that goal.
SETO Taiji, Coach (Jubilo Iwata U-18)
Nakajima had to start the match with short notice, but he has done well in similar situations in the past, so I wasn't worried at all. He is a well-liked player, so maybe his teammates gave extra efforts for him today. At the beginning of the season, our weakness was on our bench strength, but as the season progressed, I feel like we have improved quite a bit in that regards.
GK #31 NAKAJIMA Keitaro (Jubilo Iwata U-18)
I have always mentally prepared myself while I sat on the bench, so I was fully prepared when I entered today's match. To be honest, I feel like I played perfectly today. My passes might have not been so great, but I was truly able to give all I've got in today's match.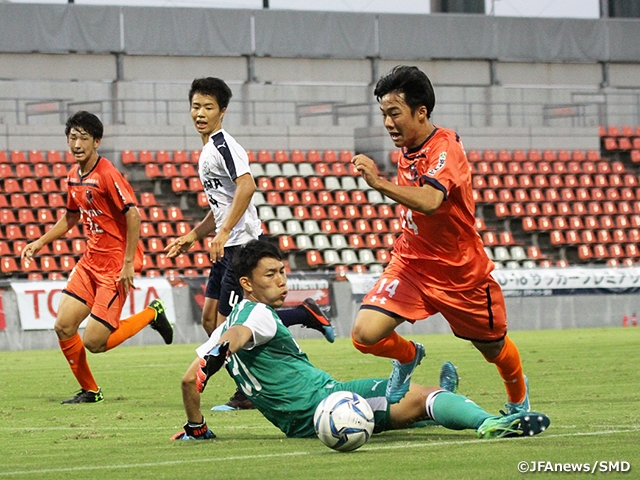 Results of other matches
Ryutsu Keizai University Kashiwa High School 2-1 (2-0, 0-1) Shimizu S-Pulse Youth
Funabashi Municipal High School 1-4 (0-0, 1-4) Kashiwa Reysol U-18
Shoshi High School 3-2 (1-2, 2-0) Kashima Antlers Youth
Aomori Yamada High School 0-1 (0-0, 0-1) Urawa Red Diamonds Youth
Ryutsu Keizai University Kashiwa High School (Chiba) scored two goals in the first half to win their home match against Shimizu S-Pulse Youth (Shizuoka) to mark their second consecutive victories. Second place Kashiwa Reysol U-18 (Chiba) scored four goals against Funabashi Municipal High School (Chiba) to win the matchup between two Chiba sides. Shoshi High School (Fukushima) earned their first win in three matches with a 3-2 victory over Kashima Antlers Youth (Ibaraki). Urawa Red Diamonds Youth (Saitama) scored the game winner in the 94th minute to defeat league leaders Aomori Yamada High School (Aomori).
Prince Takamado Trophy JFA U-18 Football Premier League 2019
League Duration: Sat. 6 April - Sun. 8 December 2019