NEWS
Official Press-conference held ahead of the decisive battle at Suruga Bank Championship 2018 OSAKA / Ambos equipos ofrecen ruedas de prensas antes de la final -Suruga Bank Championship 2018 OSAKA-
08 August 2018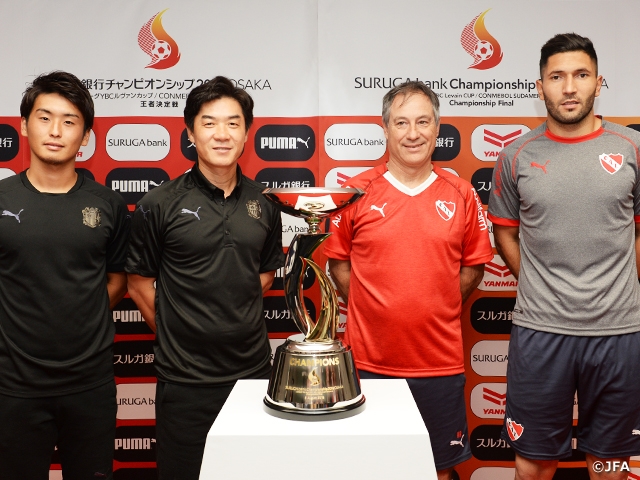 On Tuesday 7 August, an official press-conference was held ahead of the Suruga Bank Championship 2018 OSAKA at the match venue, Yanmar Stadium Nagai.
Coach YOON Jong Hwan and AKIYAMA Daichi from the 2017 J. League YBC Levain Cup Champions, Cerezo Osaka appeared on the podium. Ahead of the big match, Coach Yoon addressed, "This is not only an international title match for the team, but we will be representing the nation. If we play as a team, we should be able to showcase a great match." Akiyama also expressed his aspiration towards the team's attempt to earn their first international title, "In order for Cerezo to become a big club, earning titles are essential. We have a chance to earn one tomorrow, so we must come through with this opportunity."
Cerezo Osaka has earned two domestic titles last year after winning the Emperor's Cup and the Levain Cup. The team went on to match their franchise record in the J. League rankings by finishing in third place. Although the team entered the 2018 season with hopes to obtain their first ever league title, the team currently sits at seventh place after the 20th Sec. Despite the Osaka side reaching as high as third place at one point, the team has been winless in six matches since the league resumed in July, as the team has recorded three draws and three losses.
The Cerezo skipper hopes to see his side regain their momentum and make history in front of their home crowd, "Recently, we haven't been able to perform well in the league, but to change that vibe we need to win tomorrow."
La rueda de prensa anterior al partido de la Copa Suruga Bank 2018 OSAKA tuvo lugar el martes en el Estadio Yanmar Nagai, el recinto de la final que se disputará el miércoles.
Los representantes del Cerezo Osaka, Campeón de J.League YBC Levain Cup, fueron el técnico Yoon Jong-Hwan y el centrocampista Daichi Akiyama.
"En una competición internacional no solo juegas para tu club, sino que estás representando a tu país", dijo Yoon. "Si todo el equipo juega bien será un buen partido".
"Ganar títulos es importante para el Cerezo si queremos convertirnos en un equipo grande, y tendremos esa oportunidad mañana", añadió Akiyama poniendo énfasis en el deseo del equipo de ganar su primer título internacional. "Absolutamente queremos ganar".
Además de ganar la Levain Cup y la Copa del Emperador, la temporada pasada el Cerezo igualó su mejor resultado en la J1 League con un tercer puesto. Pese a que afrontaban la temporada 2018 con el título del liga como objetivo, actualmente se encuentran séptimos después de 20 jornadas. Pese a que llegaron a igualar ese tercer puesto, desde que la temporada se reanudó en Julio están pasando por un mal momento tras tres empates y tres derrotas.
"No estamos jugando bien recientemente en la liga, así que necesitamos ganar mañana para crear una atmósfera más positiva alrededor del equipo", precisó Yoon. El Cerezo buscará sobreponerse a su temporada irregular en J1 y poder escribir un nuevo capítulo en la historia del club frente a sus aficionados.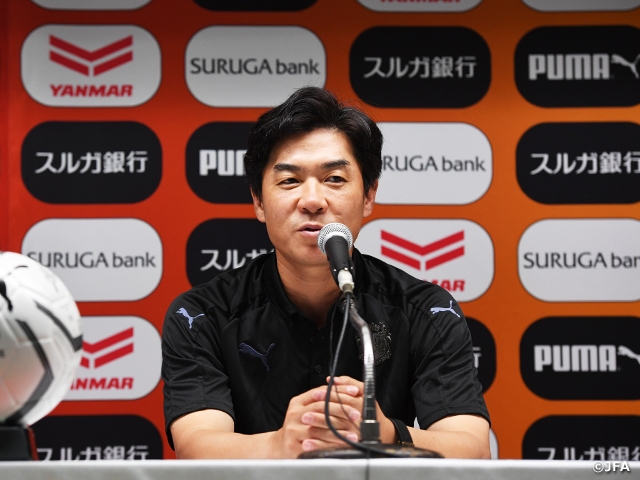 On the other hand, the CONMEBOL Copa Sudamericana 2017 Champions, Independiente gave themselves plenty of time to adjust to the time difference and the hot climate of Japan by arriving a week ahead of the match. The team captain and goalkeeper Martin CAMPANA appeared at the press-conference and mentioned, "When we first arrived in Japan, we were surprised by the hot weather and struggled to adjust to the time difference as well." With that being said, the Uruguayan continued by sharing his confidence ahead of the match, "We have been training for many days to prepare for this match. With the form we are in right now, the difference in the environment will not affect us."
Independiente is an Argentine powerhouse who has won countless titles. Their ability as a team is without a doubt top class and the team has set their sight towards this title match against Cerezo Osaka. Coach Ariel HOLAN shared his alertness towards the quick ball movements of his opponents, but also stated that his players are well aware and ready to face the Cerezo squad, "We want to display an attacking style of football, but we must stay alerted against the quick ball movements of our opponents and their counter attacks. If we give them space, they will not hesitate to attack that space, so we have been working on our defence so that we can cope with their speed."
Su adversario el C.A. Independiente, Campeón de Copa CONMEBOL Sudamericana 2017, llegó a Japón una semana antes y han tenido suficiente tiempo para ajustarse a la diferencia horaria y al notorio verano húmedo del país.
"Me sorprendió mucho el calor el día que llegamos a Japón, y no pudimos movernos bien debido a la diferencia horaria", dijo el portero Martín Campaña. "Hemos entrenado en los días próximos al partido y ha pasado algo de tiempo- Ahora mismo estamos en condición de jugar sin que nos afecte el ambiente diferente".
C.A. Independiente es uno de los equipos más famosos de Argentina con muchos títulos en su haber. Su reputación está justificada, pero desconfían del juego de pase ágil del Cerezo, reveló el técnico Ariel Holan.
"Queremos jugar ofensivamente, pero también tenemos que estar atentos a la habilidad del Cerezo de hacer contras", añadió Hola. "Si les damos espacio vendrán a nuestra área, y nos hemos centrado en nuestra defensa para contrarrestar su velocidad".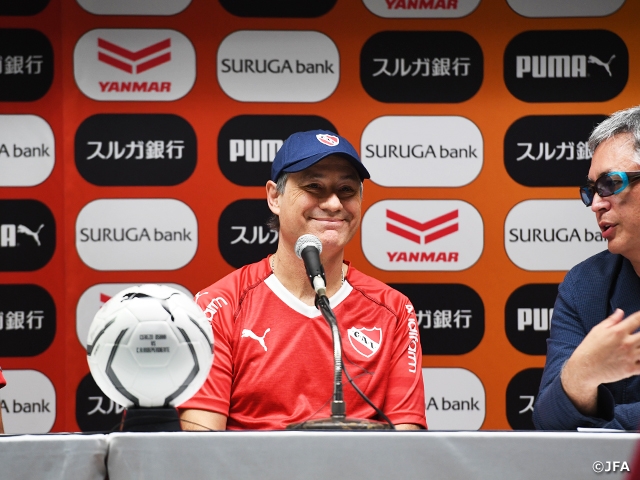 The match between the two champions to earn an international title will kick-off at 19:00 on Wednesday 8 August.
La batalla intercontinental de campeones tendrá lugar el miércoles 8 de Agosto a las 19:00 hora local.
Coaches' and Players' Comments
Declaraciones del Técnico/Jugador
YOON Jong Hwan, Coach (Cerezo Osaka)
Yoon Jong-Hwan (Cerezo Osaka)
We will be playing against a wonderful team with a rich history. Facing such team, we will be outplayed in many aspects, but we are very much looking forward for this match, as it gives us an opportunity to seek where we stand at this moment. South American teams are very tough and plays tenaciously while consisting players with high quality techniques. We probably will be forced to play a defensive match against them, but we will anticipate for our opportunity to attack and capitalise on those situations to win the match.
"Nuestro oponente es un equipo famoso y muy bueno. Contra un oponente así van a haber áreas en las que nosotros tenemos lagunas, sin embargo estoy muy excitado por el partido y pienso que será una muy buena oportunidad para probar nuestra fuerza. Los equipos Sudamericanos son fuertes, duros y tienen muy buena técnica. Es posible que se convierta en un partido muy defensivo para nosotros, pero pienso que absolutamente encontraremos oportunidades y si podemos usarlas en nuestro favor tendremos una oportunidad de ganar".
MF #26 AKIYAMA Daichi (Cerezo Osaka)
MC #26 Daichi Akiyama (Cerezo Osaka)
This match presents us with the opportunity to showcase our individual performance, but we came here to win the match as a team. In order for us to win the match, we must work collectively and fight as a team. We have worked hard towards this match, so we just have to display what we have been working on. We are here as the Levain Cup Champions, so we will give our very best not to dishonour the J. League and win the title.
"Esta es una buena oportunidad para reivindicarme como jugador, pero más importante es que estamos aquí para ganar el partido. Tenemos que jugar en equipo si queremos ganar al adversario. Hemos estado entrenando para este partido y ahora tenemos que darlo en la cancha. Estamos aquí porque ganamos la Levain Cup del año pasado y queremos jugar para ganar y representar a la J.League con orgullo".
Ariel HOLAN, Coach (Independiente)
Ariel Holan (C.A. Independiente)
It will be a very difficult match, not just because of this weather, but because we respect our opponents and know how well they can play. We are certain that they will not allow us to win the math easily. However, it is our dream to take this trophy back to Buenos Aires and share it with our supporters. In order to make that dream come true, we must work hard and give everything we've got.
"No solo podemos preocuparnos por el tiempo, también tenemos que respetar a nuestro adversario. Sabemos sus puntos fuertes y será un partido difícil. Sabemos que no será una victoria fácil. Sin embargo, nuestro sueño es llevar este trofeo de vuelta a Buenos Aires y enseñárselo a nuestros hinchas. Tenemos que darlo todo para que ese sueño se haga realidad".
GK #25 Martin CAMPANA (Independiente)
PO #25 Martín Campaña (C.A. Independiente)
In order for us to win the match, we must not focus on what our opponents do, but rather focus on how we control the game. We must possess the ball and dominate the space. If we give up the ball from our own mistakes, that can ultimately lead us to losing the match, so we must keep our composure as usual and perform without making mistakes. Cerezo knows how to utilise the flanks effectively and create chances from set-plays. We have analysed their approach so each of our players must make the adjustments accordingly.
"No podemos preocuparnos por lo que haga nuestro adversario si queremos ganar, primero tenemos que enfocarnos en mantener la posesión, controlar el espacio y controlar el partido. Cualquier error nos podría costar el partido, así que trataremos de jugar sin errores como hacemos habitualmente. El Cerezo es bueno jugando en los espacios exteriores y a balón parado. Hemos analizado todo eso para este partido y estamos preparados para lidiar con ello".

【Suruga Bank Championship 2018 OSAKA】Official Press-conference
【Suruga Bank Championship 2018 OSAKA】Club Atletico Independiente Conferencia de prensa oficial
Schedule / Agenda
Mon. 6 August
6 de Agosto(lunes)
PM
Training
Entrenamiento
Tue. 7 August
7 de Agosto(martes)
PM
Official Press-conference/ Official Training
Conferencia de Prensa Oficial / Entrenamiento a Puerta Abierta
Wed. 8 August
8 de Agosto(miércoles)
19:00
Suruga Bank Championship 2018 OSAKA
*The schedule is subject to change due to the team condition, the weather, etc.
* Esta agenda puede sufrir cambios repentinos debido al tiempo o a la condición de los jugadores.
Suruga Bank Championship 2018 OSAKA
Tournament Dates: Wed. 8 August 2018 Kick-off 19:00
Tournament Venue: Yanmar Stadium Nagai, Osaka
Tournament and Ticket Information
Horario del partido:Miércoles, 8 de agosto de 2018, 19:00 (inicio estimado del partido)
Lugar del partido:Osaka / Yanmar Stadium Nagai
Haga clic aquí para información acerca del torneo y entradas