NEWS
Beleza and INAC Kobe among teams advancing to the semi-finals! - Empress's Cup JFA 44th Japan Women's Football Championship
16 January 2023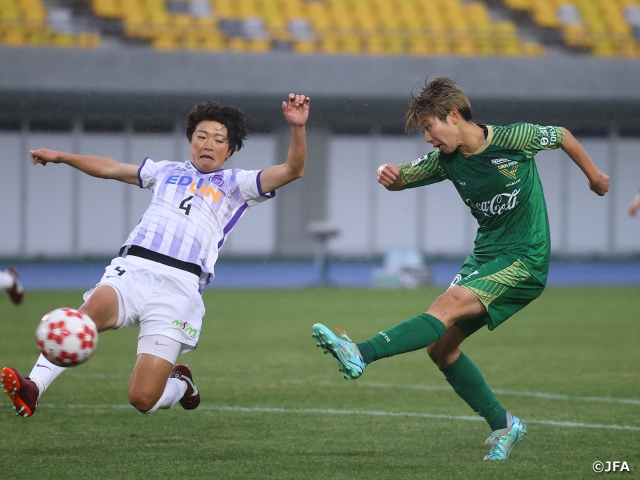 The quarterfinals of the Empress's Cup JFA 44th Japan Women's Football Championship took place on Sunday 15 January. The matches were fiercely contested despite the chilly rain at Kanseki Stadium Tochigi, where many of the top teams from the WE League gathered.
Featured Match 1
Nippon TV Tokyo Verdy Beleza 3-0 (1-0, 2-0) Sanfrecce Hiroshima Regina
The match between Nippon TV Tokyo Verdy Beleza (WE/Tokyo), ranked fourth in the WE League, and Sanfrecce Hiroshima Regina (WE/Hiroshima), ranked eighth, was highlighted by the outstanding shooting techniques of Beleza.
Although Beleza are ranked higher than Regina in the WE League, it was Regina who won the most recent encounter between the two, and they were also the aggressor in the opening minutes of this game, with TANIGUCHI Konomi and UENO Mami firing shots to threaten the Beleza goal.
However, in the closing minutes of the first half, Beleza's KOBAYASHI Rikako broke through the left flank before sending a pass to UEKI Riko, who struck a well-placed shot into the left hand corner to give the Tokyo side the lead.
In efforts to rally back, Regina brought MATSUBARA Shiho and SHIMABUKURO Namie off the bench in the second half, but it was Beleza who scored the next goal. In the 67th minute, KINOSHITA Momoka delivered a pass to FUJINO Aoba, who carried the ball upfront before firing a shot that captured the left corner of the goal.
After TANAKA Momoko, the Beleza goalkeeper, made an outstanding save to stop Shimabukuro's shot in the 74th minute, Beleza secured their victory with their third goal scored in the 78th minute, when Kinoshita provided an assist for Ueki's goal.
Featured Match 2
Mitsubishi Heavy Industries Urawa Reds Ladies 1-2 (0-2, 1-0) INAC Kobe Leonessa
The showdown between the WE League's top teams, second-placed Mitsubishi Heavy Industries Urawa Reds Ladies (WE/Saitama) and first-placed INAC Kobe Leonessa (WE/Hyogo), was closely contested until the very last minute of the match.
The defending champions Urawa immediately displayed their offensive prowess, with SEIKE Kiko sending in a cross ball in the 14th minute that INAC Kobe goalkeeper YAMASHITA Ayaka managed to catch and NAOMOTO Hikaru's shot in the 16th minute.
In the 21st minute, Urawa goalkeeper FUKUDA Shiori made an attempt to intercept the pass of YAMAMOTO Maya, but an INAC Kobe player managed to get a touch ahead of her, allowing NARUMIYA Yui to convert the loose ball to give INAC Kobe the lead. Two minutes later, Narumiya converted a cross sent by MORIYA Miyabi to double the lead.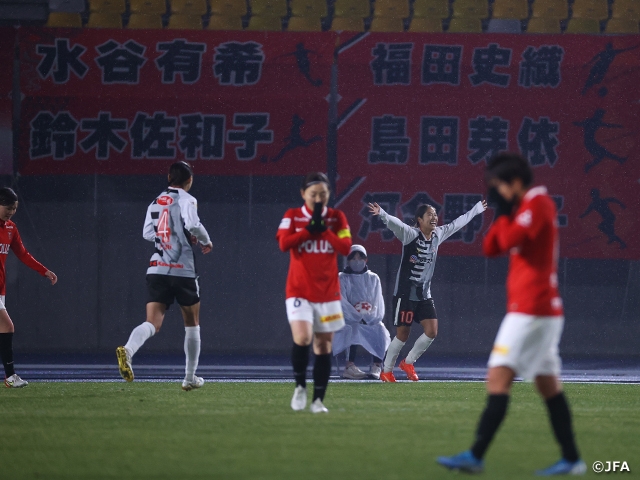 In efforts to come back from a two goal deficit, Urawa applied more pressure in the attacking third, as ANDO Kozue and Naomoto made attempts from the midfield, but both of their shots were denied by Yamashita.
Urawa continued to be the aggressor in the second half, as they introduced their 19-year-old striker NISHIO Hanon in the 70th minute. Their persistent effort came to fruition, when the Tochigi native, Ando, scored a goal to cut the deficit in half. Despite firing a total of 18 shots, including the close range shots taken by SHIOKOSHI Yuzuho and SHIMADA Mei in the closing minutes of the second half, Urawa fell short from scoring the equaliser, as INAC Kobe reached the semi-finals for the first time in three years.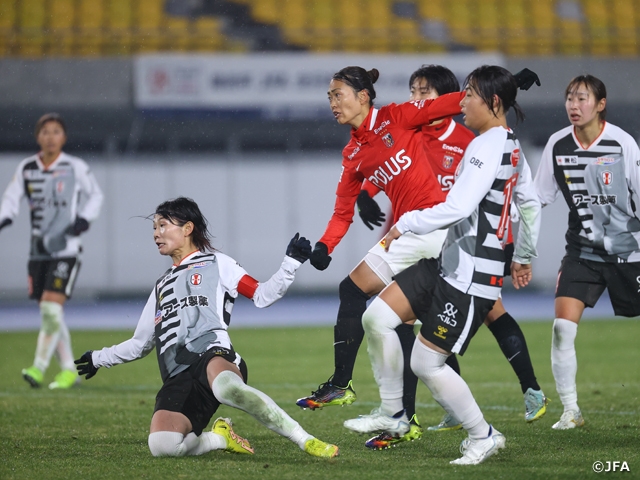 Coaches and Players' Comments
FW #11 FUJINO Aoba (Nippon TV Tokyo Verdy Beleza)
I trained to improve my stamina and transition between offence and defence before this game. I worked hard to make runs for the team and tried to play to my strengths by collaborating with my teammates, so I'm thrilled that I was able to score today. However, we still lacked quality in the final third, so that is an aspect we must improve as we aim to win both the Empress's Cup and the WE League title this season.
MF #10 KINGA Yukari (Sanfrecce Hiroshima Regina)
This is very disappointing. The second goal really made the match difficult for us, and we conceded the third goal from my mistake. We were confident that we could compete with them because we had faced them in the league, but it turned out that our opponents were simply more adept at taking advantage of their opportunities than we were. I can't recall the last time I experienced such disappointment. We must make the most of this opportunity and work to become a stronger team.
KUSUNOSE Naoki, Coach (Mitsubishi Heavy Industries Urawa Reds Ladies)
You have no idea how frustrated I am. This match reminded us how challenging this game could be. Despite not having their entire roster, INAC Kobe performed better than we did. We cannot simply say that "this was just one of those days" because we failed to capitalise on our opportunities. In order to become a strong team, we need to win matches like these. Even if we conceded two goals, we need to be able to score back three. We hope that the four teams advancing to the semi-finals will make the Empress's Cup exciting.
MF #10 NARUMIYA Yui (INAC Kobe Leonessa)
We knew it was going to be a very difficult match because we were missing many players due to injuries and illnesses. In that sense, this was a victory earned with a total team effort. We were up against a very tough opponent, but we remained focused on taking advantage of the opportunities that would eventually come our way. This is going to be my first time playing at Sanga Stadium by KYOCERA in my hometown, Kyoto, so I am very motivated and looking forward to the semi-finals.

【Highlights】Nippon TV Tokyo Verdy Beleza vs Sanfrecce Hiroshima Regina
【Highlights】Mitsubishi Heavy Industries Urawa Reds Ladies vs INAC Kobe Leonessa
Empress's Cup JFA 44th Japan Women's Football Championship
Tournament Duration: Sat. 26 November 2022 - Sat. 28 January 2023
【1st Round】Sat. 26, Sun. 27 November
【2nd Round】Sat. 3, Sun. 4 December
【3rd Round】Sat. 10, Sun. 11 December
【4th Round】Sat. 17, Sun. 18 December
【Quarterfinals】Sun. 15 January 2023
【Semi-Finals】Sun. 22 January 2023
【Final】Sun. 28 January 2023