NEWS
Defending champions Jumonji Junior High School among teams reaching the semi-finals - JFA 13th U-15 Japan Women's Futsal Championship
09 January 2023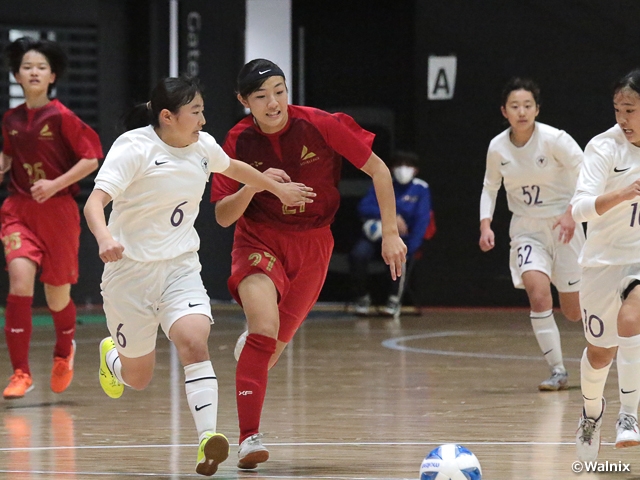 The JFA 13th U-15 Japan Women's Futsal Championship kicked-off on Sunday 8 January. At Nikkan Arena Tochigi, the nine teams that won the regional qualifiers each played two first-round matches, with four teams advancing to the final round.
In Group A, defending champions Jumonji Junior High School (Kanto/Tokyo) defeated Uji FC Laurus (Kansai/Kyoto) 6-1 in their first match, while Gonohe SC (Tohoku/Aomori) also won 6-2 against Uji FC Laurus. The two winners clashed in the third match, which ended in a scoreless draw. As a result, Jumonji finished first in the group on goal difference.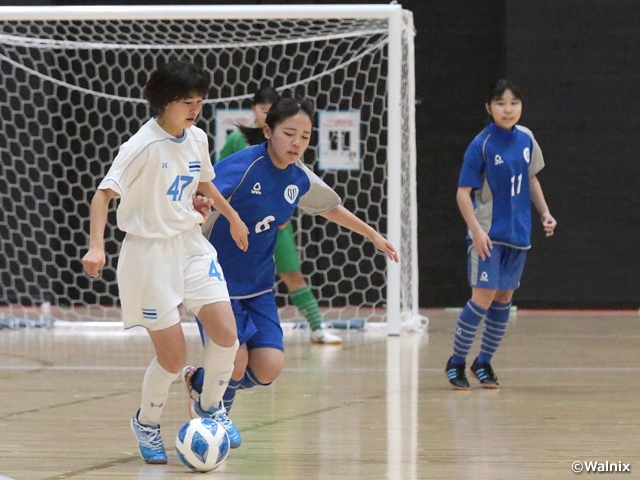 In Group B, Hioki Seagulls FC (Kyushu/Kagoshima) made it to the semi-finals for the first time in their third appearance, ahead of Fukui Maruoka Ruck (Hokushinetsu/Fukui), who have three players who have competed in the Women's F.League. In their first match against Fukui Maruoka Ruck, Hioki Seagulls scored multiple goals by converting long balls delivered into the attacking third, with TOMIZAWA Yua recording four goals in their 7-3 victory. The Kagoshima side went onto defeat Kochi United SC Ladies (Shikoku/Kochi) 6-3 to reach the final round.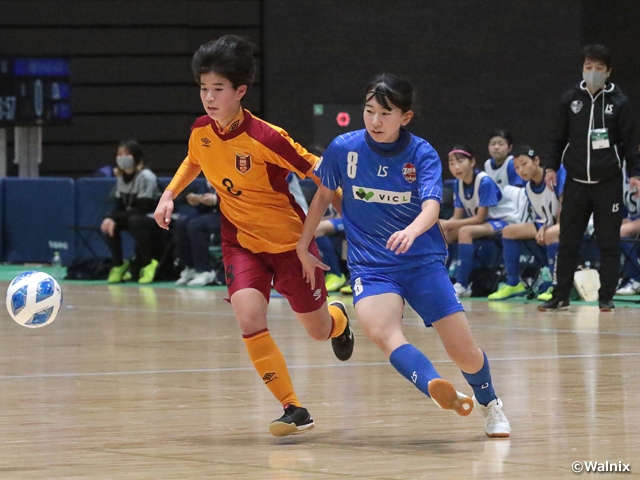 In Group C, Asahi Intecc Loveledge Nagoya Statice (Tokai/Aichi), featuring TSUDA Anon, who was selected for the U-15 Japan Women's National Team, defeated Fukuyama Rosas Ladies (Chugoku/Hiroshima) and Tokachi FS Little Girls U-15 (Hokkaido) to reach the semi-finals for the second consecutive tournament.
As a result of the first round, Gonohe SC, the only team among the runners-up with four points, advanced to the knockout stage as the wildcard. Jumonji will face Hioki Seagulls, while Nagoya face Gonohe in the semi-finals scheduled for Monday 9 January.
Players' Comments
FP #7 NAGAMATSU Miyu (Jumonji Junior High School)
I am very relieved to have made it to the final round. Misato Kobayakawa, who usually plays in the matches, couldn't come to today's match, so I'm glad we won for her, and I hope we can fight together tomorrow. We had to be careful not to overcommit ourselves offensively in our second match against Gonohe SC because our opponents showed excellent footwork. We struggled to breakdown their defence, but I am glad we were able to keep a clean sheet. We didn't perform well in football this year, so we have shifted our attention to futsal and hope to finish the year on a high note.
FP #7 TOMIZAWA Yua (Hioki Seagulls FC)
We participated in the nationals last year but were unsuccessful, so we are thrilled to have advanced to the finals this year. Being in my third year has made me more vocal and more determined to lead the team than I was last year. As a team, we have made conscious efforts to apply pressure from the frontline and to add more layers to our offence. We made it to the semi-finals for the first time but knowing that there are teammates who haven't been able to play, so I want to do my best for them and win the championship.
FP #4 YOKOGAWA Yotsuba (Fukui Maruoka Ruck)
This was the first national competition I participated in two years. I was able to score a goal, but the team lost by a large margin in the tournament two years ago, so I wanted to win this time. However, we lost 3-7 in the first match, and couldn't clinch the knockout stage as the wildcard neither. We struggled to win the aerial duels and most of the goals we conceded in the first match came from longballs, so we had to be able to correct that during the match. Nevertheless, I think we were able to pass on our experience to our juniors, so I hope they will do well next year.
FP #27 TSUDA Anon (Asahi Intecc Loveledge Nagoya Statice)
We couldn't achieve our goal of winning the national championship in football, so we definitely want to win this title. I entered the first match determined to earn results, so I am glad I was able to score. I was unable to attack the goal as much as I wanted to in the second match, so I will try to do a better job in the semi-finals and final to score goals that would lead the team to victory. We will focus on the semi-finals first and give our best to reach the final as a team.
JFA 13th U-15 Japan Women's Futsal Championship
Tournament Dates: Sun. 8 - Mon. 9 January 2023
Venue: Nikkan Arena Tochigi (Tochigi)