NEWS
Urawa defeats Nagoya to claim 7th National Title at the JFA 24th U-15 Japan Women's Football Championship
04 August 2019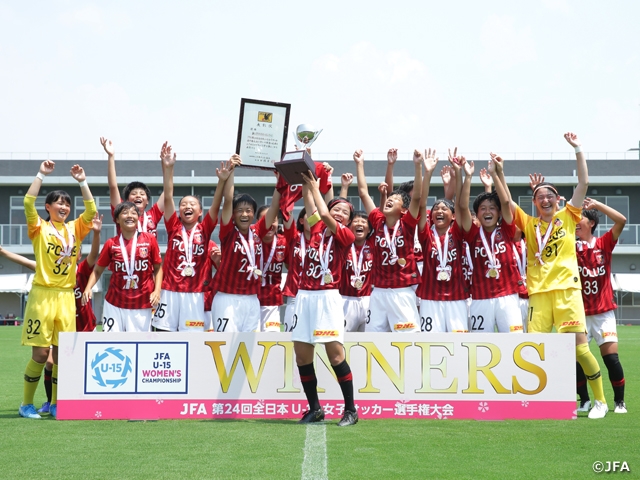 The JFA 24th U-15 Japan Women's Football Championship final took place at J-GREEN Sakai S1 on Saturday 3 August.
Pick-up Match
NGU Loveledge Nagoya Statice 0-1 (0-0, 0-1) Urawa Red Diamonds Ladies Junior Youth
After reaching the semi-finals for the first time in their club history, NGU Loveledge Nagoya Statice (Tokai3/Aichi) carried great momentum to defeat the defending champions, JFA Academy Fukushima (Tokai2/Shizuoka), 3-2 to reach the final. Last year's third place finisher, Urawa Red Diamonds Ladies Junior Youth (Kanto1/Saitama), advanced through the final round without conceding a single goal to claim their seventh national title.
Both teams entered the title match with great intensity, as the two sides showcased a heated battle from the early minutes. A close opportunity was created for Nagoya in the 26th minute, when MORI Nonoko's freekick struck the cross bar. Urawa responded by coming up with their own chances, but TAKEUCHI Ami's shot went wide of the target, while TSUNODA Fuka shot from distance was denied by the cross bar, as the match entered halftime scoreless.
The deadlock was broken in the early minutes of the second half, when OKAMURA Raika struck a header to convert a corner kick delivered by Takeuchi to give Urawa the lead in the 35th minute.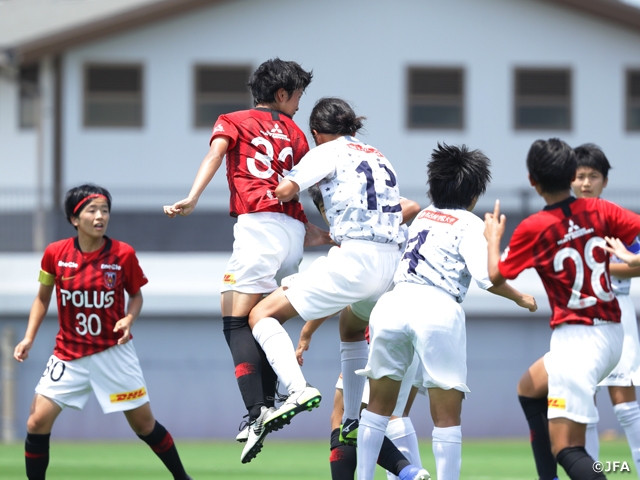 With the team trailing a goal, Nagoya's coach EGO Kenichi encouraged his players by telling them, "we must keep a strong intention to win the match. As long as we work hard and fight tenaciously to win the ball, our chances will come, so let's keep running until the end."
Urawa on the other hand, displayed persistent efforts to keep away Nagoya from creating major opportunities, as coach MOMOTAKE Eri kept telling her players, "Nagoya has very good players upfront, so must stick together to fight against them." In the closing minutes of the match, Nagoya came close to equalising the match, but Urawa's goalkeeper MAEDA Mai kept her composure to keep the clean sheet intact.
After an intense and heated battle, it was Urawa who claimed the U-15 Women's National Title for the second time in three years, seventh overall.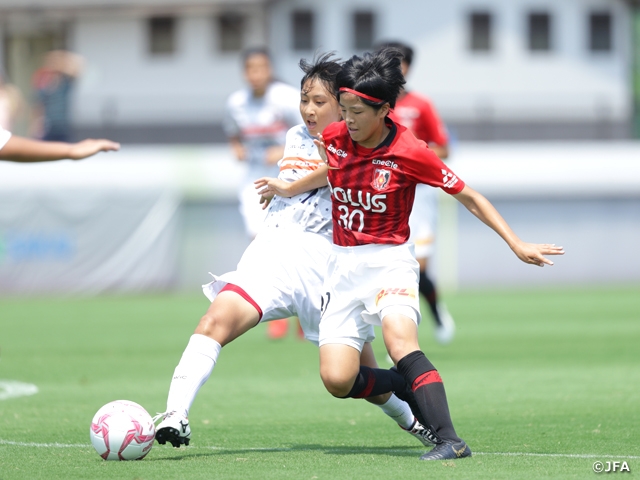 In the third place match, Academy Fukushima came from behind to score two goals after Sfida Setagaya FC Youth (Kanto2/Tokyo) scored the opener in the third minute. It was Academy Fukushima who claimed third place and earned the Fair-Play Awards as well.
Coaches and Players' Comments
EGO Kenichi, Coach (NGU Loveledge Nagoya Statice)
The fact that we carried almost the exact same squad from last year helped us reach a higher level, as the players have set their goal to advance to the semi-finals and worked hard to achieve their goal. I am proud of my players for winning numbers of tough matches to make it this far. They have worked extremely hard. However, we weren't necessarily able to execute our game plans as we wished. We need to be able to showcase our strengths even when facing strong teams and become a team that can convince everyone to say that Loveledge is the best team.
DF #2 KAGITANI Sora (NGU Loveledge Nagoya Statice)
Everyone on this team, including the bench players and those who couldn't make the squad, all stayed vocal throughout the match to fight as a team. Without everyone's support, we couldn't have made it this far, so I am thankful for everyone. When we started off this new team in February, we set our goal to reach the semi-finals at this national tournament, and the entire team worked tirelessly towards that goal. There were some aspects that were regretful, but overall, we managed to fight hard to win the ball. We were able to go beyond our goal, so I don't think we need to shed regretful tears at this stage. This was the best summer ever, and we can go back to Aichi with a big smile.
MOMOTAKE Eri, Coach (Urawa Red Diamonds Ladies Junior Youth)
Regarding our defence, we spent a lot of time on the fundamentals, like the one-on-one situations, and our approach to challenge and cover. The players also showed great growths over the matches and the team managed to keep a strong intention to defend and attack as a team. Ahead of the final, the players received many encouraging messages from the lady's top team and the youth teams. After their upper class teammates failed to win the title last year, this year's players played in behalf of last year's team and showcased persistent efforts to portray the Urawa pride and tradition. The team staffs have supported the players tremendously and we would like to thank everyone for all their support.
MF #30 TSUNODA Fuka (Urawa Red Diamonds Ladies Junior Youth)
Just before this tournament, a third grader injured herself during our final training session before leaving for Osaka. We had many teammates who couldn't be here despite their will, and we also wanted to play in behalf of last year's team as well, so we entered the tournament with a strong intention to take down the title. We faced a tough match at the final, but we had to go through many tough matches to get here, so we were able to play with composure. Our team has always communicated well with each other, on and off the pitch, so we it allowed us to stay positive even during the difficult stretches. The fact that we managed to stay positive and keep running throughout the match helped us win the title.

8/3 Final: NGU Loveledge Nagoya Statice vs Urawa Red Diamonds Ladies Junior Youth
8/3 3rd Place Match: JFA Academy Fukushima vs Sfida Setagaya FC Youth
JFA 24th U-15 Japan Women's Football Championship
Tournament Dates: Sat. 27 July – Sat. 3 August 2019
Tournament Venue: J-GREEN Sakai (Sakai city, Osaka)